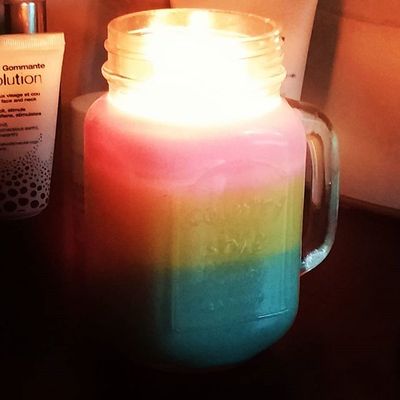 Tips for Container Candles
Allow the candle to burn until the wax melts out to all the edges of the vessel. This may take from about 30 to 60 minutes. Otherwise, the next few times the candle is lit the wax pool may tunnel down the centre of the candle rather than spread across it. This burn pattern, once established, is difficult to rectify.
Keep the candle away from drafts, such as ceiling fans, air conditioners or breezes.
Never move or handle the candle while burning. This is very unsafe, and pouring or removing liquid wax from the vessel will cause the wick to extinguish.
Keep the wick trimmed to between ⅛ and ¼ inch. If the candle begins to smoke, or if the flame height is greater than 1½ inches, gently blow out the candle, allow the wick and wax to cool, and trim the wick. Remove all wick trimmings before relighting.
Never extinguish the candle by using the lid. Always blow out or use a candle extinguisher which can be bought from any candle shop. You can also buy a wick trimmer which will ensure you always trim to the correct length. These are great tools to have for anyone who loves candles.
Keep the candle away from children and pets and never burn unattended.
For candles with a wood wick, we recommend you do not burn the candle for longer than 4-5 hours. This is to ensure the wick does not get too long which is when it will start to smoke. If it does, extinguish the candle and trim it gently by running your finger along the top. Our candles are made from a blend of soy wax which usually produces a much cleaner burn than paraffin wax and under normal burning conditions our candles are virtually smoke free.
Always follow the warning instructions on the bottom of the candle.
If you have any questions, please contact us at our store
Pure Tranquility Candles
.