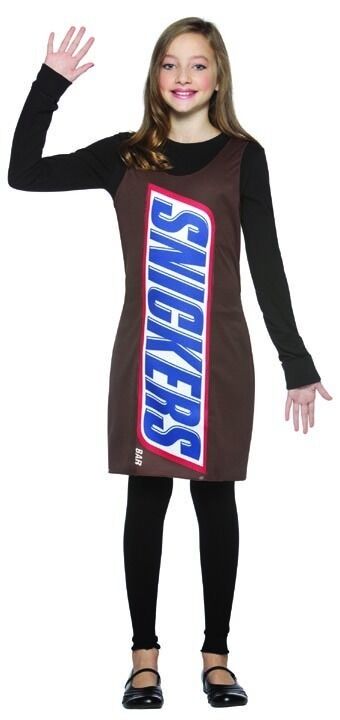 When buyers are on the hunt for a costume, whether for a party or for a Halloween trick-or-treat adventure, they almost always want an outfit that stands out. Some purists feel that for a costume to stand out it must original and handmade. This is not the case. The costume simply needs to fit, and must suit the personality of the wearer. For instance, candy bar costumes are popular because they add a witty spin to Halloween tradition, as kids dress up as candy bars to go trick-or-treating for candy bars.
Candy bar costumes are great for kids, but are also appropriate for women who wish to dress up as "eye candy" or "arm candy". Buyers simply need to find out what candy bar costumes are available, and then choose the right fit.
Popular Candy Bar Costumes
Although there are many types on the market, the most common candy bar costumes for women and young girls involve chocolate and/or caramel-covered candy. Several Mars Chocolate Company candy bars make for the most popular costumes. The sections below discuss other types of candy bar costumes.
Mars Candy Bar Costumes
The Mars Chocolate Company manufactures some of the world's favourite candy, including Snickers, 3 Musketeers, Twix, and M&Ms. Women can now dress themselves up as their favourite candy, or their spouse's favourite candy. Either way, these costumes can inspire some fun times.
Candy Costume Designs
Candy costumes do not vary much in design, but they come in different colours to match their corresponding candy wrapper. For instance, the 3 Musketeers candy bar costume is a pearl white colour with the 3 Musketeers logo running down the centre. Similarly, the Snickers and Twix costumes are different shades of brown, with their logos also running down the centre. M&M costumes have the most colour variations, because that is how the wrapper depicts the candy; however, each costumes represents only one M&M candy colour. They usually take the form of sexy mini dresses, whose designs both highlight and accentuate a woman's curves.
What Makes a Good Candy Bar Costume
When buying a candy bar costume, buyers should keep in mind a few considerations. For example, a good candy bar costume should display the original candy bar logo. If the logo is wrong, the costume is not authentic looking; a poorly reproduced logo takes away from the costume's appeal. Additionally, candy bars are rectangular-shaped; therefore, the costume should display the logo in an elongated fashion down the length of the costume. This design gives the impression of a standing candy bar . As much as possible, the colour and of the costume should emulate that of the actual candy bar. Costumes made from a shiny material that looks like the sheen of a wrapper are a buyer's best bet.
Accessorising a Candy Bar Costume
Candy bar costumes do not come with accessories, so buyers must scrounge, borrow, or buy appropriate accessories to complete the look. For instance, a buyer planning to wear the candy bar costume to a children's event should accessories the candy bar mini dress with a matching pair of tights or leggings. This addition need not take away from the costume; in fact, accessories instead tend to make the costume pop, as when a wearer accessorises a Twix or Snicker candy bar costume with a pair of brown/chocolate leggings and brown flats. However, if the occasion is more adult oriented, she could opt for brown heels instead, as long as there is seating at the event. Buyers should know what makes them comfortable, as well as what is appropriate for the occasion.
Jewellery and Other Accessories
If buyers are worried that other people may have chosen the same costume at an event, they can wear jewellery to accentuate their costume, or add other accessories, such as a mask, sunglasses, or a hat. The choice all comes down to the occasion, the time of day, and the weather.
Accessorising with a Partner
Although there are not many male candy bar costumes available, couples can still complement each other by being the "sweet" candy bar couple at a costume party. If they are unable to find the same type of candy bar costumes to match, they can then choose to accessories with matching colours to create some uniformity.
How to Buy Candy Bar Costumes on eBay
To get started, you simply search for candy bar costumes by entering appropriate keywords into the search field on any eBay page. Once the search engine returns the results, you can browse through them to find a costume that suits your needs. If the results are overwhelming, you can narrow the results by engaging one or more of the filters eBay provides, to find results that are more appropriate to your needs. For example, buyers can filter results by gender, size, theme, item condition, and even seller location. Once you select the appropriate filters, the number of items returned is usually much more manageable.
If you already know which candy bar costume you want, you can bypass the filters and simply input a more specific keyword in the search field. Thus, a search for 3 Musketeers Candy bar costume filters out all other costume types, minimising the number of options on the results page. Once the buyer makes a selection, he or she can go ahead and make their purchase. eBay makes shopping for candy bar costumes a simple task.