An "Out-Of-Production" EOS Lens Guide: Revealing The Classic Canon EF Gems
All Work Great On EOS Digital SLRs
Canon had the inspired wisdom to commit to an entirely new SLR camera system back in 1986. This groundbreaking system, featuring truly automatic focus, was dubbed the "EOS" line. Many Canon FD mount camera owners moaned and complained that their lenses were not compatible with the new EOS cameras. Some of them chanted in protest, "We don't need no stinking auto focus anyway". If you were to survey these photography traditionalists today, you would find that all but a lonely handful of them have embraced the EOS, and are very happy that they did. Now, nearly everyone is relieved that Canon made the transition way back then, instead of having to deal with it now.
Canon had the radical idea of placing the auto focus drive mechanism INSIDE OF EACH AND EVERY LENS, not in the camera body. What a wonderful stroke of genius that was! A huge benefit for all of us Digital photo freaks is that our beloved older Canon EF lenses are completely compatible with all of the new Digital SLR camera bodies. A second, equally important, advantage is the fact that we can now buy some of these superior discontinued models at reasonable prices through the pre-owned market on eBay and at the local camera shop.
In many cases (but not all), the older models were superior to the new lenses that have replaced them. Economic pressures have led to some "consumer" grade lenses being stripped of many of the features and performance specs that both amateur and serious photographers have come to depend upon.
For instance, many newer consumer models now have plastic lens mounts, where the original models had heavy-duty stainless steel mounts. Obviously, the metal mount will outlast plastic and provide a more secure fit, but it was just too expensive to include them on the new "budget" lenses. A very useful feature known as the "distance scale window" just didn't make it onto many of the newer models. You can only find these features on very expensive"upgrade" and professional models, in certain focal lengths. Some discontinued lenses had more sophisticated aperture diaphragms, better glass or sturdier construction. Quite a few of the "retired" lens models had special features or focal ranges that you just can't find on any currently available model.
Here are a few of the "out-of-production" Canon EF lenses that are worthy of your consideration.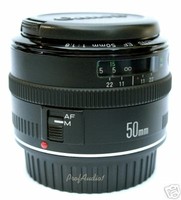 EF 50mm f/1.8 Prime – The original model, often called the "Mark I" or the "Metal Mount" version, NOT the new Mk II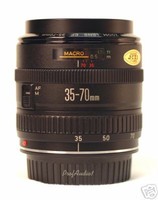 EF 35-70mm f/3.5-4.5 Normal Zoom with Macro focusing – The first version only, NOT the "A" version (no manual focus capability) and none of the plastic mount models.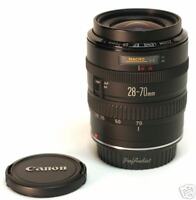 EF 28-70mm f/3.5-4.5 Wide Angle to Telephoto Aspherical Zoom with Macro focusing – The upgrade version with a six-blade aperture only.

A new eBay Guide, showing exactly how to check the aperture of your lens is now available here:

See How To Inspect Canon EOS EF Lens Aperture Blades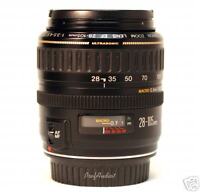 EF 28-105mm f/3.5-4.5 "MACRO" – The second version with the actual word "MACRO", not the one with the "flower" icon on the barrel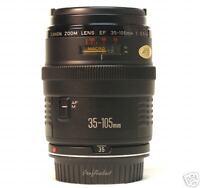 EF 35-105mm f/3.5-4.5 Wide Angle to Telephoto Zoom – "One Touch" zoom with Macro focusing

EF 35-135mm f/3.5-4.5 Wide Angle to Telephoto Zoom – "One Touch" zoom with Macro focusing
EF 35-135mm f/4-5.6 USM Wide Angle to Telephoto Zoom – The first "Ring Type Ultrasonic" excellent mid-grade lens, also known as the "Travel Lens"

EF 70-210mm f/4 Telephoto Zoom – "One Touch" zoom with Macro focusing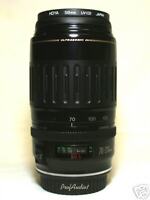 EF 70-210mm f/3.5-4.5 USM Telephoto Zoom – The original "Ring Type Ultrasonic"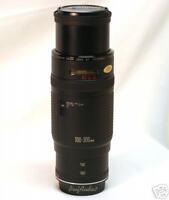 EF 100-300mm f/5.6 Long Telephoto Zoom – "One Touch" zoom with Macro focusing
There are other models that also belong on this list, but I will have to address those at a later time. Meanwhile, you might want to read some of the reviews of the lenses on this list. You may find that several of these models could serve your needs perfectly, and save you a few dollars to boot.
We all owe Canon a huge debt of gratitude for having the foresight and intelligence to create an advanced camera system that has been able to maintain perfect lens compatibility for three decades.
Thank you Canon!
If you have found this Guide to be informative or at least interesting, please let me know by clicking the "YES" button below. Your vote is completely anonymous. However, your comments and criticisms are welcomed. I am always happy hear about ways to improve my reviews and guides so that more people can find more useful information in them. Your "helpfulness" votes are the only compensation that eBay reviews and Guides authors receive for their efforts. Your votes are used exclusively to determine writer's rankings. Encourage us with your votes and we will return the favor by supplying you with a lot more informative Buyer's Guides and honest Reviews.

© Copyright 2007