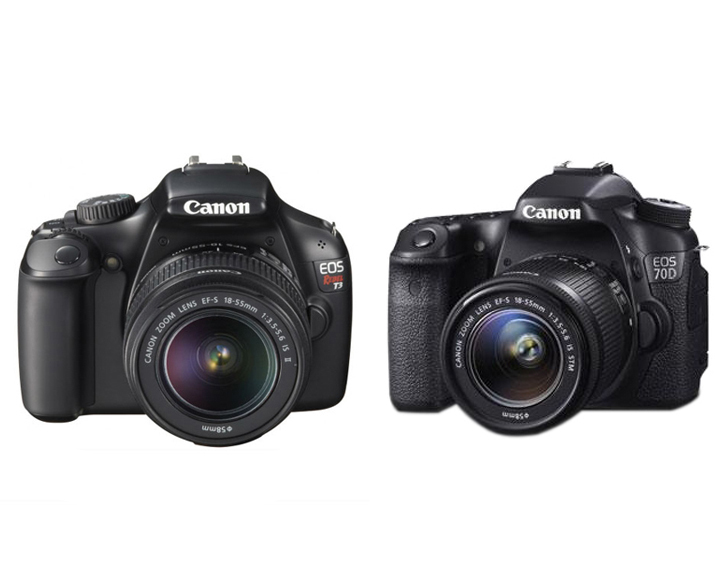 Whether opting for the Canon EOS Rebel T3 (1100D) or the Canon EOS 7D, making an informed decision is important when buying cameras on eBay. This guide will compare the specifications and notable features of the semi-professional cropped sensor Canon EOS 7D and the entry-level Canon EOS Rebel T3 in an organised and concise way, ending with how to buy both cameras on eBay.
Technical Specifications
The following table compares the technical features of the Canon EOS Rebel T3 and the Canon EOS 7D which directly impact on the camera's performance and usability:
| | | |
| --- | --- | --- |
| Features | Canon EOS Rebel T3 | Canon EOS 7D |
| Resolution | 12.20 MP | 18 MP |
| Processor | DIGIC 4 Image | Dual DIGIC 4 |
| Sensor size | APS-C CMOS sensor | APS-C |
| Kit Lens | 18-55mm 3x zoom (29-88mm equivalent) | 28-135mm 3.80x zoom (45-216mm equivalent) |
| Viewfinder | 2.7" Optical TFT LCD Eye-level, 230,000 pixels and viewing angle of 170o | 3" Clear View II Optical LCD intelligent viewfinder |
| ISO | 100-6400 | 100-12800 |
| Shutter Speeds | 30-1/4000 | 30-1/8000 |
| Aperture | Maximum f3.5 | Maximum f3.5 |
| Metering | 63-zone SPC TTL enhanced metering with evaluative, partial and centre-weighted | New Focus Colour Luminance (iFCL) 63-zone metering system measures focus, colour and luminance. Five modes including spot. |
| White Balance | Auto, custom and pre-set options | Auto, custom and pre-set options |
| Flash | Built-in auto pop-up, retractable in the pentaprism. Use camera to set Flash exposure compensation for flash and Speedlite. | Built-in with Wireless Flash Control using Integrated Speedlite Transmitter. |
| Self-Timer | 2-10 second; continuous shooting after 10-seconds (2 to 10 shots) | 2-10 second with remote control |
| Memory | SD, SDHC and SDXC compatible | UDMA CF compatible |
| Power | Battery Pack LP-E10 | Battery Pack LP-E6 |
| Connectivity | Remote release terminal, USB port; mini-HDMI socket; Eye-Fi SD card fitted with Wi-Fi transmitter (IEEE 802.11b/g) and internal antenna for high-speed wireless image transfer | Remote terminal; USB 2.0 Hi-Speed port; mini-HDMI; Audio/Video out; microphone input; connection to optional WFT-E5 for wireless (802.11b/g) shooting |
| Body | Smooth matte plastic with smooth grip, rubber door on left side and large, flat buttons on back panel. | Magnesium alloy body with shutter durability of 150,000 releases, dust- and weather-resistant environmental seals |
Handling and Operating Features
The following table addresses factors that may affect the user experience of the Canon cameras:
Feature

Canon EOS Rebel T3

Canon EOS 7D

Weight

702g (1.54lbs) including batteries and kit lens

820g (1.8lbs) body only

Dimensions

5.1 x 3.9 x 3.1 in

(13 x 10 x 7.8 cm)

5.8 x 4.4 x 2.9 in

(14.8 x 11 x 7.35 cm)

Image Format

Design rule for Camera File System 2.0 and Exif 2.30

JPEG, RAW, sRAW, mRAW, RAW+JPEG

Movie Format

MOV with 25-30fps

MOV recording full HD and SD

Dioptric Adjustment Correction

-2.5 to +0.5m-1

-3.0 to +1.0m-1
Notable Features
The following bullet points address notable individual features of the Canon cameras:
Canon EOS Rebel T3
· CMOS APS-C sensor teams with DIGIC 4 Image processor to give high speed, high image quality with exceptional clarity and tonal range and the most pixels in its class.
· In-camera RAW image processing, creative filters, image resizing, 3:2 multiple aspect ratio, S2 and S3 image-recording quality, Face Detection Live mode, full HD video, Auto Lighting Optimiser, Lens Peripheral Optimisation.
· Enhanced high-sensitivity optimisation for capturing subjects at high shutter speeds without flash with minimised blur and noise.
· Improved EOS HD movie mode with in-camera video editing options.
· High speed 9-point AF system with f/5.6 cross-type centre point.
· Dual-layer sensor with 63 metering zones delivers high level of accuracy.
· Live View Function to view subjects directly on the LCD monitor and magnify for precise manual focus.
· Eye-Fi card displays the Eye-Fi's connection status and error notes, for wireless uploading of images directly from the camera.
· New Basic + creative imaging feature, Quick Setting function and Creative Auto
· In-camera Feature Guide with short descriptions of each function and advice.
· Compatible with all Canon lenses in the EF and EF-S range.
Canon EOS 7D
· Precision CMOS sensor with dual DIGIC 4 image processors deliver high resolution, speed and ISO with low noise and improved performance in low light conditions. Improved battery life to due faster data transfer.
· 19-point AF system, iFCL metering system and intelligent viewfinder for versatility.
· 100% coverage viewfinder with 1x magnification and 29.4o view.
· Live View Function for viewing subjects directly on the LCD monitor and magnifying – remote use with USB, computer and EOS Utility software.
· HD movie making with manual control and selectable frame rates.
· Choice of shooting modes, choice of five program modes including up to three pre-programmed Custom Modes.
· Optional Wireless File Transmitter with External HDD and GPS compatibility.
· Free Digital Photo Professional Software with high-speed RAW image processing, including printing in Adobe RGB with Easy-PhotoPrint and PictBridge printers.
· Compatible with all EF and EF-S and L series lenses.
· First Canon EOS to have Integrated Speedlite Transmitter for flash photography – control up to three groups of four flashes each.
· EOS Integrated Cleaning System and Self-Cleaning Sensor Unit to minimise and repel dust, including Dust Delete Data Detection.
How to Buy the Canon EOS Rebel T3 and Canon EOS 7D Cameras on eBay
Follow these simple steps to buy the Canon DSLRs on eBay:
· Use the search bar at the top of the screen to type in 'Canon EOS Rebel T3' or 'Canon EOS 7D', and browse the listings. The Rebel T3 can also be found by searching for the 'Canon 1100D'.
· Use the categories on the left hand side to narrow down search results by category. If starting from the home page, first go to Electronics, then Cameras & Photography and finally to Digital Cameras. From there, type in the camera details or use the provided sub-categories to narrow down the results using the camera specifications. Sub-categories will include: 'Format', 'Type', 'Brand', 'Optical Zoom', 'Condition' and 'Price'.
· Before buying, read the seller's product description carefully and prioritise sellers with a good reputation as they are more reliable.
· It may also be possible to find the Canon cameras in eBay's recommended deals. Use the link at the top of the screen and follow through from the Electronics tab to Cameras to browse deals.
Conclusion
Whilst the Canon EOS Rebel T3 (1100D) is designed for photographers new to Digital SLRs, the Canon EOS 7D is designed for professionals and semi-amateurs. Whether novice or professional, however, it is important to make a fully-informed decision when making a purchase online. It is helpful, therefore, to have an understanding of the technical specifications and notable features that make each camera unique.