Capri Mk2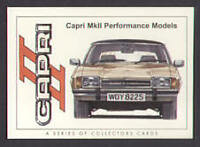 This is one of many illustrated classic car guides I've created for the community. I hope you enjoy it. If you wish to find out more about the classic Ford Capri Mk2 art featured in this guide please click here.
The hatchback Capri 2 was introduced in February 1974 with mechanical components broadly similar to the earlier range but with an all-new body-shell. The UK range consisted of crossflow-engined 1300L, Pinto-engined 1600L, XL and GT, Pinto-engined 2000GT and the new Ghia model, plus V6 3000GT and Ghia. Capri S went on sale from late 1975 following the success of the GT S or Midnight limited editions.
Capri 3000GT 1974-1975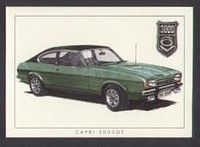 With the new Capri mkII, the GT specification was available with 1600, 2000 and 3000 power units. The GT included halogen headlamps, a clock, twin-tone horns and individually folding rear seats. Minor details included keying the colour of the carpets to the exterior GT paintwork and two lamps in the tailgate luggage zone. GTs were only ever offered in manual transmission.
Capri 3.0 Ghia 1974-1978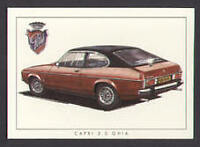 There were 8 basic models in the 1974 Capri II (British) range, badged as follows: 1300L, 1600L, 1600XL, 1600GT, 2000GT, Ghia 2.0, 3000GT and Ghia 3.0. The 3.0-litre Ghia was developed with the Ford-owned coachbuilding firm Ghia of Trin. Separated rear-exhausts came with the 3.0-litre V6 in Britain, the Ghia boasted eight spoke alloy wheels, a vinyl roof, tinted glass and a sliding steel sunroof. Metalic paint was now available, and the Ghia offered a plush and luxurious environment, the seats upholstered in Rialto cloth.
Capri 2000GT S 1975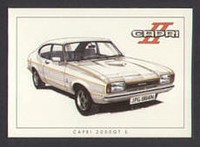 A special edition of the Capri MkII went on sale during June 1975. Variously titled the Capri II S (by Ford) or the Midnight Capri (by others), it was a subtle echoing of the John Player colours, which Lotus wore in Grand Prix racing. However, if black paintwork was not desired, the S could be ordered instead in Diamond White, with white bumpers/black rubber facing strips. All the remaining items stayed black. Available as a 1600, 2-litre or 3-litre, only a tiny handful of these white S-specification cars were produced.
Capri 3000GT S JPS 1975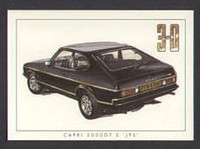 The special edition Capri S (commonly known as the JPS model) went on sale in June 1975. With 1.6, 2.0 and 3.0-litre GT spec engines, it initially featured black paintwork, bumpers, window frames and door handles, with panels outlined in gold and gold badging. Inside there was black treatment for normally bright metal parts, plus black upholstery with gold-coloured cloth seat panels. A2.3-litre version was available for Germany. Such was the success of the S models that Ford offered them as mainstream for 1976.
Capri 3000S 1975-1978
Initially available to special order only, the S suffix replaced the GT title in October 1975. Retaining some of the body coachlines and matt-black embellishments of the JPS cars, the S Capris were now available in various body colours other than black. With firmer handling and better aerodynamics, they represented a return to the Capri's more sporting origins.
Capri 3000S X-Pack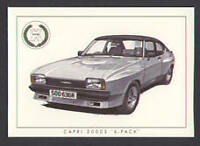 With the series X kits, buyers could add authentic Rallye Sport style and performance, with a long list of options. These included on the 3.0-litre V6, a Group One Spec. engine, a limited slip differential, gas filled front struts, lower and stiffer front springs, gas-filled rear shock absorbers, 7 ½ J-plus alloys and ventilated brakes. The X-packs will be remembered for their superb looking body-kit, offering what the Ford brochure described as an Anti-dive kit, Wing extension kit and rear spoiler. Originals are ultra rare and desirable.
Thank you for reading my guide and I hope you found it interesting!