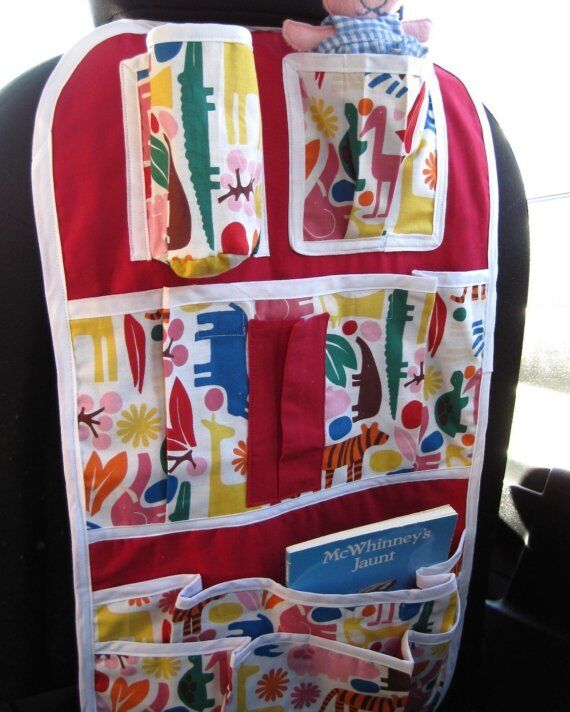 Car seat organisers are a great way for a car owner to keep the vehicle clean and tidy. A buyer can choose from a variety of organisers, including ones designed for children, traditional organisers, models that swing away, and various other styles. In addition to deciding on the type of organiser needed, the buyer should take into account the different features needed. For example, organisers have varying numbers of pockets to fit different needs, and they come in a variety of materials that are easy to clean. Some organisers are better suited for cars of a certain size, and large ones may work better in sport utility vehicles or minivans. Although one can find car seat organisers at conventional retailers, eBay offers a great selection as well.
Types of Car Seat Organisers
Car seat organisers are great tools that can help keep a car clean and organised. Whether someone is driving around a bunch of kids on a long car trip or just wants to keep water bottles and magazines in the car, the car seat organiser is a good way to keep things off the floor and make more room inside the car.
Consumers in the market for car seat organisers may be surprised at the a variety of products from which they can choose. Some of the different options include organisers designed for kids, swing-away models, and infant organisers, among others.
Traditional Car Seat Organiser
A prospective buyer may typically consider traditional car seat organisers, which are hung over the back of the front seat. These organisers offer a great way to store maps or other items the driver wants to keep out of the way.
Swing-Away Model Car Seat Organiser
This style lets the driver place the organiser in the front seat when it is not being used. The organiser can then be flipped into the back seat when the front seat is occupied. This is a versatile way to store items while keeping them within easy reach.
Car Seat Organiser for Kids
Many organisers are designed specifically for kids to store their items for long car rides. Organisers meant for children usually hang on the back of a seat so that they are within a child's reach. Organisers meant for children often come in colourful designs and patterns, and some are even available with the child's name sewn on for a customised look. These organisers are very useful for parents because they can store food items, colouring books, crayons, toys, or games that can keep kids occupied for hours. Additionally, it is a way to keep at bay the mess that can otherwise be created with these items strewn about the car.
Other Types of Organisers for the Car
In addition to car seat organisers, one can purchase other types of organisers that can keep a vehicle in order. Organisers to consider include dashboard carriers and cupholders, both of which are summarised below.
| | |
| --- | --- |
| Type of Organiser | Description |
| Dashboard carrier | Small organiser placed on dashboard for change and pens |
| | Great way to bring extra drinks in the car without worrying about spilling |
Usually, the higher the number of people travelling, the more critical it becomes to keep things organised. A car seat organiser is a must-have for people travelling with young children. Car seat organisers, dashboard carriers, and cupholders are just some of the organisers designed to make travelling easier.
Factors to Consider When Choosing a Car Seat Organiser
When looking for car seat organisers, it helps buyers to consider what features they cannot do without in an organiser. This includes thinking about what the driver as well as the regular passengers in the car typically need on journeys. Some factors to consider include size of the car, the number of pockets in the organiser, and the type of material used.
Size of the Car
The size of the car is an important consideration when choosing an organiser. If the buyer is driving a minivan or an SUV for instance, it is a good idea to go with a large organiser. A medium size organiser works better with a car as the smaller size of the organiser does not take up too much room. Some car seat organisers in the market come with suggestions for the types of car they are well suited for.
Number of Pockets
Ideally, a car seat with a number of pockets is more versatile and functional, especially if the number of things to put away is large. Both the number as well as the type of pockets on the organiser are to be taken into consideration when making a selection. For instance, one might want pockets designed to hold magazines or books, and therefore some of the pockets in the organiser should be large enough for that purpose. It is also a good idea to look for organisers with side pockets that work well for bottled water or other beverages.
Material and Colour
The buyer also needs to consider the material used to make the organiser. A material that is easy to wash makes it easy to keep the organiser clean. Additionally, one may consider an organiser in a dark colour, so it does not need to be washed often.
Versatility
Some car seat organisers have straps that can be tied onto the headrest of the car but can be adjusted for the size of the car seat. A prospective buyer should also look for a carrier that can be used in other ways, such as one with straps that can turn the organiser into a backpack-type carrier.
Other Useful Features in Car Seat Organisers
Many organisers come with other features that the buyer may want. For example, a tablet tray that lets a passenger in the back seat play with a tablet or laptop is a useful feature for some. Many organisers have velcro or zipper fasteners, and one's choice should depend on the type of items that need to be stored.
Buying a Car Seat Organiser on eBay
If you are looking for a car seat organiser, you can easily find it by learning how to use the search tools on eBay. One of the first things you can do is a keyword search. Simply enter relevant keywords, such as "car seat organiser", into the search box. If you do not feel like browsing through all the product listings that come up, you can narrow your search with filters such as price, car make, and condition of the organiser. It is a good idea to also look within the eBay Deals section for car seat organisers listed with special pricing.
Other useful functionalities on eBay include the feedback tool. This allows you to see the feedback that previous buyers left behind for a seller you are considering. It is a good way to ensure that you are using a reliable seller. You may also choose to only work with eBay's Top-rated sellers, who have established a reputation for quality products and service on the website.
Conclusion
If someone is fed up with the mess in his or her car, a seat organiser can help solve the problem. A car seat organiser is a good idea for almost anyone because it helps keep a vehicle looking clean and tidy and keeps belongings in an easy-to-reach spot. Consumers can choose from various types of organisers, including ones designed specifically for children, traditional ones that hang on the back of a seat, and other types of organisers. When buying an organiser, it is important to consider the features that one needs in the organiser.
With its vast array of products and sellers, eBay makes it relatively easy for prospective buyers to find the right kind of car seat organisers at the right prices, all from the comfort of one's home.
Seat Organiser|Car Organiser|Organiser|Organiser for Kids|Swing-Away Organiser