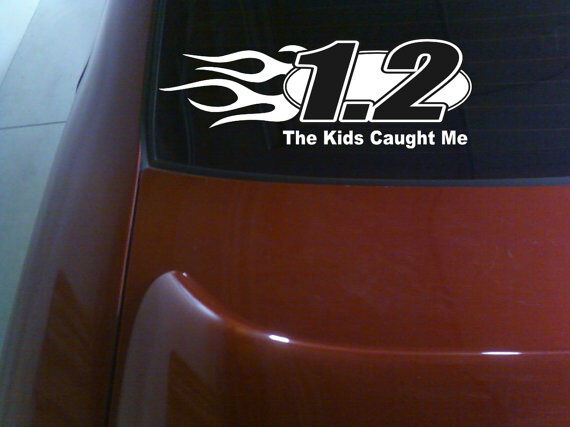 A popular item amongst car owners, car stickers are a good way for to add one's personality to the vehicle. Stickers are available for car windows as well as for the body of the car. A buyer can find car stickers in a variety of designs, including ones promoting a business, stickers representing political movements or activist causes, stickers with fun messages, and many other themes. When purchasing car stickers, it is helpful to know the different types and styles available.
After purchasing car stickers, it is a good idea for the buyer to know how to correctly apply them on the vehicle in order to avoid issues such as bubbles. It is helpful to know how to remove car stickers in case one no longer wants to display them on the vehicle.
Types of Car Stickers
Buyers can get stickers for different parts of a car. Stickers are available for both car windows and bumpers, and being aware of the different types is helpful in deciding where to place stickers.
| | |
| --- | --- |
| Sticker Types | Description |
| | Can be placed on any car window, but often, it is on the rear window and easily removed |
| | A common location for decals |
| | Small enough to fit on the windshield without obstructing driver's view |
| | Can be put on the bumper or elsewhere on the car |
In addition to choosing the location for a sticker, it is important to consider stickers that can be removed easily. A theme that once seemed attractive may not be as appealing to the car owner after sometime.
Styles of Car Stickers
Once can choose from a variety of car stickers. Not only are there thousands of different designs available, but people can even order custom designs from many sticker companies. Thus, whatever the buyer's interests or passions, there is a way to communicate that using a sticker. Some of the popular types of bumper stickers on the road are political stickers, activist stickers, and those promoting businesses.
Political Stickers
Regardless of what party one is affiliated with, political stickers are available to represent one's choice. People may choose stickers that are based on the political party that one is affiliated with or the candidate whom one supports. It is also possible to find stickers depicting political cartoons.
Activist Stickers
Those who are passionate about causes may be interested in obtaining activist stickers, as they are used to spread the word about a particular cause. For example, it not uncommon to find car stickers promoting environmental concerns. One can find a sticker to support almost any cause one is interested in.
Affiliation Stickers
Affiliation stickers show the connection that the car owner has with something or someone. This may include stickers with the name of a university. This is also a chance for a driver to cheer on a favourite sports team or to announce a connection with an organisation.
Business Marketing
It is also possible to use car stickers to promote one's business. Stickers or decals to promote a business can be made fairly easily. One can purchase them in a variety of sizes and designs, depending on how eye-catching one wants the sticker to be.
Other Styles of Stickers
With thousands of designs available, the buyer can find stickers regarding almost anything he or she wants. Some of the other options for stickers include those concerning animals, band names, and religious symbols. There are also decals that portray the members of one's family. Some people also customise stickers with the names of their pets.
How to Apply Bumper Car Stickers
After purchasing a car sticker, the buyer needs to know how to place it on the car. It is important to do this correctly because it can be very difficult to apply these stickers. The buyer should do the necessary prep work before applying the sticker.
Preparation
In order to apply bumper stickers to a car, it is important that one is working with a clean surface. First, one should choose the location for the sticker on the car. It is a good idea to measure the area where the sticker is to go before applying it to make sure that it fits. This ensures the owner does not have to worry about trying to reposition the sticker to another location because it is too big for the chosen area.
Process
When applying the bumper sticker, it is important to lay the sticker firmly on the spot where it should go. It is a good idea to use masking tape to hold the decal in place while applying it. This can also make it easier to adjust the sticker while it is being applied. It is a good idea to press a credit card against the decal as it is being applied in order to avoid bubbles.
How to Remove Car Stickers
It is not unusual to change one's mind about a car sticker. It is therefore a good idea for the car owner to know how to remove car stickers from a vehicle if he wants to switch out the stickers he already has for new ones.
Bumper stickers can be harder to remove than one may think, and if one does not know how to remove them, one may end up only removing part of it. To remove the sticker, the car owner should wash the sticker and the area surrounding it as well. Next, it is important to spray the sticker and surrounding area with a lubricant or tar removal substance. One should wait at least five minutes for the substance to soak through the sticker. Next, scrape up the edge of the decal with a fingernail. Then, stick a plastic spatula or similar item under the sticker and start removing it slowly. More lubricant or tar removal substance can be added to parts of the sticker that are not coming off, and then the owner can rub the area with a soapy rag to get the rest of it off.
Buying Car Stickers on eBay
A website like eBay is a great source if you are looking for deals car stickers. You might begin with a keyword search and see what it turns up. All you need to do is type applicable keywords, such as "car decal", into the search box. You can narrow down the listings that you have to look through by selecting a category, such as decal type, vehicle make, or price, and then browsing those listings.
Do not forget to take advantage of the other tools that eBay provides its buyers. For instance, you can try the "Ask a question" tool, which can be found on the product listing page. This is a good idea if you want to know if a seller can make a custom decal or get other details about the sticker that is listed.
Conclusion
Car stickers are very popular items because they help car owners express themselves or show support for a cause. Stickers and decals are available for windows as well as the body of a car. One can also choose from various sticker styles, including ones for marketing products or a business, showing affiliation with an organisation, or expressing one's political views. No matter what the buyer's interests are, it is possible to find a car sticker or decal that expresses them. After selecting a car sticker, it is important that the buyer also knows how to apply a bumper sticker so it looks good on the vehicle. One also needs to know how to remove a bumper sticker in case it loses its appeal.
Car Sticker|Decal|Bumper Sticker|Car|Window Cling