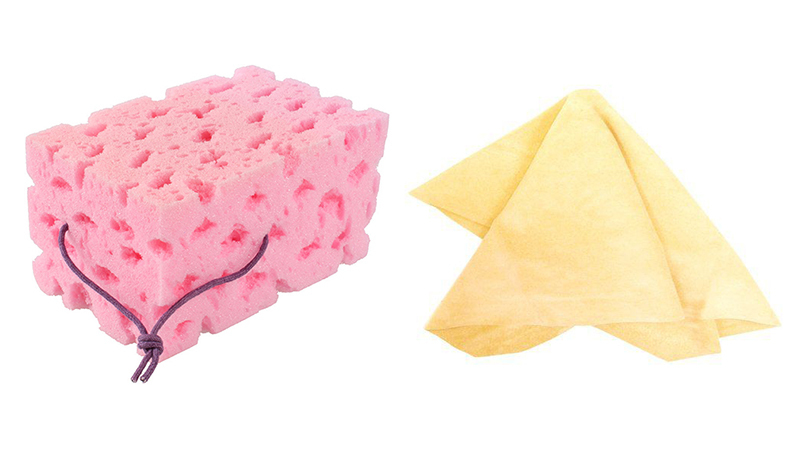 All car care products promise that their use will result in a bright, shiny car, so consumer confusion is understandable. Knowing the difference between car washes and car polishes is important, however, because applying them in the wrong order can actually damage a car's finish. Here is an overview of the different categories of products that maintain a car's high-gloss shine.
Car Wash
Washing is the most crucial step to take in preserving the condition of an automobile's paint job. A residue of fine grit accumulates on the surface of every car, and if this is not fully cleaned off before polishing it will eventually damage the paint.
Car Wash Products Don't Harm the Finish
While frequent washing is important, car owners should not just head out to their driveway with a bucket of water and some household dish detergent. Household detergents are made to dissolve oil-based substances, and they can erode the basic finish on car paint, as well as removing any wax that was previously applied. Cleaning products made especially for cars are pH-balanced, and they will loosen and lift off the surface grime without disturbing the underlying wax or paint finish. There are even more specialised cleaners available for convertible tops, which can be brushed onto cloth or vinyl tops with no risk of damaging the stitching.
Many Car Wash Tools Assist the Cleaning Process
Many types of brushes and high-pressure wash sprayers are available online for use in car washing. A number of retailers even offer a convenient option for consumers to choose and purchase items and pick up in store. Accessories for vehicle washing can be easily acquired in this way and then picked up for same-day use.
Auto Detailing Clay
This is a resin compound that safely removes stains and sticky substances from auto paint without the need for scrubbing. To determine if a car would benefit from the application of clay, the owner should place their hand inside a plastic bag and then run their fingers over the surface of the paint. If the paint surface doesn't feel as smooth as glass, then clay detailing is called for. A clay lubricant is applied first, and then the clay slides along and lifts up any contaminants (acid rain, rail dust, industrial chemicals) that have adhered to the surface of the paint.
Car Polish
Car polish is used after washing, and it continues the contaminant removal process at a micro level. Polish can be bought in a cream, spray, or liquid form and it contains solvents and micro-fine abrasives that cut through any impurities that may be layered on the paint surface. While polishing occasionally is important, this process should not be repeated too frequently. After polishing, it is crucial to apply a wax or sealant in order to protect the underlying paint job.
Glazes
Car glazes are a special type of polish. These products do not contain any abrasives, but instead are a special mix of oils which can fill in tiny surface imperfections and yield a glassy-smooth finish. Glazes are an excellent choice for frequent use after car washing, because they will not remove any microscopic layers of the paint.
Conclusion
Car polishes are specialized products which complete the surface cleaning process that begins with washing. Once the washing and polishing are complete, then the owner should apply a high-quality wax or sealant. The combination of all these steps will preserve the car's factory-fresh gleam for many years.