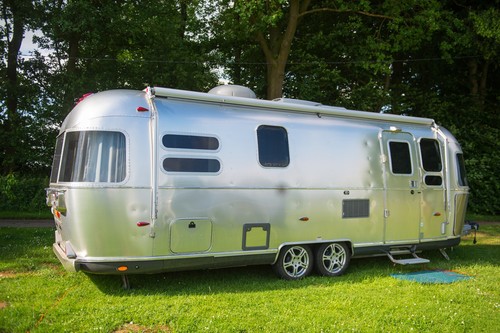 Otherwise known as motorhomes, caravans comes in many different styles and at various price levels depending on factors such as their size and accessories. By determining a budget and then considering their specific needs and desires, shoppers should be able to quickly narrow their search and work out just what they can afford. This short guide is intended to help any shopper interested in buying a motorhome.

Caravan Types
The first step, after working out a general budget, is to consider size. The size refers to the living space within, which will depend upon the number of people using it. A family, for example, may need a bigger caravan than a couple.
Class A Caravan
This class of caravan will range in size from 7.9 to 13.9 metres long. The living space and driver's space are merged to create a single, long unit, rather than separate quarters. Within the living space there is a living area, small kitchenette, bedroom, and bathroom. In some cases additional accessories, like washing machines and dryers, are also included. Diesel options are generally more expensive than petrol ones. Many people commonly choose to tow another regular vehicle behind them that they will use once the caravan has been set up in the camping grounds.
Class B Caravan
These types of caravans are also called campervans. They're taller and have a higher roof, but are shorter in length, usually ranging from 5.2 to 5.8 metres. Consequently, they are easier to drive and more manoeuvrable than the class A motorhomes. A bed, bathroom area, and kitchen will still be included inside the limited space, and their fuel efficiency is generally a lot better.
Class C Caravan
These are motorhomes, like class A caravans, but on a smaller scale, ranging from 6.7 to 10.7 metres. They have similar living quarters to class A caravans as well, but often have an extra bed positioned over the driving cab, and may have slide-outs to provide additional living space.
Camping Trailers
These are not in the same category or given a class because they are towed, not driven. The driver simply clips the trailer onto a special fixing mechanism and pulls it along with their car. When they arrive at their destination, the trailer is unhitched and used for living quarters. The types of camping trailers are as follows:
Fifth Wheel - Provides large living areas and a gooseneck front section that hitches to the centre of a truck bed only.

Travel Trailer - Hitches to standard vehicles and has hard sides. Comes in a range of sizes.

Pop-up Caravan - Comes both with hard sides and tent options, pops up to create living quarters and back down for transportation.

Teardrop Trailer - Small, simple to transport, with hard sides in teardrop shape.
Another crucial factor to consider is the vehicle that will be used to tow the trailer. If not already owned, this needs to be part of the purchase decision. These trailers range widely in size and cost, so further research will be required before any shopper makes their decision.

Picking a Caravan
Deciding which caravan will be most suited to a buyer's needs will take a great deal of thought and research. It's important to keep a few key things in mind during this process.
It's important to think about where the caravan will be kept when not being used, such as in a garage or under a tarpaulin.

Listing essential amenities to include with the caravan and adding these to the budget is also important.

The size is always paramount. Singles and couples can get away with anything, but larger families need to provide sufficient room for everyone to sleep and stay comfortably.
One final tip to consider is renting a caravan before making the decision to buy. Actually taking it on a trip will help the buyer grow accustomed to using it and what it's actually like to stay in one. It's not for everyone, and it's best to find that out before buying if possible.
Buying a Caravan on eBay
To find a caravan on eBay, type in 'Caravans' or something more specific, such as 'Class A Caravans' or 'Teardrop Trailers', into the search bar at the top of the page to load up potential listings. Since it's a big purchase, it's important to read product descriptions carefully and get in touch with the seller to ask any questions that may be important. Start a dialogue and never buy until every single box has been ticked.

Conclusion
Caravaning is a way of life for many, especially in the warmer summer months. It can take time to learn how to live this way and the first step is to think about realistic needs and wants before purchasing. eBay allows shoppers to browse thousands of models and learn all the important information before making a decision.