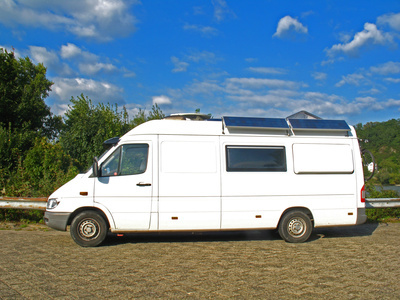 Taking a trip in a caravan is an ideal way to get out and enjoy the outdoors. One of the great things about a caravan is that it allows people to travel to and stay in locations that otherwise would not be possible for them to do.
Although a caravan can open the door to undiscovered country, having the need to charge a caravan can also limit the possibilities as well. That is why many people choose solar panels for their caravans. There are many different types of solar panels for caravans, as well as accessories. That is why it is helpful for people to become familiar with the various types before making a final purchase decision on caravan solar panels.
Overview of Caravan Solar Panels
Hiking takes people to the further reaches of the wilderness, as can staying in a tent allow people to prolong their visits; however, this method of traversing and sleeping is not always the most comfortable, especially if there are a lot of items to pack. These are just two reasons why people decide to invest in caravans to begin with.
Because not all solar panels for caravans are alike, it is important for people to access their needs before investing in solar panels. There are a few things that people need to consider before choosing solar panels. In order to find ones that are suitable, the needs of the occupants as well as the needs of the caravan need to be taken into account. How many watts solar panels offer has a direct bearing on how long the power is able to last. Seasonal changes also make a difference in how much power a caravan needs; so this must be taken into consideration as well.
Solar Panel Wattage
The watts provided by solar panels need to be taken into consideration when choosing solar panels for a caravan. The amount of wattage needed to power this type of recreational device is dependent on how large the caravan is and how much electricity generation is desired by the owners. For many people, 50-watt solar panels may be all that is a needed and is often sufficient enough to provide hours of electrical output when used in moderation.
Environmental Elements
As seasonal changes begin to occur, they wreak havoc on a caravan's power supply. While using the air conditioner or heater in a caravan is often a choice afforded for luxury purposes, when extreme weather conditions occur, using these appliances becomes more of a necessity rather than a luxury. If temperatures drop to freezing levels or below, it is often necessary to turn on the heat in order to stay comfortable and also to keep pipes from freezing. Choosing solar panels that can handle more than the minimum requirements is always a good idea, especially in case an emergent situation requires additional power.
Other Factors
There are many things that motorhomes come equipped with that make people's lives more comfortable while away from their homes. Many caravans come with upgraded features such as television units, microwaves, and stereos. All of these devices require an electrical source of energy to power them; however, these devices are meant as luxury items, so it is the choice of the caravan owners as to whether to use them or not.
There are however features that caravans have that are considered to be utilitarian in nature and also require electrical power sources for some models. Hot water heaters are one example of a feature that is often needed to be used while staying in caravans. Hot water heaters provide hot water not only for showers, but for the sinks as well, so that things like hands and dishes can receive a thorough cleansing.
Types of Solar Panels
Solar panels for caravans differ not only in wattage, but in size and design as well. It is important to keep in mind when choosing new caravan solar panels that the panels have enough room to be installed and that the weight of the panels if mounted to the caravan is what the caravan is able to support as well. Listed in the table below are various styles of solar panels and the notable characteristics of each type.
| | |
| --- | --- |
| Type of Solar Panel | Notable Characteristics |
| | More cost effective than other models; able to be mounted or can be freestanding |
| | Cells uniform in appearance with cut-out edges that round the cells make them the most cost-effective unit to operate and more efficient for saving space |
| | One of the oldest varieties still in use; characterised by perfectly square cells; less expensive to purchase than other models and have a lower heat tolerance |
Solar panel kits for caravans are a widely popular choice for many people, because many varieties come with all of the accessories needed to make the solar panels completely operational without an additional investment. Not all kits are created equal, so it is important to make sure that all necessary items needed to install the solar panels come with the kit. The type of items needed largely depends upon the type of caravan and how the solar panels are to be installed.
Caravan Solar Panel Accessories
Depending on the type of solar panels installed, additional caravan solar panel accessories may be required in order to keep the units properly maintained. Although solar panels are very durable, there are parts that over the lifetime of the devices need to be replaced. Many people prefer to keep spare parts on hand in order to eliminate the time spent waiting on them to arrive after the parts are ordered. Having spare parts like caravan solar panel bulbs makes it convenient to replace these items when the time comes to change them out.
Other features that are often necessary to have with many types of solar panels are caravan solar panel charge regulator controllers. Often, this type of accessory comes with additional parts like alligator clip test leads, which is always a nice accessory to have on hand.
How to Buy Caravan Solar Panels on eBay
When it comes to equipping a caravan with upgraded features like solar panels, many people turn to eBay in order to fulfill their needs. Finding great deals on caravan accessories like solar panels is easy because there are a large number of individuals who sell their merchandise here. Not only does this mean that there are multiple options in this department available, but it also means that there is a wide variety of price ranges to choose from as well.
Locating solar panels for a caravan is an easy process that begins when you type relevant keywords into the search query box. For example, if you want brand new solar panels, you can type "brand new caravan solar panels", and all items within that category are displayed for you to browse through.
Conclusion
Owning caravans brings a lot of joy to people's lives, however, at times they are expensive to use as well. Just the fuel costs alone are a prohibitive expense when travelling long distances. For this reason, many people choose to find ways to cut the expenses on trips wherever possible. Even though the initial cost of caravan solar panels may be expensive, over time the units more than pays for themselves.
Not only do solar panels cut expenses, they also allow people access to remote areas that do not come equipped with luxuries like electricity. There are a variety of solar panel options for people with caravans, so it is helpful to know some additional information about the units before they are purchased.
caravan solar panel|framed solar panel|monocrystalline solar panel|polycrystalline solar panel|caravan solar panel bulb