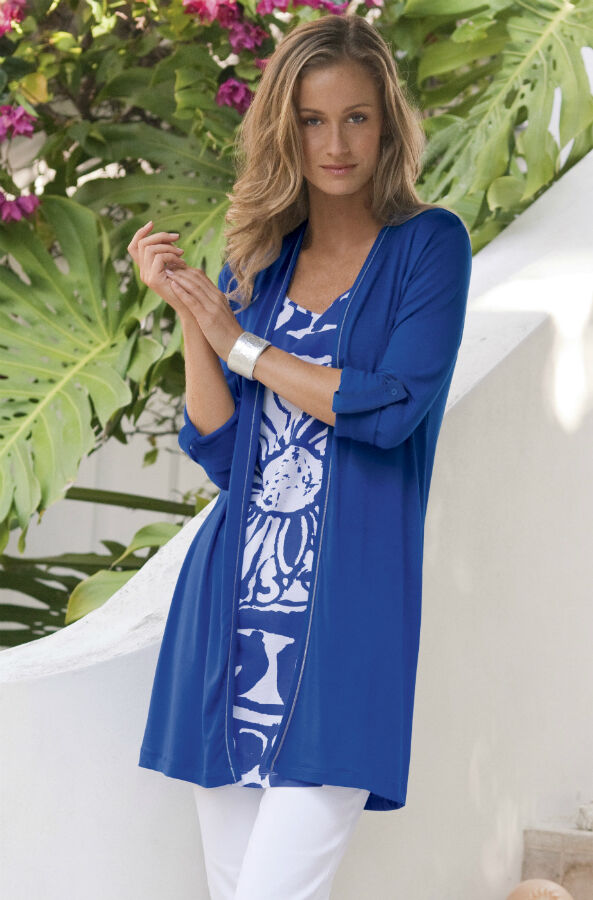 Cardigans are a wardrobe item that is hard to have in oversupply. The right cardigans can add a bit of extra warmth to an outfit, function as business jackets, and meet the need for cosiness on a chilly winter afternoon at home.
Cardigans are made in many fibres, every colour, and in designs from ordinary to fantastic. A woman who wants to find a cardigan can start by considering where it is to be worn, how warm it should be and how much care she is willing to give it. With those questions answered, it is easy to dive into the global eBay marketplace and select among the many cardigans to find one or more that is just as desired.
Types of Cardigans
Cardigans are needed virtually every day, whether to ward off a chill in a too-cool office or to cover up on the way out of the theatre. Included in a woman's cardigan collection should be office cardigans, dress cardigans, outerwear cardigans, and cosy cardigans.
Office Cardigans
In the office where a business suit is not expected, an office cardigan can add the right amount of snap to a business outfit. A belted cardigan, worn with a sharp leather belt over a blouse and skirt, unifies the outfit and creates a strong impression. Some cardigans are designed to look like a Chanel jacket or other suit jacket. All of these help create the image of a woman on the move.
The other office cardigan lives on the back of the desk chair and comes into play when officemates disagree about the optimal thermostat setting. Its everyday functionality does not mean it can be as sloppy and cosy as the cardigan that lives on the back of a sofa for television watching, however. Look for a cardigan in neutral tones that matches up with just about everything in the office wardrobe. If it must be thick, search diligently to locate a jacket that avoids pronouncing judgement on whoever sets the office temperature.
Dress Cardigans
The dress cardigan is designed to add just enough warmth over a special outfit on a cool evening out. It is often a very short cardigan, sometimes called a 'bolero' or shrug. These styles carry echoes of the very short sweaters and jackets worn more than 150 years ago when, not coincidentally, higher waistlines were also popular on dresses. They are also popular with 'rockabilly' style full-skirted dresses. Shrugs are often constructed in lacy, open knit or crochet stitches.
Another popular dress cardigan is the 'batwing' cardigan. This got its not so flattering name because if the wearer holds her arms perpendicular to the ground, the sweater's sleeves are connected to its torso, creating the appearance of wings. Batwing cardigans are often made in lacy stitches or in stitch patterns that emphasise the flow of the textile.
Outerwear Cardigans
The cardigan jacket often substitutes for a coat or jacket on cool days. It may be tightly knit from thick wools and may even have been lightly felted, or boiled, for the most wind-resistant texture. Outerwear cardigans are most likely to have collars or hoods. Some outerwear garments that are called cardigans are made from fleece fabrics instead of being knit or crocheted. The outerwear cardigan is easy to grab and go. A cardigan that matches everything is a great first choice.
Cosy Cardigans
Cosy cardigans are often first purchased as a young adult who cannot afford a properly heated apartment. They somehow live on through years of Sunday morning tea with flat mates and late nights caring for colicky children and the odd quiet moment stolen with a book or a cuppa before bedlam re-commences.
The cosy cardigan might be an Aran or another thick wool cardigan. At the time of purchase, it may have seemed dear. But the years of comfort it provides make it worth more than any cost.
Fibres and Materials
Any fibre that can be knit or crocheted is made into cardigans and any material that can be applied to fibre has been used, at some time, to decorate them.
| | | |
| --- | --- | --- |
| Cardigan Fibre or Material | Origin, Reason for Popularity | Care |
| | Very soft wool from Kashmir goats; the best cashmere is spun from the downy winter coat that is shed as warm weather begins | Hand wash or dry clean |
| | Fibre shorn from sheep is spun, amount of natural lanolin allowed to remain in fibre determines water resistance of cardigan | Hand wash or dry clean |
| | Synthetic fibre, non-allergenic, low cost | Machine washable |
| | A cellulose-based fibre, made from woody pulps; marketed under all three names; easily formed into a variety of fibre textures | Hand wash or dry clean; very subject to set-in wrinkles from improper drying |
| | Made from synthetics, including recycled drink bottles | Machine washable |
| | Natural fibre from cotton plant; lightweight and cool; subject to shrinkage | Sometimes machine washable; may require hand washing or dry cleaning |
| Sweatshirt fabric | A fabric that may be made from various fibres, often used for hooded cardigans | Machine washable |
| Beads and Sequins | Nostalgic elements enjoying renaissance in sweaters | Dry clean with special care |
| Fur, faux fur | As warm collar or hood lining | See care instructions |
| Embroidery | Ethnic influences | See care instructions |
Any fibre that may be used to make cardigans may be spun at various weights to create cardigans of different types. An Aran or Afghan weight yarn creates bulky cardigans to wear outdoors. Light worsted and sport yarns create fine textured sweaters that are attractive over office tops. Sock or fingering yarn is used in the laciest of shrugs.
Designs and Lengths
The range of fibre weights and different ways they may be knit or crocheted into cardigans creates great diversity of design. Among the popular designs offered are these below.
Cropped, Bolero, or Shrug
This short cardigan falls between the bust and waist. It is sometimes designed to be tied at the waist. Many cropped cardigans are made in lacy patterns but those designed for 'rockabilly' fashions are usually fine, flat knits.
Long Straight
These cardigans fall at least to the hip and sometimes lower. They are often worn as belted cardigans, sometimes with a self-belt. More sophisticated versions taper at the waist. This cardigan may or may not have a collar. The neckline may be round or V. They are excellent outerwear and many are well designed for office cardigans, especially when the self belt is replaced with a quality leather belt.
Irregular or Asymmetric
These cardigans have come into fashion along with asymmetric hemlines. The fashion police say: wear only one asymmetric line at a time. If wearing an asymmetric cardigan, stick to a standard skirt hem and vice versa. These are excellent sweaters for tea with girlfriends or a night out. They are generally too dressy for the office.
Batwing, Swing, and Other Full Designs
The 'batwing' cardigan takes its unflattering name either from the flying mammal or the older woman's arms: take your pick. Either way, the cardigan is considerably more appealing than its name. The 'wings' fall in graceful folds when worn. 'Swing' cardigans swing wide from the shoulders, mimicking women's jackets from 'Mad Men' 1950s.
Hooded
Hooded cardigans have become a fashion staple. They are available in virtually every weight and every length except cropped. Wearing the hood over the head is not required.
Buying Cardigans on eBay
To shop for deals on cardigans on eBay, start by keying 'cardigan' into the search window on any page. The many selections that appear may be filtered by adding new keywords in the Search window, selecting from suggestions that appear, or using menu choices that may appear to filter choices by such options as size, colour, or fibre.
Sizing a Cardigan on eBay
The eBay marketplace is global, so confirm the sizing system. An AU 12 is a US size 8 and a UK 10 or 12. Sellers often provide measurements in centimetres as well as the size. If there is any question, a buyer may enquire via the Questions and Answers tab on the Product description page.
Conclusion
Cardigans are designed for every purpose, making them easy to wear under all circumstances. The range of fibres used allow women to select cardigans not only for their warmth but also for their relative ease of care. The many available fibres also make diverse colours and patterns available, allowing cardigans to suit any wardrobe style.
A woman seeking a new cardigan may start by determining where it is to be worn, then consider the warmth and wear characteristics that matter to her. Many styles of cardigan are likely to be available in any fibre she may choose. The international eBay marketplace provides one of the greatest selections for women who want lots of options for an easy choice.