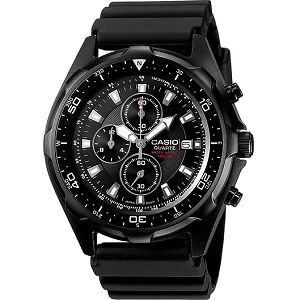 Casio watches are hugely popular because of their quality, affordability, and durability. These robust watches are available new and used from eBay sellers. Casio watches are famous for their durability, and are well suited to men and women who play sports, enjoy the outdoors, and generally put their watches under performance pressure. Available on eBay at great prices, shoppers can find great deals on watches, such as the rugged Casio G-shock for men or the military-grade (yet feminine) Baby-G watch for women. Most Casio watches have multiple functions, are water resistant, and are available in both analogue and digital formats.
Choosing a Casio Watch
Casio watches are very robust, and are perfect for adventuring, since they can withstand knocks and bangs. Casio watches come in styles for for both men and women. All Casio watches are part of a specific watch collection. The following sections examine several different collections.
G-Shock Watches
G-Shock watches are a good choice for people who play sports, for people in the military, and for people who enjoy outdoor adventures. All G-Shock watches are waterproof and have a stopwatch feature. Designed for men, G-Shock watches incorporate the number 10 into their design. For example, the watch has a battery life of 10 years. Water resistant down to 10 bars, it does not break if dropped from 10 metres. G-Shock watches come in either digital or analogue format. G-Shock models DW-5600C and DW-6900 are both NASA-qualified for use in space. Several models of the G-Shock collection are solar powered. This means the wearer need never wind their watch or replace the battery.
Baby-G Watches
Casio Baby-G watches are a perfect watch for active women. Designed to be just as tough as men's watches, they have wire guards that not only protect the watch but act as design accents, as well. Like its male counterpart, the Baby-G comes in both analogue and digital formats. Available in a range of bright vibrant colours, Baby-G watches have a range of features, including alarms, timers, and backlights. Some Baby G watches have sensors that detect changes in the atmospheric pressure or temperature.
Edifice Watches
Watches in the Edifice watch collection run on solar power. The technology is such that, even a small amount of light, either natural or artificial, is enough to keep the watch running. The watch's waveceptor receives time calibration signals, which means it automatically sets the correct time. Edifice watches have a hybrid mount construction. This protects the watch from internal damages when dropped. It features a stopwatch accurate to 1/20 second, and it can display the current time in many different countries around the world.
Pro Trek Watches
Pro Trek watches are perfect for those who love the outdoors. They feature a unique auto light switch that requires only a flick of the wrist to turn activate. All Pro Trek watches have a built in compass, so wearers need not worry about getting lost. The watch also features a Bearing Sensor, which allows users to find themselves on a map. By finding two fixed landmarks, the user plots lines and can use the Bearing Sensor to measure the angle.
Pro Trek Summary
There are many different models of Pro Trek watches available with different features. The side-by-side comparison below should make it is easy to see the different models and their features so readers can quickly find the model that best suits their needs.
Pro Trek Watch Model

PRW

3000

PRG

270

PRG

260

PRG

250

PRG

240

PRG

550

PRG

510

PRG

505

Yes

Yes

Yes

Yes

Yes

Yes

Yes

Yes

Bearing

Memory

Yes

Yes

Yes

Yes

Yes

No

No

No

Altimeter

Yes

Yes

Yes

Yes

Yes

Yes

Yes

Yes

Barometer

Yes

Yes

Yes

Yes

Yes

Yes

Yes

Yes

Sunrise and Sunset

Yes

Yes

Yes

No

Yes

No

No

No

Water

Resistant

100 metre

100 metre

200 metre

200 metre

100 metre

100 metre

100 metre

100 metre

Duplex LC

Display

No

No

Yes

Yes

Yes

No

No

No

Band

Titanium

Resin

Resin

Resin or

Titanium

Resin or

Titanium

Resin

Resin or Titanium

Titanium

Tide Graph

No

No

No

Yes

No

No

No

No
Use the chart above to identify the ideal Pro Trek watch. The extensive range of features varies with each model. Therefore, using a comparison chart makes it easy to choose the best model.
Sheen Watches
Designed for women, the Sheen watch collection is stylish and elegant. The watches in this collection are much more feminine than most of the other Casio watches. With leather or stainless steel straps, these watches are analogue only, and feature Swarovski crystals. Roman numerals create a classic look, and each watch displays the day and date. Sheen watches look great with an evening dress or when out for a special occasion.
How to Buy a Casio Watch on eBay
Buying a Casio watch on eBay is very simple, and buyers have a variety to choose from. Many eBay sellers, including many of those with top-rated status, also offer free or insured delivery with your purchase. Whether you are looking for a high performance, military-grade watch like the G-shock or the Baby-G, or a more feminine option such as the Casio Sheen, eBay offers them in new or used condition. Simply enter your preferred search terms into the search field found on any eBay page.
Choose from an analogue, a digital, or a digital analogue combination watch, or select one that is water resistant. Casio Pro Trek watches are a popular choice, and they offer a variety of options, such as a digital compass or a barometer. Shoppers have access to a user-friendly interface that allows them to quickly and easily purchase their ideal Casio watch at a competitive price.