What is Cellulite?
Cellulite is the fatty deposit which causes a dimpled (orange peel) look on certain areas of the body. It appears most often on a person's thighs, upper arms, abdomen and buttocks. It is caused by little overfilled fat pockets right underneath your skin which become enlarged causing the cells to take up more space between the skin's connective tissues than normal; the fat then expands these spaces resulting in the overlying skin-dimpling appearance.Causes of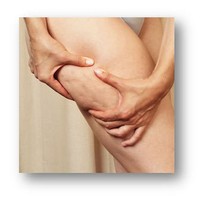 Causes of Cellulite
The causes of cellulite differ from one person to another. They can include hormonal changes during puberty, pregnancy and pre/post menopausal periods / overproduction of estrogen / lack of exercise / excess consumption of saturated fats and sugary foods / insufficient water intake / smoking / tension and stress / improper blood circulation / medication / certain anomalies, overproduction of estrogen, disturbance in endocrine functions etc can also increase fat storage in the body and finally result into cellulite / poor blood circulation and poor lymphatic flow / a variety of hormones, including progesterone and insulin, aid to engender dimpled-skin by feeding the essential fat cells / estrogen and progesterone which are female hormones are also factors regarding cellulite. Estrogen has a role in determining the amount of fat cells as well as the location of the fat cells in a woman's body. Estrogen also stimulates the body to create fat cells in the thighs, the breasts and buttocks. The retention of excess fluid and weight gain in a woman's body can be caused by progesterone. Stretch marks that occur during pregnancy or puberty in the buttocks and the thighs might be signs of fat deposits and for some women the stretch marks can become areas for cellulite.
Treatment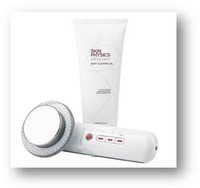 A recent invention (2010) called the Skin Physics Liposculpt Body Sculpting System is designed to remove excess fat and cellulite from areas of the body by using non-invasive ultrasound and infrared technology to get rid of unwanted fat cells – and all in the privacy of your own home.
* Target stubborn fat deposits
* Reduce the appearance of cellulite & stretch marks
* Improve overall skin tone
* Assist in firming skin & toning the body
* No downtime
* No side effects
Micro current massage is also used to reduce cellulite and smooth the skin. Low frequency ultrasound energy targets fat cells in the body without harming surrounding skin tissue components such as skin, nerves or blood vessels.
The Skin Physics Liposculpt System is based upon technology that has been used safely and effectively by a wide range of health care and beauty practitioners for a number of years. Clinical studies have shown that low frequency ultrasound selectively targets fat cells without harming surrounding skin tissue components, nerves or blood vessels.
Testimonials:
"Skin Physics Liposculpt is really convenient and economical. I use it whilst watching TV and I can't believe how much time and money I have saved and continue to save by using the system, because I no longer have to go for repeat treatments at the salon.
Review posted by M. Brown on 10th Mar 2011 on the Total Body Australia website:
"Best Cellulite Treatment Ever" – I absolutely love this product. I purchased this product in January and within 3 weeks my orange peel thighs have become silk smooth. Fantastic product Skin Physics."
For more info or to purchase the Liposculpt Body Sculpting System, click here
PS...it also comes with a 2 year Australian warranty!