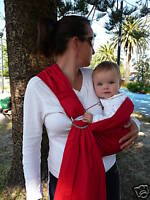 Certified Organic Baby Sling
There is a long history of baby wearing all over the world. Many people think that wearing a baby in a front carrier, back carrier, sling or wrap is new or modern, but in reality, its been done for as long as their have been babies and mothers.
With the rising influence of attachment parenting, parents are beginning to realise the tremendous benefits of baby wearing to their family structure and baby's wellbeing.
Babies carried in slings are comforted by being close to their mum, dad or other carrier and therefore cry less and are more relaxed and happy.
Baby slings allow a mother or father to have their hands free, and they are therefore able to perform their daily chores and look after their other childrens needs a lot more easily.
Carrying baby in the upright position, when correctly used, can help babies that are prone to reflux.
Baby slings make an outing such as shopping or going for a walk much easier as their is no need to take a pram.
Even better is to use a certified organic baby sling as there are no chemicals in the production of these slings which make it a much better choice for your bub and the environment. The Enviro Baby Sling is a certified organic cotton sling that comes in a range of colours to suit anyones taste. These slings are adjustable and are made as a one size fits all due to the fact that you can adjust the material in the rings to suit your size.
Help the environment and look after the health of your bub by purchasing a certified organic baby sling!