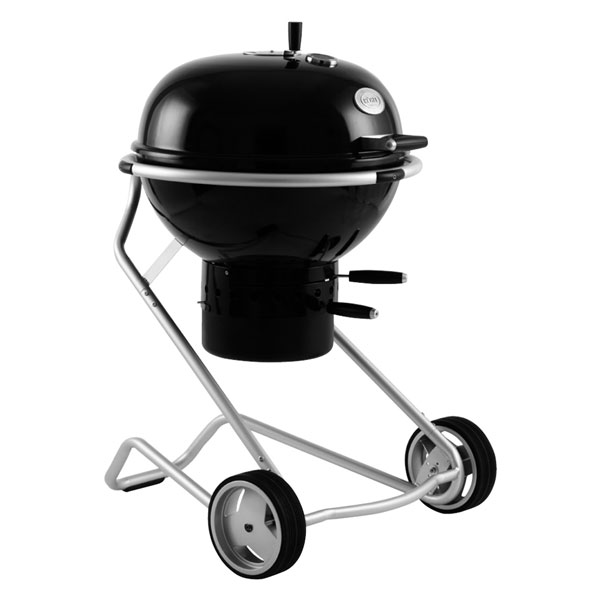 From the moment log fires were used to tenderise meat before eating, barbecuing has been a popular way of preparing food outdoors. Two distinct types of BBQs have been developed for regular use – charcoal and gas - with the traditional and familiar char-grilled barbecue taste most easily achievable with charcoal BBQs.
There is now a large range of charcoal BBQs available to buy, and this guide will outline some of the key types and features of charcoal BBQs available and how to buy charcoal BBQs on eBay.
What are Charcoal BBQs?
Charcoal BBQs are outdoor cooking apparatuses that apply heat from directly below food in order to cook it, in a chargrill manner. Barbecuing is a slower method of cooking than a traditional stove due to the lessened amount of heat reaching the food to be cooked. However, the distinct taste and barbecuing experience achieved when using charcoal BBQs has made it a popular consumer's choice for outdoor cooking.
Construction
Charcoal barbecues most commonly come in square, round and rectangular shapes and whilst configurations vary by manufacturer, they all have four essential features:
1. Charcoal Pan: where the charcoal is placed and lit. Made from sheet metal.
2. Cooking Grid (also known as grate): lies above the charcoal pan, usually supported by holes in the charcoal pan. Made from wire.
3. Legs: attached to the charcoal pan, it holds up the grill itself (pan and cooking grid).
4. Fuel: typically charcoal briquettes which last longer or natural charcoal lumps/pieces which are easily lit and heat up quickly.
Almost all charcoal BBQs, with the exception of the brazier grill, have a venting system to adjust heat. In the case of the brazier grill, heat is adjusted by moving the cooking grid up or down over the charcoal pan using the various holes. Some models come with a lid which can be used to cook food at lower temperatures whilst other features include wheels for easy transport and an ash catcher which lies at the bottommost section of the barbecue and is removed after cooking for easy disposal of the spent charcoal.
Types of Charcoal BBQs
The following is a list of the several types of charcoal BBQs available to buy on eBay:
· Freestanding or Brazier: Simple, inexpensive, and most basic type of BBQ, in square, circular, rectangular and half-barrelled shapes. Consists of only a stand, grill and basin to hold the charcoal. More expensive models have a storage shelf and wheels as well as an adjustable grill to adjust heat levels. It is a popular, convenient and simple method of barbecuing.
· Freestanding half-barrel: Also known as 'oil drum barbecues', they have a distinctive barrel shape. The cooking grids are in the bottom half of the body, with a hinged lid, vents on the top and bottom of the barrel for airflow control, whilst a chimney is normally attached to the lid. Lit charcoal is placed at the bottom of the barrel whilst the food is placed at the top. Offers a huge amount of grill space, ideal for catering to larger groups.
· Pellet: Barrel shaped with a square fire box at the end or the side. Some models may have lids. Uses compressed hardwood pellets fed into a fire box at bottom of grill using a hopper. Pellets turn into coals once lit. Can be set on low temperature 'smoke' mode for slow cooking and to higher temperatures for meat searing. A variety of pellet flavours and woods are available such as hickory, oak, maple, apple, alder, pecan, mesquite, macadamia, herbs and grapevine to flavour the smoke and meat.
· Kettle: Very popular type. Has a circular body, distinctive domed hood fitting tightly over the BBQ, working like an oven. Has cooking grid, charcoal grid, lower kettle-shaped chamber for the charcoal and legs. May also include an ash catcher, wheels, a thermometer on the hood to accurately monitor temperature and air vents for temperature control. Smaller, portable versions also exist for easy transport.
· Square: Hybrid of brazier and kettle, has shallow pan and simple method of heat adjusting. Includes a lid, basic adjustable vents and four legs with wheels on the back legs. More expensive models include baskets and shelves.
· Hibachi: Small heating devices popular as a form of portable barbecue, resembling traditional, Japanese charcoal-heated cooking utensils called shichirin. An inexpensive BBQ made from sheet steel or cast iron, it is composed of a charcoal pan, two small, independent cooking grids and no lid. Heat is adjusted by moving the grids up and down and some models may have a venting system.
· Cart: Similar in appearance to a typical gas BBQ, rectangular, with hinged lid, cooking and charcoal grid, mounted to a cart with wheels and side tables. Heat is adjusted by moving the cooking surface up, charcoal pan down, venting or a combination of the three. Has ash collector drawer whilst rectangular design makes it suitable for indirect cooking. Can be quite expensive, but is as convenient as gas BBQs.
· Ceramic cooker: Similar to a Habachi, it is more versatile than a kettle BBQ as the ceramic chamber retains heat and moisture more efficiently.
· Portable: Mostly in the brazier or kettle form, though some may be rectangular in shape. Designed to replicate the functions of a traditional BBQ but is more compact, with features allowing for easy transport – the legs fold up and lock into place and may have wheels. Some models may be designed without venting to prevent ash fallout during transport and use.
Buying Considerations for Charcoal BBQs
There are several key things to consider when buying a charcoal BBQ:
· Airflow Control: as airflow plays a large role in determining charcoal BBQ temperatures, ensure the lid closes tightly for the vents to effectively move air in and out. It also allows the BBQ to hold predetermined temperatures better, thus models may come with adjustable vents. High-quality BBQs allow users to shut down the air flow and extinguish the heat source quickly, saving money by preserving unused charcoal.
· Construction: ensure the BBQ feels sturdy, has solid legs and doesn't wriggle or sway when lightly touched or bumped into. Look for aluminium air vents and well-insulated handles. Cooking grids should be constructed with high-grade plated steel, chrome-plated aluminium or cast iron for best performance and increased durability whilst a baked-on porcelain finish prevents surface dents and scratches. A heavy-gauge, thick cooking grid will last longer and distribute and retain heat better.
· Automatic Cleaning Mechanisms: these drop the charcoal from the bottom of a steel receptacle for easy cleaning. Once users remove the charcoal, the receptacle surface only requires a damp dish towel to clean.
· Adjustable Cooking Grid: adjusting the distance between the grid surface and the heat source allows the user to control the cooking temperature. To prevent having to grab the side of the grid and risk burns, look for grids which are adjustable with a knob.
· Maintenance: check the manufacturer's warranties to cover maintenance costs which exceed that of routine cleaning. Users should have access to manufacturer's spare parts to replace those that show wear and tear or break down, whilst reputable companies should also provide adequate customer services and advice on charcoal barbecue accessories.
Additional Features of Charcoal BBQs
Some charcoal BBQs also feature additional features such as:
· folding side tables with tool hooks for additional space when needed
· practical work surfaces and storage for more convenience
· a larger section for adding wood as well as charcoal to the BBQ
· larger ash catchers for larger or more extensive barbecuing
· propane lighters to make lighting the charcoal easier
· improved performance and a more contemporary look for modern convenience
Some BBQs require some, and sometimes extensive, assembly after purchase. Better manufacturers, however, reduce or eliminate the amount of assemblage needed, allowing for easier assembling, and a quicker start to barbecuing.
How to Buy Charcoal BBQs on eBay
Buying from eBay's large range of charcoal BBQs is easy with these simple steps:
· Type the item names into the search bar at the top of the screen, in as much detail as possible. 'Charcoal BBQ' and 'charcoal barbecue' will both yield relevant results.
· Use the 'Shop by category' menu near the logo to search for charcoal BBQs. Go to Home & Garden, then choose Outdoor Living from the list of options along the left hand side and find BBQs.
· From there, either type in 'charcoal' into the search bar to search charcoal BBQs, or narrow down the search results using the sub-types on the left hand side. Choose from Format, Brand, Features, Condition, Price and Item Location. Alternatively, simply browse the listings as they are.
· Use eBay's recommended deals section for further charcoal BBQ listings using the eBay deals option at the top of the screen. Go to Outdoor & Travel from the list of options, then Backyard for BBQ deals to find deals. However, deals will vary according to available listings.
· Ensure the seller or the manufacturer of the charcoal BBQ offers a warranty of at least a few years. This will cover maintenance repairs and is a good indication of the manufacturer's own faith in their product.
Conclusion
With eBay's large range of charcoal BBQs, and with an understanding of the different types of charcoal BBQs on offer, it is simple to find the perfect outdoor cooking appliance for a fun-filled outing with family and friends. Whether cooking for a large group or a few people, charcoal BBQs promise to deliver that distinctive char-grilled taste, reduce costs compared to a gas BBQ, and provide a memorable, traditional barbecuing experience.