Even if you're on a tight budget, there are still plenty of things you can do to renovate and refresh an outdated kitchen. The following guide offers some economical ways to update your kitchen's appearance, and make it more ergonomic as well.
1
Vinyl Flooring

The kitchen is one of the most high-traffic areas in the house, and kitchen flooring can really begin to look worn. Cracked, warped tiles aren't just visually unappealing, they're also unsanitary, and can even cause accidents. The good news is, replacing the kitchen flooring doesn't have to cost a year's salary. Vinyl flooring is inexpensive - especially when compared to wood laminates and stone tiles - and is available in a wide variety of designer colours and textures, including styles that simulate expensive wood veneers. Also, vinyl is much easier to care for than wood, stone, or composite flooring. Plus, in most cases, vinyl costs less to install than other flooring types - and for talented do-it-yourselfers, it makes for a quick and easy DIY project.
If wood-veneer flooring is a must, however, opt for a budget-friendly type, such as a sustainable bamboo. Bamboo isn't just cost-effective; it's also durable and easier to care for than other exotic hardwoods.
---
2
Second-Hand Cabinets and Furniture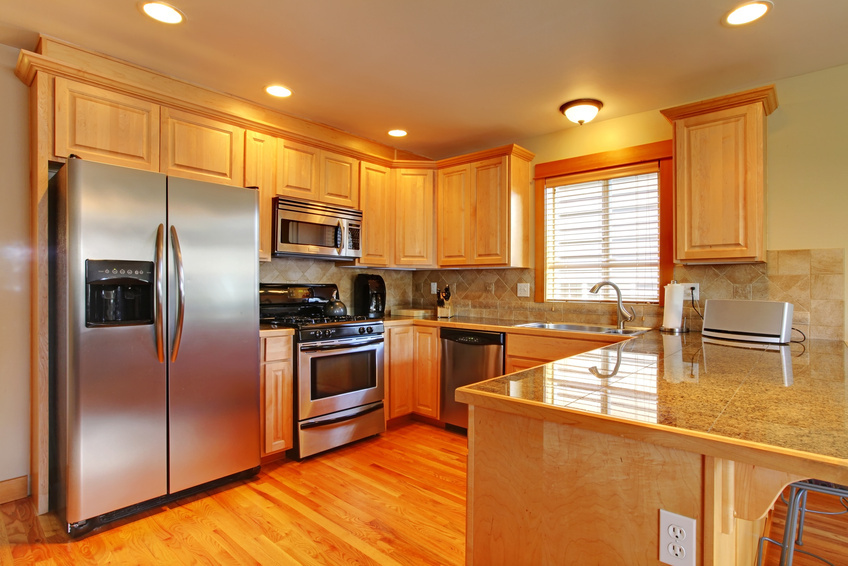 If the kitchen cabinets are looking old and dingy, consider purchasing second-hand cabinets. eBay has a great selection of gently-used, second-hand kitchen cabinetry, all of which can be easily refinished or painted if necessary. Plus, second-hand cabinets can also be outfitted with brand new hardware to match the style of the kitchen.
Vintage cabinetry can dramatically change your kitchen's décor. For example, a reclaimed cabinet from a 1930s home may be embellished with intricate Art Deco moulding, which can have a stunning, custom-designed effect on a contemporary kitchen. Vintage cabinets may also be outfitted with other trendy design elements, such as wooden-framed doors with beveled glass panels that would cost a fortune if purchased new. For help in restoration, here's a handy guide with tips on refinishing all kinds of kitchen cabinets.
For a real budget-friendly makeover, check out the second-hand market for other kitchen essentials such as counter tops, work islands or utility carts. A search might yield treasures such as granite or marble-topped counters, or elegant Deco-styled hutches and storage cupboards. If you have an eat-in kitchen, look for retro-styled, enamel-topped dining sets in trendy shades of aqua, yellow and pink, or in colour combinations such as black/white or red/white. With just a bit of cleaning and polishing up, they can look like expensive new decorator pieces.
---
3
Lighted Ceiling Fans

A ceiling fan isn't just practical, it's also extremely decorative and can transform the look and feel of a kitchen. Ceiling fans are inexpensive and easy to install, and come in a huge variety of styles and sizes. They not only provide important task lighting; they also provide much-needed ventilation and air flow to the home, mitigating stale food odours and other fumes. In some cases, a quality ceiling fan can also help cut down on the air conditioning bill.
Choose a ceiling fan that matches the style of the kitchen; for example, wrought iron or wood styles look great with a contemporary décor, while more-ornate brass styles will tone in beautifully with a traditional or vintage look. Look for ceiling fans that provide plenty of light, and try to choose one that has variable speeds as well as variable light settings.
---
4
Decorative Tile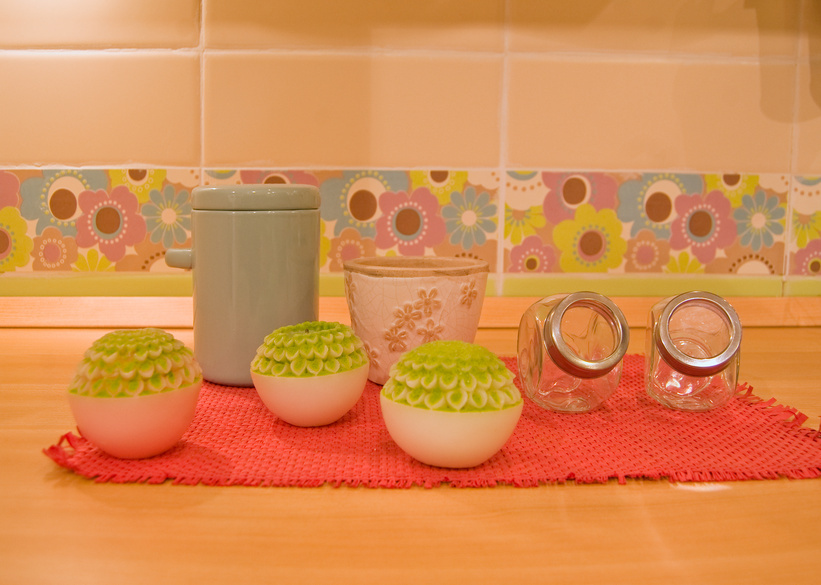 Decorative porcelain tiles can do wonders for a kitchen, and you don't need to use a lot to produce an attractive effect. Choose tiles that burst with colour, or decorator tiles embellished with attractive patterns, and arrange them in prime focus points such as the backsplash area behind the sink, or the wall space between the counter tops and cupboards. Simple to install, porcelain tiles can add personality and charm to your kitchen; and they're easy to clean, too.
---
5
Paint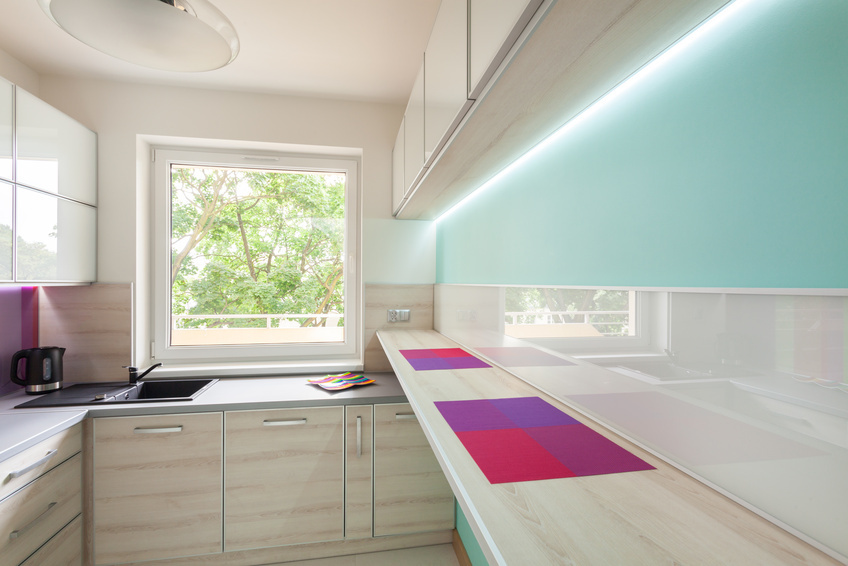 An inexpensive coat or two of paint can have an amazing effect on a kitchen. Even if the existing paint is relatively new, it simply might not be the right colour for your kitchen's size or proportions. As a rule of thumb, lighter colours tend to make a room look larger, so whites, pastels and medium shades are ideal for a smaller-sized kitchen. If the kitchen is huge and there's plenty of window light, experiment with darker shades for a warmer, more dramatic look.
These budget-friendly improvements can make any kitchen look fresher, cleaner and more beautiful. Best of all, your low-cost kitchen renovation can have as much impact as a costly overhaul; and no one else will ever know how much you really spent.