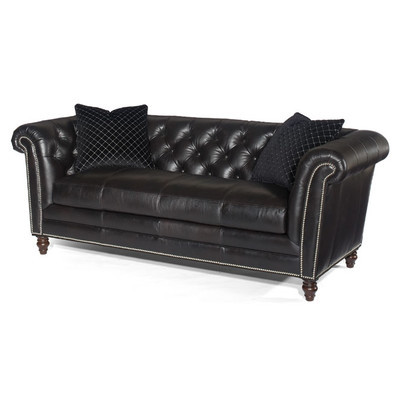 Chesterfield sofas are famous for their dignity, style, and quality. Nothing in the world of furniture says class quite the way a Chesterfield sofa does. But buying a Chesterfield sofa is not a simple decision. Importantly, genuine Chesterfields are quite expensive and they look best in a room where there are alsochairs,ottomans, and other furniture that is of similar style and quality and therefore also expensive. There are ways to get the same look, and even sometimes the same quality, at a more affordable price, but that often takes some strategy. Even if price is not a serious barrier, the buyer has an interest in making sure to purchase the genuine article, a sofa that lives up to the reputation of the name.
About Chesterfield Sofas
The first question a buyer might have is what exactly is a Chesterfield? And how does someone tell a real Chesterfield from a fake one? What are the marks of quality? From there, the issue is usually how to find something affordable and how to integrate the sofa with the design of the room.
What Is a Chesterfield?
Chesterfield is a style of sofa, not a brand, and more than one company makes Chesterfield sofas. At the same time, the word is not just an adjective that can be applied to anything vaguely Chesterfield-like. The name Chesterfield refers only to a very specific, very high-quality kind of sofa. Anything less is likely a fake. Real Chesterfields have the Chesterfield label and at least a ten-year warranty when consumers buy them from a Chesterfield dealer.
Chesterfield sofas are distinctive in having arms and back of the same height and with a backwards curl. The upholstery is usually either leather or velvet, and the tacks give it an almost quilted appearance. There are usually two or three seat cushions. In general, Chesterfield sofas are large.
Spotting Quality Sofas
Not everyone shopping for a sofa needs a very high quality one; for some, a sofa that looks good and feels good might be just fine if it fits within the budget, whether it is a real Chesterfield or not. Yet a quality piece lasts longer and stands up to use better, so a real Chesterfield at a fair price might be a better deal than a low-cost imitation.
A real Chesterfield sofa starts with a handmade frame of dried hardwood. The frame is impossible to inspect directly in a fully upholstered sofa, of course. The feet are visible, and should also be hardwood, but are not part of the frame. If it is possible to feel the frame through the padding, it means the sofa is not good quality.
Real Chesterfield Sofas
A real Chesterfield is very comfortable and made of natural materials. Most are leather, and the leather should be full thickness, high-quality aniline leather, meaning it has been through a distinctive dye process. Ideally, the manufacturer uses a single hide, without any seams, for the whole leather sofa. Look for hidden seams where the leather may separate with use. Real Chesterfields have tacks that help hold the upholstery in place, but fakes typically have buttons instead.
Choosing the Right Chesterfield Sofa
Chesterfields are not for everyone, and they are not for every room. There are many types of seating to choose from, each with its advantages and disadvantages in terms of both appearance and function. Chesterfield sofas specifically give a room a luxurious but very traditional look. But, even after buyers decide to go with a Chesterfield, they still need to make several decisions, about size, colour, and even placement.
Buyers should decide on where the sofa goes, first, because placement helps determine size. A sofa that is too big or too small for a certain placement makes the whole room a lot harder to lay out. Colour is important, of course. Chesterfield sofas often come in dark, rich colours, such as black, brown, and red, but there are white Chesterfields. Use slipcovers or decorative blankets to change the look of the piece seasonally and to protect the sofa from stains and wear.
Buying Used Chesterfield Sofas
Real Chesterfield sofas can be very expensive. The high price is fair, given their quality, but money can be an obstacle for some buyers. For some people, picking up a low-cost look-alike is good enough, but another option is to buy a genuine Chesterfield second hand. Buying second hand does carry some risks. Most seriously, a used sofa could carry germs or pests, such as bedbugs. When in doubt, have the sofa professionally cleaned before bringing it home. Instructions on how to deal with possible pest infestations are available online through public health organisations.
A vintage or antique Chesterfield sofa in good condition might actually be worth a lot more than a similar new sofa. Other used sofas are broken down and need a lot of work. The key is to get good value for the price. If buyers need to reupholster the sofa, then they need to add the price of the repair to the purchase price. The result might still be a great deal, considering what new Chesterfield sofas go for.
How to Buy a Chesterfield Sofa on eBay
A quick way to find a Chesterfield sofa on eBay is to use the Advanced Search option. Buyers who like to browse can try a more general basic search instead, using a broad search term, like sofa. Or, use eBay Deals to check out the best prices of the day; one of them might just be for a wonderful old sofa. Especially when buying used, communicate with the seller. eBay is a good way to shop for a Chesterfield sofa, because it brings together new, used, and vintage furniture in one place, meaning there are some great finds available.