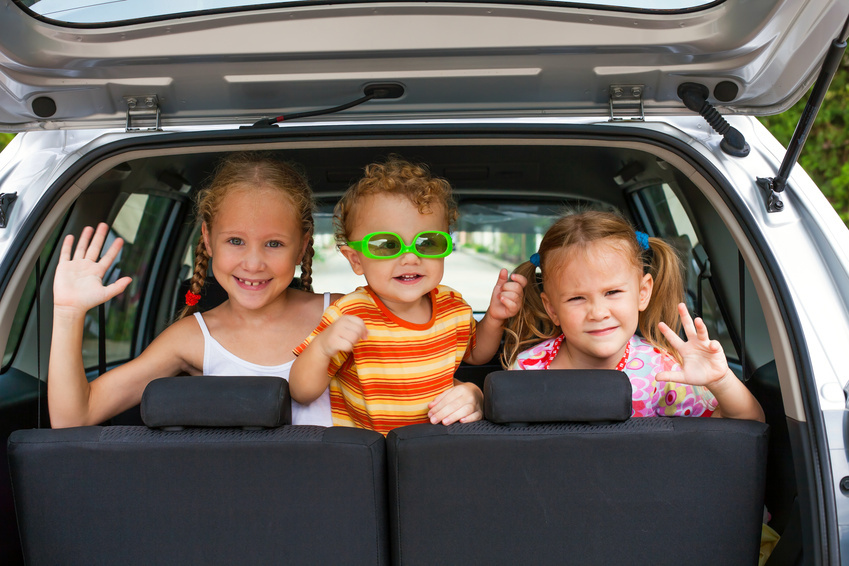 Seat covers offer a dual purpose in a vehicle. They change the aesthetics of a car and are useful for consumers who want a different look for their vehicle. They also protect the existing seat upholstery from spills, tears, odours, and pet hair. Consumers with children may need sturdy seat covers that are easy to keep clean and resist liquids, foods, and other items.
Though some seat covers are not recommended for washing and made of more fragile materials, such as faux fur or sheepskin, there are some child-proof options available for consumers who need something a bit more resilient. Once consumers are educated about the various types and materials of seat covers, they are able to make an informed purchasing decision and choose from an array of seat covers from auto shops or online at eBay.
Seat Covers by Car Make
Car seat covers are available by the make of the car they fit. Choosing seat covers by car make and model ensures that the seat covers fit inside the car properly and cover the existing seat material completely to ensure protection. Most seat covers are easy to slip over seats, so it is necessary that the proper type of seat covers are purchased for a tight, secure fit over the vehicle's seats.
Seat Cover Materials
Consumers who are looking for child-proof seat covers need to avoid materials that are hard to clean, such as leather and faux fur. Though these seat covers may look stylish, they are not child or pet friendly, so buyers need to browse seat covers made of other types of materials that are easy to care for and keep clean, and that do not ruin easily when they get wet or stained.
Neoprene
Neoprene is the best water-resistant material available when it comes to child-proof car seat covers. Neoprene is actually created from synthetic rubber, so it is not only water resistant, but it resists extreme heat too, making it cooler during the warmer months for children to comfortably sit on. Neoprene is a hardy, durable material that is not flammable, and not only that, but neoprene seat covers are easy to clean and they are comfortable to sit on as well.
Neoprene seat covers are also a good option because they are hard to tear and rip, making them much more resilient than other types of seat covers. Since neoprene is the material that scuba diving wetsuits are made from, it is quite tough and offers a great deal of protection for the vehicle. They are also UV and fade resistant.
Canvas
Canvas seat covers are a good option for parents to buy for their children. Canvas seat covers are machine washable and easy to take care of, and they are extremely durable. Canvas comes in a wide array of stylish designs, so buyers are able to find the seats in the colour and style they desire. Canvas is waterproof, and it is a good choice for children and pets when it comes to car seat covers. Canvas seat covers offer buyers a wide choice of styles and sturdy, durable covers that looks attractive and are simple to clean.
A benefit of canvas covers is that since they are made with cotton, they are soft and comfortable to sit on. Canvas covers protect existing upholstery, and help repel stains as well as well as stay cool during hotter months, for added comfort.
Microfibre
Microfibre not only feels luxurious to the touch, but it also protects the car's seats from liquids, pet hair, and stains. The covers are resistant to sunlight and do not fade over time, and microfibre is notoriously easy to clean. Microfibre is another material that does not get too hot in the warmer months, so it is always comfortable to sit on.
Microfibre actually keeps the rest of the car protected by capturing debris and other items in its tight weave to keep dirt from hitting the car's floors, and makes it easier to keep the rest of the car clean. Microfibre seat covers are perfect for parents who enjoy taking their dogs in the car as well as their children, and they are easy to wash. Plush microfibre works as a magnet, and attracts animal hair and dirt to keep it away from the floor and other car components.
Polyester
Polyester has a long history of durability, and it is no exception when it comes to the car seat covers created from this material. Polyester seat covers are the perfect child-proof seat covers due to the fact that they are soft and comfortable, but also durable. Polyester is washable, and stain resistant, and the fabric is breathable, which makes it comfortable as well.
Not all polyester seat covers are waterproof, so buyers should determine that aspect of the seat covers before purchasing. Polyester seat covers are typically affordable, and there are many styles to choose from.
Caring for Seat Covers
Seat covers made to repel stains and water are easy to care for. For spot cleaning, consumers are able to use a small brush or sponge along with a mild soap to brush away liquids or stains. To clean the entire cover, they are simply easy to remove and toss into the washing machine and dryer. Not all seat cover materials are this easy to care for; buyers want to avoid washing anything leather. However, canvas, polyester, neoprene, and microfibre are easily washable and retain their shape and their colours after being washed and dried, making them the perfect materials for child-proof seat covers.
Selecting Child-proof Seat Covers
Choosing seat covers is easy for consumers who know which type they want. Some are more costly than others, so buyers on a budget may want to stick to less expensive materials, such as polyester.
Seat Cover Material

Features

Price

Availability

Neoprene

Extremely water resistant

$-$$

Front and rear seats

Bench and bucket styles

Canvas

Comfortable and durable

$$

Front and rear seats

Bench and bucket styles

Microfibre

Luxurious and easy to clean

$

All styles available

Polyester

Breathable

Comes in many styles and designs

$

All styles available
Child-proof seat covers often have the same features in common: They are waterproof, durable, and easy to wash. These are important features for consumers looking for child-proof or animal-proof seat covers.
How to Purchase Child-proof Seat Covers on eBay
Since there are not specifically child-proof seat covers for sale on eBay, buyers can look for great deals on family-friendly materials such as neoprene and polyester. Simply type keywords in the search box to find specific results, such as "neoprene car seat covers", and filter the selections accordingly. You can also shop for seat covers by the make of the vehicle, such as Nissan or Jeep.
Read the seller's listing carefully to ensure you are getting the right type of seat covers and the right number of seat covers. There are different styles of covers designed to fit bench seats or bucket seats. Check the seller's feedback to ensure he or she is reputable, and leave your own feedback once the transaction has been finished.
Conclusion
Car seat covers keep the existing upholstery looking new, and protect the vehicle from spills, water, sweat, food, dirt, pet hair, and many other types of debris that can ruin the appearance of a car's upholstery. For buyers with children, accidents happen, and the right child-proof seat covers can save the car seats and keep the car looking neat and clean.
While existing upholstery is difficult to clean and nearly impossible to replace, seat covers are inexpensive, machine washable, and easy to take care of to keep up the appearance of the car and keep the value of the vehicle up. They are also easily switched out to change up the style of the car's interior and personalise the vehicle.
child-proof seat cover|neoprene seat cover|canvas seat cover|polyester seat cover|microfibre seat cover