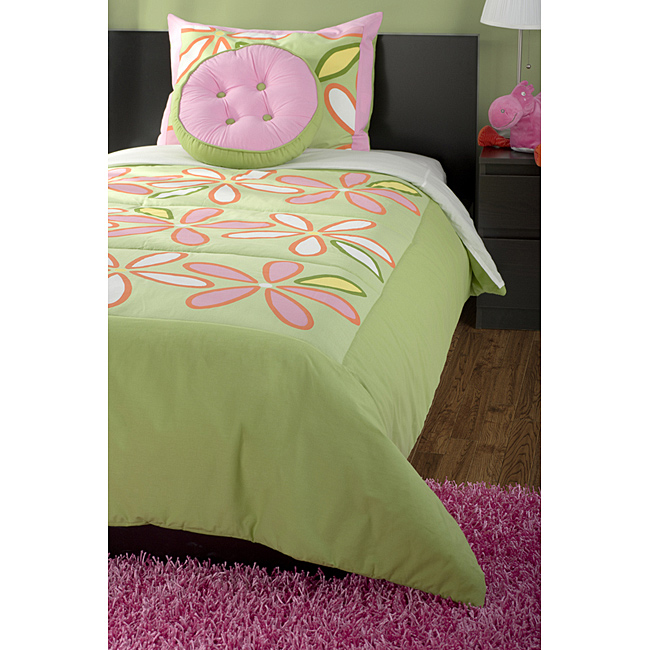 A quilt cover, otherwise known as a duvet cover or a doona, slips over the quilt or bedspread to keep it protected from dust, stains, or wear. Quilt covers for children come in various sizes, colours, and designs, and there are options for every child's preference. Quilt covers are generally made of breathable cotton, so they are comfortable to sleep underneath.
Using a quilt cover is a great way to change the way a bed looks without investing in all new bedding or a new quilt. Buyers should shop by quilt cover size, style, and material, and they can find many options on eBay. There are also covers for pillows, which are called shams. Consumers can purchase children's shams and covers for affordable prices in many styles.
Quilt Cover Sizes
For kids' beds, there are a couple of sizes available when it comes to quilt covers. Most children's bedding is available in smaller sizes, so buyers need to narrow down the options to exclude queen or king-sized bedding.
Single
Most quilt covers for children are made for single or twin-sized, beds. These are standard for a single bed, which are generally sized at 140 cm x 210 cm, but vary in sizes and also come in 135 cm x 200 cm sizes. Either size fits most standard-sized single beds. Since children mostly sleep in single beds, these quilt covers are geared toward young people in style and design.
Three-Quarter
A three-quarter bed is a size between a single bed and a double bed. Quilt covers in this size are roughly 180 cm x 210 cm in size. Three-quarter beds are not as common, so bedding might be more difficult to find in various characters, but quilt covers are commonly seen in solid colours for this size bed. Double-sized bedding also works on a three-quarter bed.
Double
Double quilt covers are around 200 cm x 200 cm in size. Some double bed quilt covers are the same size as three-quarter covers and fit either size bed comfortably. Quilt covers that are labelled as double offer more options, and come in many colours and styles appropriate for kids.
Quilt Cover Styles
The hardest part of choosing a quilt cover is picking the style of the bedding. A quilt cover for kids offers many types of styles that complement existing decor, celebrate a child's love of a favourite colour, or pay tribute to a favourite cartoon character, movie, or superhero.
Solid Colours
Quilt covers come in a wide range of colours, ranging from muted to bright. If children want a more monochromatic bedroom look, buyers can pick a bold colour such as hot pink, green, or yellow, or stick with a basic like yellow or red. Buyers can use existing decor as a guide for what shade looks best for a child's bedding.
Characters
Most young children prefer bedding with their favourite characters on it. There are many options for kids, from cartoon characters such as the Smurfs and Barbie, to rock bands like One Direction. Movie quilt covers are also favoured by young people, including covers depicting characters from Star Wars, Batman, and Cars.
Designs
Some quilt covers offer geometric designs, flowers, hearts, or fun covers such as glow-in-the-dark duvet covers and patterns like plaid or stripes. Leopard print is popular for teens, and comes in many colours. Other designs kids may like are animals, guitars, paisley print, the Eiffel tower, and hearts, mermaids, or bows.
Quilt Cover Materials
There are a few different materials to choose from when purchasing a quilt cover for a child. Cotton is the most common and easy to care for, but some older teens may prefer the feel of silk. It also depends on what the budget is. Standard cotton covers are the most affordable option and the easiest to care for, while Egyptian cotton, which feels softer than traditional cotton, is the most expensive material that a quilt cover is made of.
Cotton
Cotton is comfortable, easy to wash, and is used to make many types of duvet covers. There are a couple of options for buyers who want to purchase a cotton quilt cover, including cotton blends, which are made with a combination of polyester and cotton for durability, as well as Egyptian cotton, which has a higher thread count for comfort, and it feels a bit more luxurious than standard cotton.
Silk
Silk feels decadent, and older kids may love a shiny animal print silk quilt cover, or a butterfly or heart patterned shimmery silk quilt cover. Silk also comes in many colours, including hot pink, purple, and red. Some types of silk are easier to care for than others, so if this is a concern, buyers should check the care instructions before purchasing for their child.
Quilt Cover Sets
Another option is to purchase a set that includes a quilt cover as well as pillow covers. This eliminates having to purchase pillow covers separately, and all the bedding matches to create a uniform look to the bed. Some sets come with matching quilts, and some come with additional decorative pillows.
Quilt Cover Sizes and Costs
Purchasing the right quilt cover for a child largely depends on the material that the child prefers, and the buyers' budget. While 100 per cent cotton is the most common choice, there are a few other options to consider.
Bed Size

100 Per Cent Cotton

Silk

Cotton Blend

Egyptian Cotton

Flannel

140 cm x 210 cm

$

$$

$-$$

$$-$$$

$

Double

200 cm x 200 cm or

180 cm x 210 cm

$

$$

$$

$$$

$$
Buyers who are concerned about caring for a quilt cover should check for wash instructions. Most quilt covers do not need to be washed too frequently, but it is easy to throw one into the washer and dryer as opposed to having it professionally cleaned. This may be a deciding factor for purchasers looking for the right quilt cover for their child.
How to Purchase a Children's Quilt Cover on eBay
To find great deals on children's quilt covers on eBay, first you need to navigate to duvet covers by using the home page or any page to key in a specific search, such as "single quilt covers". You can shop by quilt cover size, such as double, or you can search by brand, such as Disney, which makes many quilt covers for children. Another option is to search by material.
Once you have found several quilt covers to choose from, comparison-shop by looking at price, brand, and quilt cover style. You may get some input from your child to see which cover he or she likes. Purchase a quality quilt cover from an authorised, Top-rated seller, and read the listings carefully to see what the cover size is and what the purchase includes.
Conclusion
Quilt covers not only protect the comforter but change up the look of a bed without spending too much money. They are easy to use, and slip over the quilt like a large pillowcase. Some have buttons or Velcro to ensure the quilt does not slip out. Purchasing more than one quilt cover is sometimes smart, because they can be switched out to be washed, or the child may want a different cover.
Covers for children are fun, bright, and covered with their favourite characters, so buyers should let kids help pick out their own duvet covers so they are happy with the selection. Matching pillowcases and toss pillows are some other ways to add flair to a child's bed and make it a more fun place to sleep at night.