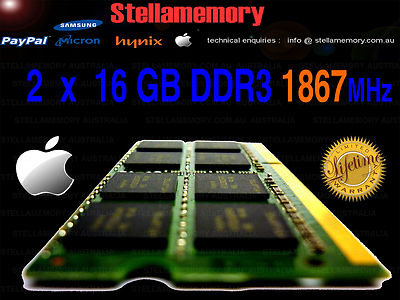 Add a caption
Late 2015 Apple iMac memory 32GB upgrade 2 x 16gb kit.
Apple memory upgrades
Almost all
Apple iMac
,
Macbook Pro
Mac Mini
and
Mac Pro's
memory modules can be upgraded.
Increasing memory capacity improves performance of your Apple computer creating more space for IOS to do its work. The way to think about RAM (Random Access Memory) is like it is a desk.
When you are opening up lots of folders books or reference material the area of your desk is taken up and things simply get "cluttered".
Increasing your memory increases your "desk" size so you simply have more space to do the work that you
want. It
could be photo editing or video rendering or simply having every App under the sun running at the same time,all software uses up precious RAM space.
But of course its not as easy as yelling "I want more memory". As new Apple computers are built they use different memory modules as technology and processor speed increases so you need to know a little bit more about your Apple computer to ensure you are making the right choice or simply
Send us a message
Different models have different Maximum Memory capacities that have been tested but not published by Apple. We guarantee compatibility and have lifetime replacement warranty on all our Apple memory kits.
So how do you find out exactly what Model Apple you have I hear you say....Every model series has a unique number.
1. Click on the Apple icon on the top left of your screen
2. Click "About this Mac"
3. Click "More Info" or click "System Report" in newer Macs.
4. In "Hardware Overview" look for "Machine Identifier" or "Model Identifier" in newer iMac's.
An example of a model identifier is
iMac17,1
or
MacBookPro9,1
Sounds too hard?
Send us a message
with details like "Help I have a
Mid 2010 iMac 27
inch and need more memory".
Or maybe I like to see what Apple say is compatible with my computer then you could visit the Apple support pages and search "install memory".