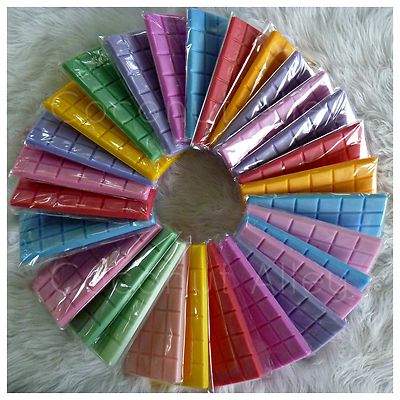 Scent Selection Guide
I have put together a list of all my fragrance oils and sorted them into categories. Hopefully this will help ease the pain of choosing the perfect scent for your candles, melts and diffuser oils.
7 Categories: Fruity, Floral, Spice/Wood, Sweet, Perfume/Imitations, Fresh/Crisp, and Musk.


Fruity:
Agave Lime: The essence of citrus with lime, lemon and orange blended with tropical floral and exotic agave green notes, finished with musk and sandalwood.
Black Raspberry: Delicious dark raspberries combine with sun sweetened blackberries to give an amazingly strong scent.
Black Raspberry & Vanilla: A spirited combination of blackberries and raspberries head this alluring fragrance with pretty, white florals at its core, harmonised by resounding notes of creamy vanilla and luscious musk.
Boysenberry: A slight zing of citrus and hints of tobacco & tea leaf blend well with juicy rich berries.
Butt Naked: This enticing blend has base notes of honeydew melon and granny smith apples with middle notes of pears and strawberries and top notes of spice.
Champagne & Strawberries: A distinctive combination of ripe strawberries and raspberries with notes of champagne and roses.
Coconut: A buttery rum top note leading to a sweet creamy vanilla with toasted coconut.
Coconut Lime: The ultimate refresher - a tantalizing fusion of fresh coconut, lime and invigorating verbena soothed by luscious vanilla. A classic which remains irresistible.
Fresh Mango: The recognizable, intoxicating fruity smell of the mango fruit with additional notes of sweet musk & peach.
Fresh Raspberry: The best representation of the actual raspberry fruit in our range of raspberry fragrances. The aroma of fresh, tan
Island Christmas: Guava, mango and papaya burst forth with a sweet twist of ripe strawberry, punctuated with the glorious note of freshly-plucked peppermint leaf.
Lychee & Black Tea: A delicate fragrance made from select black tea leaves infused with the sweet exotic scent of the lychee fruit.
Mango Lassi: A creamy fruity blend of mango pulp, berries and pineapple with sweet cream and honey.

Mango Papaya: Hot, soft fragrance. Full of juice, like a melon, tropics. Mango & Papaya are united, passionate. Pure fruits gone mad.

Monkey Farts: This unique candle fragrance oil is a complex citrus blend that starts with a subtle base of vanilla then layered with fresh kiwi fruit, mango and bubblegum finished off with top notes of grapefruit, banana and fresh strawberries.
Orange Vanilla: A delightful combination of juicy sweet orange enhanced by silky smooth Tahitian vanilla.
Peach: Bright fruity bouquet reminiscent of the scent of fresh cut peaches.
Pineapple & Coconut: Brazilian pineapple, Hawaiian coconut, and a touch of mango create this delectable tropical fragrance.
Pomegranate: A wonderful aroma of freshly sliced pomegranate.
Sex On The Beach: A playful rendition of the classic tropical mixed drink that blends fresh pineapple and orange with tart cranberries. Notes of vodka and peach schnapps give this fragrance its "true to life" scent.
Strawberry: A fruity delight of fresh strawberries sprinkled with sugar.
Tropical Coconut: A fresh fruity combination of papaya, mango, lime & watermelon combined with the essential tropical note of coconut.
Watermelon: Finally a true to life watermelon we've been waiting for. Not too sweet like the 'fake' watermelon fragrances this is sure to become one of our top selling fragrances.
Floral:
Black Amber & Lavender: A unique and complex blend of rustic amber and french lavender with added notes of tonka bean, vanilla and clary sage.
Coconut Flower: With sheer white florals and creamy coconut milk this unique blend is complimented with clove bud, cinnamon bark, vanilla bean and light musk.
Frangipani: A bouquet recreating the scent of one of the most beautiful flowering trees.
Japanese Cherry Blossom: A well balance floral combination of pink Japanese cherry blossom and mimosa flower petals finished with clean warm notes of tonka bean, vanilla and oriental woods.
Japanese Honeysuckle: A sweet flowering vine with one of the most loved floral scents.
Japanese Quince: Pleasantly stimulating this fragrance has aspects of rhubarb, passionfruit and white flesh peach with a floral base of white jasmine.
Jasmine: An Exotic blend of freshly cut Jasmine flowers.
Lavender: An enchanting meadow fringed with springs of lavender.

Lavender & Mint: A stunning fusion of lavender flowers bathed with the clean notes of fresh peppermint and spearmint sprigs.

Lavender Vanilla: A well-balanced blend of herbal lavender and calming vanilla.
Love Spell: An instant classic - this fragrance is a luscious fusion of citrus, cherry blossom, hydrangea, apple and peach; with a hint of blondewood.
Peppermint & Eucalyptus: Invigorating blend with peppermint, patchouli, cedar wood and eucalyptus.
Sweet Pea & Vanilla: An English garden that captures the very essence of sweet and floral elegance. Light and airy.
Tigerlily Blossom: Rich floral Tigerlily with patchouli & musk combined perfectly with juicy casaba melon.
Violet & Lime: The sensual and luxurious aroma of violet blends with crisp, clean lime to produce this sophisticated fragrance.
Spice/Wood:
Absinthe: The essence of the "The Green Fairy" alcoholic beverage now captured in fragrance oil. A blend of star anise, fennel, cinnamon, cassia bark and nutmeg blended with fresh green herbal notes and the added base notes of amber and assorted woods.
Chai Latte: The exotic spice of chai tea combined with a warm creamy aroma, with a base of cinnamon & clove and additional notes of black tea & vanilla bean.
Chai Tea: Wonderfully spicy and incredibly sweet, this warm aroma combines rich notes of Cardamom, Clove and Cinnamon with the creamy hints of vanilla and honey.
Cinnamon & Vanilla: A classic french vanilla with a hint of cinnamon.
Dragons Blood: This mysterious, haunting and alluring blend is extremely sophisticated and complex. With warming notes of amber, incense and a touch of patchouli, our Dragons blood layers its scents to create a warm and alluring sought after fragrance.
Hot Baked Apple Pie: A winter favorite with slices of juicy apples, covered with brown sugar and cinnamon and embraced in a warm baked crust.
Nag Champa: An Indian Fragrance commonly found in incense. It contains a large portion of sandalwood essential oils with notes of Frangipani, Patchouli, Vanilla, Musk and Amber.
Sandalwood: A rich, sweet, earthy scent.

Shave and a Haircut: A clean masculine scent, with bold woody notes of vetyver, cedarwood & fir needle combined with fresh bergamot, lemon peel and musk.

Sweet:
Almond Milk: Sophisticated and subtle, the creamy scent of vanilla and milk blended with sweet almond and warming caramel.
Blueberry Cheesecake: Inviting aroma of baked vanilla cheesecake & mouthwatering blueberries.
Bubblegum: Bring back those childhood memories with this fruity favourite. Sweet and juicy, just like the real thing!
Buttercream: A unique vanilla based fragrance oil with rich notes of sweet butter and sugar.
Chocolate Fudge: Outrageously rich bittersweet chocolate, and a touch of cream, blend perfectly in our mouthwatering chocolate fudge.
Coconut Cream: A fresh tropical summer scent of whipped cream and freshly grated coconut.
Cotton Candy: Just like fresh cotton candy from a country fair! With sugary strawberry and sweet vanilla notes.
Creme Brulee: A traditional base of vanilla custard with a hint of caramelized sugar.
Creme Caramel: A decadent dessert blend of rich buttery caramel, infused with pear and spiced with clove, cinnamon & nutmeg.
Gourmet Tahitian Vanilla: Rich and sweet, a light vanilla with notes of coconut and malt - fragrant vanilla at its best.
Musk Sticks: Finally the best musk stick lolly fragrance on the market. Let the strong aroma invoke your child hood memories of playing and having fun.
Peaches & Cream: A rich combination of fresh ripened peaches, buttercream, with base notes of creamy vanilla.
Raspberry Zinger: A unique fruity scent of sweet raspberry and toasted coconut combined with middle notes of buttercream & vanilla.
Strawberry Shortcake: Notes of shortbread topped with whip cream and large ripe strawberries make this fragrance all too tempting and delicious.
Sugar Cookie: Fresh baked right from the oven.
Vanilla: Traditional, sweet, delicate, need we say more?
Vanilla Bean: The unmistakable sweet and sugary aroma of fresh vanilla beans with white musk middle note.
Vanilla Caramel: Enriched with sweet and salty buttery caramel this sweet scent is balanced perfectly with rich creamy vanilla, coconut and tonka bean.
Vanilla Hazelnut: A mouthwatering blend of toasted hazelnuts and creamy vanilla.
Vanilla Silk: A creamy warm vanilla fragrance with hints of musk, malt & buttermilk.
Wildberry Mousse: What happens when you combine the creamy taste of mousse with the refreshing tart notes of freshly picked wild berries? An irresistible fragrance that is perfect for soy melts.
Perfume/Imitations:
Beautiful (Type): Based on the popular well known women's fragrance oil created in the 80's this lush and voluptuous candle fragrance oil combines a green floral and chypre to balance a glamorous fragrance.
Bordeaux (Type): Velvety smooth, rich and decadent, a delicious blend of Vanilla, Hazelnut & Dark Chocolate.
Monet's Garden (Type): Simple, yet unique, a floral tribute to tuberose with middle notes of Logan Berry and Lavender with a floral base of Ylang Ylang.
Montego Bay (Type): The invigorating tropical scent of lemon and lime with warm vanilla & amber on a lush base of coconut, mandarin & sweet orange.
Persia (Type): Floral notes wafting on a summer breeze, a romantic scent combination of jasmine, coconut and lavender with middle notes of cedarwood and vanilla with base notes of frankincense and patchouli.
Petra (Type): Smokey and creamy, a sweet vanilla combination of black pepper & tobacco flower with middle nots of tonka bean, red apple and fig on a base of dark chocolate and patchouli.
Pink Sugar (Type): Fresh, yet warm and tender this rich & sweet fragrance combines the fruity top notes of strawberry, raspberry and citrus with indulgent vanilla & white musk. A beautifully rounded medley that will leave you wanting more!
Rio De Janeiro (Type): Exotic and wild, a rich fruity scent of passionfruit & lime top notes with middle notes of raspberry & orange and a base of red rose and honeydew melon.


Fresh/Crisp:
Clean Cotton: Nostalgic aroma of fresh linens dried on a fresh breezy day. The top is bright with lemon, lime, green apple and clean ozone. The middle blends cedar, jasmine, lavender and lily. The base is a soft violet, lavender and musk.

Lemon Sugar Raspberry: Escape to a tropical island with this sweet citrus and fruity blend. Notes of sweet orange, fresh mango, white jasmine and just a touch of vanilla.

Lemon Verbena: Spunky lemon & floral verbena combines in this uplifting delight. The scent begins with tangy lime, grapefruit & lemon. The heart combines lavender, geranium rose & lemongrass. The dry is a soft woody musk.
Lime, Basil & Mandarin: This premium fragrance combines fresh zesty citrus notes of lime and mandarin under-toned with notes of basil and herbs. A very unisex fragrance for everyone.
Ocean Breeze: The scent of a fresh ocean breeze with a top note of fresh apple, melon, orange and bergamot. The heart blends lavender and bois de rose leading to a base of woody violet and musk.
Spearmint: Be energized by the minty bouquet of spearmint leaves, a crisp fresh fragrance that will invigorate your senses.
Musk:
Egyptian Musk: Simply the muskiest, sexiest, most beguiling musk blend you will ever smell.
Marshmallow: Marshmallow is a sweet feminine fragrance oil orchestrated with notes of Musk, Vanilla and Jasmine.
Moon Lake Musk: A deep yet balanced musk that is well suited for either masculine or feminine products. Notes of fern and orris add to the musk flower and woody base notes.