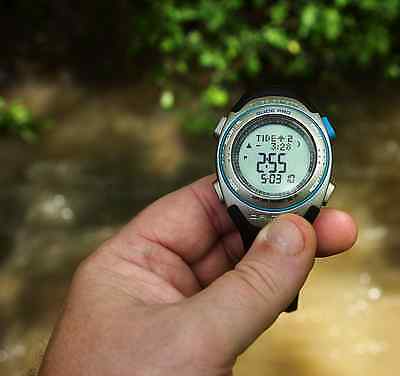 Nobody wants a wasted investment. Whether you intend to buy a cheaper or a more luxurious watch, there are three main factors you need to consider: functionality, affordability, and style. Since tide watches are among the specialty watches which serve only specific purposes, the line of models are relatively fewer compared to the ones which are for general use. Here is a guide on how to choose a tide watch that will match your needs for a long time to come.
Fully Functional
A conventional tide watch is equipped with features like tide tracker, a stopwatch, a countdown timer, a basic calendar, and a 12/24 hour time dials. The mentioned functions are basics of a general sports watch. The newly released models are revolutionized with a tide system that is automatically updated to hundreds of locations worldwide. It only needs a one-time configuration and it electronically stores charts and data of at least 200 default locations in the world. A compass is also a basic function, but a must, in an ideal tide watch. Other units have lunar graphs that display the changes of the phases of the moon practically each day. There are also tide watches which can display sunrise and sunset times as well.

Choosing between a digital or analog watch is also important. For tide watches, most users recommend using digital ones as it gives more accurate data compared to analog tide watches. More functions are also allowable to digital as the analog eats much space on the LCD display and it is not compatible for pre-programming. Some makers display tidal information in a graph which is advantageous for fast and easy-reading. If you are planning to buy your first tide watch, the mentioned functions are worthy to be included in your checklist.
Affordability
Affordability in buying the best tide watches means not only it being the cheapest. It is important that you weigh the price side by side with the functions or the style before you make your decision. Some brands sell cheap tide watches with important basic functions. These models are advised to be availed of by beginners. You also have to take a look at the battery life and the overall durability of the watch. Of course, you do not want to spend additional cash for repairs so you also have to ask for warranty cards, replacement deals, or insurance.
Style
Black is sleek. Most tide watches come in colors like black, gold, navy green, and silver. But as the market gets diverse and more youngsters become more interested in these gadgets, styles have also varied. You can now choose from white, yellow, brown, pink, orange, and combinations of colors. For straps, resin band is frequented by buyers in the lower bracket of age. It is also regarded as unisexual. Stainless steels are ideal for adult men as it signifies sturdiness and durability. Leather straps are sometimes used for casual occasions because of the material's discreet and simple appeal.

We hope you've enjoyed your time here today.
The Team @ RedSplat