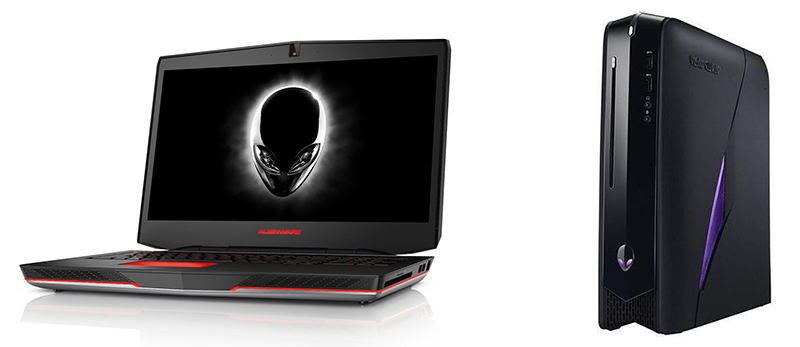 Over the years, Alienware has emerged as one of the most successful manufacturers of gaming PCs and laptops. The company first built desktops when it was founded in 1996. Then, it expanded operations to include the design and manufacture of laptop computers. Alienware became a subsidiary of Dell Computer in 2006. Today, these elite gaming PCs and laptops are firmly entrenched near the top of the gaming enthusiast's PC food chain.
Alienware Gaming Options
Desktop devotees can either opt for the Alienware X51 or the newer, high-end Area 51 and all of its advanced electronics. Those that prefer the portability of laptops can select from 13-inch or 17-inch screen sizes. Alienware systems run Windows 7 and Windows 8. Some still prefer the more affordable gaming consoles. Now, Alienware has entered that market with a PC-console hybrid called the Alpha.
The traditional distinctions between gaming laptops and desktops are beginning to blur. For example, some desktops now feature handles, and they are lightweight enough to transport from place-to-place. At the same time, lightweight gaming laptops now offer vastly improved processing power and more capable graphics cards. Today, the most devoted gamer can invest in an Alienware desktop computer, knowing that it can be moved about if need be. At the same time, well-equipped Alienware 13 and Alienware laptops offer true portability, and are powerful enough to work well with even Ultra HD 4K monitors.
Alienware Desktops for Optimal Performance
In terms of pure performance, Alienware desktops still offer more capability and value than laptops do. For super-fast processing, Ultra HD 4K support and available options, the desktop gaming computer retains an edge.
Processing Speed
For absolutely blazing performance, the Area 51 desktop is still the best choice. It offers the latest 6-core and 8-core i7 processors. With turbo boost, the 6-core processors are capable of up to 3.8 or 3.9 GHz overclocked performance. With turbo boost, the 8-core option offers overclocked performance of up to 4.0 GHz.
Monitor Support
Dell's UltraSharp 27-in monitor is included with its high-end Area 51 systems, although upgrades to 24-in or 32-in Ultra HD monitors are possible. It was in 2014 that the Alienware Area 51 received upgraded Ultra HD support. Now, the system can support not one, not two, but three Ultra HD 4K monitors at an impressive 11520 x 2160 resolution.
Alienware desktops equipped with the most capable graphics cards take on the challenges posed by Ultra HD 4K TVs and monitors. In Alienware performance testing using an Ultra HD 4K monitor displaying 3840 x 2160 resolution, the ultimate graphics option produced stunning results when running Tomb Raider using ultimate settings, with tessellation on. With the dual NVIDIA GeForce Titan Z graphics option, 80.97 frames-per-second performance was achieved.
Desktop Portability
The manufacturer understands that most serious gamers will insist on both the optimal performance of a desktop together with a degree of portability. Therefore, the handles on the newer Area 51 make it quite natural to carry and transport. The design team has also maintained a low centre of gravity in the system to minimise the potential for tipping when the system is being moved.
Other Advantages
Both of the Alienware desktops offers optional 3D capability. The X51 includes 8 USB ports, whole the Area 51 includes 10 such ports. The angular design allows much easier access to every I/O port. Headphones, USB devices and card readers can be connected with ease.
Alienware Laptops for Portability and Performance
The Alienware laptop offers real power and performance in a highly portable package. Gaming-on-the-go remains as popular as ever. However, portability comes at a price. Equivalent performance in a desktop may come at a savings of 50 percent or more.
Improved Performance
Still, the cost vs. performance gap may be narrowing. The Alienware 13 laptop can be configured in many ways, to fit most budgets. It offers optional enhanced graphics performance via a graphics amplifier for desktop-level performance. In-game performance testing by Dell yields some impressive results. For example, Tomb Raider, played with tessellation on, at ultra settings, achieved 45.5 frames-per-second (fps) performance without the optional graphics amplifier. However, with the amplifier, performance more than doubled to 105.9 fps.
External Monitors
A NVIDIA graphics card in the Alienware 13 offers 2GB GDDR5 of standard memory, good enough to display one's favourite games in a crisp, smooth and highly responsive manner. In fact, an Alienware 13 so-equipped can be hooked up to a newer Dell UltraSharp U3415W 34-in diagonal display featuring 3440 x 1440 resolution. It features a slightly curved, ultra-wide 21:9 screen for an even more immersive gaming experience. An added investment in the larger Alienware 17 laptop w/graphics amplifier closes the desktop/laptop performance gap even further, at a price. Plus, it has the ports necessary to operate up to four high-resolution monitors at once.