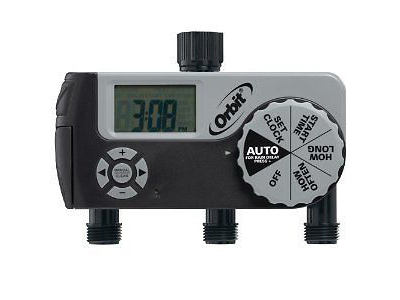 Water restrictions and drought are common phenomena in Australia, and one way to keep within the limitations is to install sprinklers and automated watering systems in gardens. Many products on eBay help to ensure that gardens look their best with just the right amount of water.
Planning for Watering Systems
Before buying sprinklers or automated watering systems for the garden, it's important to complete a planning exercise.
Soil Types
The first step is to establish the type of soil in the garden.
Loam soil holds water and drains efficiently. This type of soil needs deep and infrequent watering.
Sandy soil tends to absorb a lot of water quickly, but dries out in a short space of time. It's best to irrigate sandy soil frequently with small amounts of water.
Clay soil soaks up water slowly but can become hard and impermeable. Irrigate this soil slowly but deeply, and not too frequently.
Sketch the Property
On a piece of squared paper, or using appropriate software, draw an accurately measured plan of the property, showing buildings, concrete or brick paths and driveways, garden walls, and fences. Add the location of flower beds, trees, and shrubs. Divide the open areas into blocks that are as large and regularly shaped as possible: for example, the side gardens, back garden and front garden. These are the watering zones.
Water Pressure
Either invest in a water pressure gauge to attach to garden taps or measure the water pressure using a bucket and timer.
Turn on the garden tap at full flow.
Immediately place an empty 9-litre bucket under the tap.
Time in seconds how long it takes to fill the bucket with water.
Divide 60 seconds by the number of seconds it took to fill the bucket, then multiply the answer by the number of litres of water in the bucket.
Repeat for each garden tap.
The water pressure is a deciding factor when choosing which type of watering system to install, as some systems work better than others in low-pressure situations.
Types of Watering Systems
Review the types of sprinklers and automated watering systems available and decide what's best for the style of garden.
Sprinklers
The most common types of sprinklers, which are attached to a hosepipe and manually turned on and off at the tap, are oscillating and rotating sprinklers. The first type has a spray bar that moves from side to side, delivering jets of water. Rotating sprinklers throw out water in a rotating circular pattern. These types of sprinklers are ideal for small gardens that need a small amount of water on odd occasions, for hard-to-reach areas, and new seed beds.
Automated Watering Systems
Generally, automated watering systems consist of four components:
Controller
Pipes
Valves
Sprinklers
Controllers or automatic timer switches, usually powered by batteries, are attached to garden taps and set to turn on the water at various times. Some timers can be set to irrigate different garden zones independently. Timers need to be installed in a weatherproof cabinet or in outbuildings.
Pipes are located either above or below ground, made of a variety of materials, and are fitted with valves. Valves are controlled by the timer on the watering system, and regulate the flow of water to the sprinklers. There are generally two types of valves, anti-siphon, which prevent water from flowing back into the main water system for the home, and in-line valves, which are usually installed under the ground. In some Australian states, anti-siphon valves are mandatory.
Sprinklers are the heads attached to risers, which deliver water to the garden. When designing an automatic watering system, sprinklers must be placed in head-to-head positions, so that all areas are watered and there are no dry spots. The same type of sprinkler heads should be installed in each watering zone, as this makes for more efficient watering. Sprinkler heads should be regularly maintained.
Instead of sprinklers, an irrigation system may utilise soaker hoses, with minute holes that allow water to seep into the surrounding ground, or a drip system that disperses drops of water slowly and precisely, allowing plants to develop deep root growth and preventing wastage of water.
Accessories
Certain states in Australia require that rain sensors are fitted to automated watering systems. These override the system when sufficient rain has fallen to irrigate the garden. Soil moisture sensors do the same job and prevent over watering.
Conclusion
Sprinklers and automated watering systems save water, money, and time if installed and operated correctly. Choose the system best suited to the property, which may be either a basic sprinkler or a timer-operated automated system.