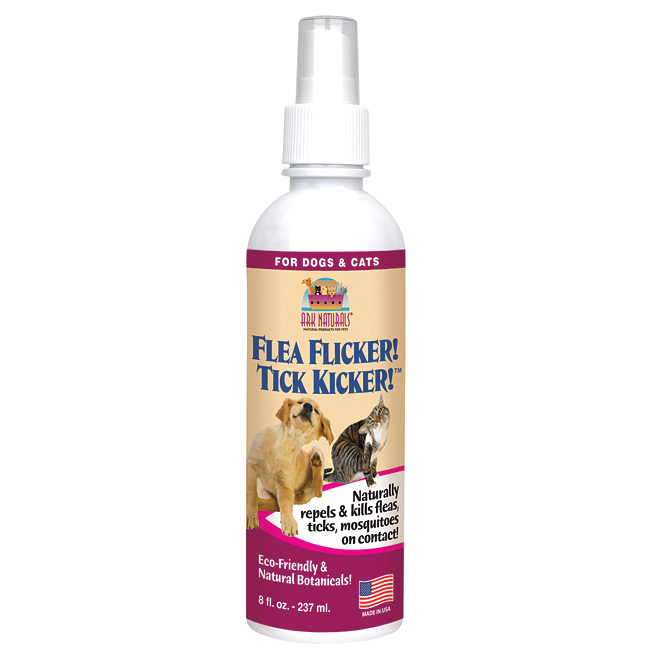 In many parts of the world, flea and tick infestations on pets are a constant battle for dog and cat owners. Frequent applications of flea and tick medications can be a critical part of grooming, and are often required to keep the pets happy and pest free. Without such remedies, the animals and humans would suffer form constant dermatological problems. In some instances, ticks and fleas also carry deadly diseases and parasites that will infect humans and pets alike. Ticks and fleas are vectors of diseases such as Lyme disease, tapeworms, bubonic plague, hantavirus and heartworms, which are all serious medical conditions that can cause death in humans or pets.

Medication Types
Pet owners can choose from over the counter (OTC) flea and tick medications or a formula that requires a veterinarian's prescription.
OTC Flea and Tick Medication
The predominant benefit of an over-the-counter flea and tick medication is that its readily available at most pet stores, and even supermarkets. It does not require a prescription to obtain and the pet owner does not need to consult a doctor before using it on his pet. Most OTC medications are cheaper than their prescription counterparts. For a mild or moderate flea or tick infestation, an OTC medication might work well. Some OTC medications are herbal, and do not contain the often harmful chemicals that are found in prescription formulas. The natural ingredients in some OTC medications often help the pet owner feel better about applying them directly to their pet because the owner knows that the risk of side effects tends to be very low or nonexistent.
Topical
Topical OTC medications are applied to the pet's fur to control the infestation. In some cases the topical formula is derived from the chrysanthemum flower, which is known to repeal fleas and ticks naturally.
Shampoo
The pet is bathed in a medicated shampoo to remove the pests. The shampoo usually contains pyrethroids as its active ingredient.
Powders and Sprays
The powder or spray is dispensed over the pet's fur to control the pests, and its effects are generally not long lasting. Often the powder and sprays can also be applied to the pet's living quarters and the garden around the home.
Prescription Flea and Tick Medication
The veterinarian will normally have to see the pet to diagnose the infestation and to prescribe the medication. The pet owner will have the peace of mind of knowing that the doctor is overseeing the care of his pet, but he will also be faced with what is often a costly doctor bill. Most of the prescription flea and tick medications contain harmful insecticide chemicals, so the veterinarian will give very specific usage directions that must be followed religiously for the safety of the pet. Often prescription flea and tick medications are more effective than OTC medications. Revolution by Pfizer is prescribed for fleas, ticks, heartworms, and roundworm.
Topical
Topical medications that require a prescription often contain fipronil as their active ingredient. They are applied once a month to the pet's fur to control pests.
Tablets
Tablets are prescribed and the pet owner must give these orally to the pet. The directions should be followed and all precautions that the vet gives must be taken into consideration when using tablets. If the pet accidentally ingests too much medication an overdose can occur. Tablets should always be put away and out of reach of pets and children.
Sprays and Powders
A veterinarian may prescribe prescription sprays and powders that are not only applied to the pet, but also around the home and the pet's sleeping area.
Shampoos
Prescription shampoos should only be used in the strength and frequency prescribed. Prescription shampoos should not be applied by pregnant women.
Reactions to Flea and Tick Medication
In some cases, a dog or cat will have an allergic reaction to an OTC medication or a prescription parasite formula. If a reaction happens, a veterinarian should be promptly contacted and treatment sought. Even the owner is not immune to having an allergic response to one of the flea and tick formulas he comes into contact with via his pet. If any allergy symptoms should develop, the owner should seek immediate medical treatment.

Purchasing Flea and Tick Medication on eBay
A pet owner cannot purchase a prescription flea and tick medication on eBay, but there are a bevy of OTC products available that are all viable options to control a pest infestation. The seller can compare the various prices of the OTC products and read the descriptions of what they promise to do. Pet owners can find flea and tick medication by searching in the Pet Supplies section under the Home & Garden main page. On the Pet Supplies page, select Flea, Tick Remedies to bring up all related listings.

Conclusion
Always follow the directions on the medication. In some cases the medication will state "for dogs only." The pet owner should take such a precaution very seriously because cats have been known to have a fatal response to topical flea medications that were prescribed or purchased for dogs only.