Make-or-break jewels for special occasions

A fashion hint from Candy Spender

We have been styling and making jewellery for brides and girls having their formals for over fifteen years here in downtown Melbourne (the Paris of the South, we say!) and have learnt a great deal about how jewellery and accessories can make-or-break the whole look on these important occasions.
People come into our Salon of Jewels, and fall-in-love with all the sparkling crystals and radiant pearls, and end up not being able to make a descision because they: "want everything".
In the early days we thought this was great and would put earrings, necklaces, tiara's, bracelets and brooches where-ever there was a space! Everything would be sparkling and glinting, and we'd all be smiling at the great vision of light before us.
One day we had a bride who just wanted everything bigger, bolder, 'more crystal', and 'bigger pearls'. I looked at her, and had to do a reality check. She was 5' 2", and the jewellery started to look like it was wearing her! I took a deep breath and put on my 'styling hat', and said: "no, I will not let you leave here with all that jewellery, you look like you raided your auntie's old dress-up jewellery box!" I realized that it wouldn't be good for us either, if she went around telling everyone that it was Candy Spender jewellery! It was a long term view, because nowadays we don't hesitate to offer our opinions, and people actually really value our honesty.
We've had people coming in with their $5000 dresses, and jewellery they borrowed from a girlfriend which she picked up at the airport for $17.50 when she was last travelling...and quite honestly suddenly the dress looked like she'd picked that up at the airport as well! The jewellery was too coarse, too much, and was starting to fall apart anyway. (I'm not saying that all inexpensive jewellery is like this mind you!). It really is worth looking closely at your jewels though, because 'the love is in the details', just as much as 'the devil is in the details'.

The opposite can happen as well. We've had girls come in with gowns they bought off-the-rack, simple, and beautiful, and want to dress it up with their jewellery. We have put just the right piece on, and the whole look gets lifted, and they look like a million dollars! So it really isn't to do with how much you pay.
Here are a few points to take into account:
Your height and size

. If you are petite and fine, do wear finer more delicate pieces. Large theatrical pieces will wear you! (which is great if you're going to a party or fun event). If you are voluptuous, tall or amazon; delicate pieces will get lost on you, and make it look like you're trying to deny the beauty of your size. You can get away with the more dramatic and larger pieces.

Pearls are a classic

, and don't have to be conservative! They can be the most flattering accessory on a brunette or a blonde. But make sure you choose good quality costume pearls, fresh water pearls, or real pearls. There's nothing worse than plastic pearls with their mould marks showing. (remember, the love is in the details!)

Crystal is like champagne

, it sparkles and glimmers and can be a real mood maker, especially in earrings when it moves and flashes little shards of light everywhere. It actually emphasises sparkling eyes, and flashing smiles, and can be a lot of fun. Crystal is also glamorous, and yields a lot of extra dimensional energy on your special occasion. For a more delicate subtle sparkle, go for the beads, their transparency is like water or ice, and they are quite unobtrusive. If you want to make more of a statement, go for diamante's, or foil backed stones (also known as rhinestones). These can add Hollywood style glamour, and nothing can beat them (except ofcourse real diamonds!!) for pure chic elegance. I recommend wearing them for an evening event.

Colour brings delight!

It is quite unorthodox to wear jet or colour on your wedding day in Western societies, but more and more people are doing it. The rubies and garnets in Indian weddings are absolutely divine, and so luxurious and rich looking. And even for a white wedding, jet and black diamonds or pearls are so elegant and stylish. For formals, coloured jewellery is perfect to denote the coming of age for young women, and this is such an important rite-of-passage, in a world where there are so few. Check out if there are any colour highlights in the outfit already for a hint of what colour jewellery to wear. Or my favourite is to match the jewels with they

eye colour

, which really brings the eyes into focus. For a thrill and lots of fun, just go crazy with colour. For instance, we love the look of teenagers wearing lush fruity coloured jewels, it is perfectly appropriate!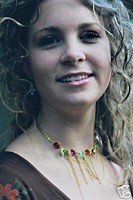 Your jewellery is so very important, and often underrated in the effect it has on your overall look. Sometimes it can bring pure magic to an outfit, and at other times it can undo or overdo even the most beautiful and carefully chosen dress or gown.

Take your time choosing the jewellery
for your special event, try on lots of different styles, don't be scared to try on things which you wouldn't normally think of wearing, you just never know until you see them together with your intended gown or dress. Jewellery is about how you
feel
, and in this way it is as
personal as your perfume
.