Ok... so we have all done it! Whether it be in a department store, On-line or whether we have just admired from afar on a passing by stranger, The thought that has probably gone through each and everyone of you's mind at one time or another- "I LOVE THAT LIPSTICK...But i could never wear it" Im sure many of you can relate. For most... finding the balance between THE SHADES WE LOVE & A SHADE THAT COMPLIMENTS OUR SKIN TONE & FEATURES can be really tricky and fustrating business!!
So- We are left with the question, How do we know what shade is right for us? And can we still pull of those Gypsy reds & Barbie pinks even thou we aren't featured in this months issue of Vouge or In Style??
How To Perfect The Art of~ Choosing Your Best Shade of Lip Color!
According to Renowned make-up artist Bobby Brown, The most flattering lip tones will be one or two shades darker than your natural lip color. He says To test shades, apply lipstick or gloss to one lip. If that color is just a shade or two deeper than your bare lip, then you've found your most compatible shade for your complextion.
Women with fair skin, look great in lipstick shades such as nudes in a slightly apricot shade, pinks and light corals. Stay away from browns, which will appear blah.
Those with a medium skin tone can go a bit darker. You'll look great in roses, mauves and berries. Skip the bright reds and consider a deep burgundy instead.
Deep plum, chocolate or red is fabulous with dark skin. According to the editors of Allure's "Confessions of a Beauty Editor," women with dark skin "can go in one of two directions: toward brown or purple. Think caramel or walnut for day, and plum or wine for evening."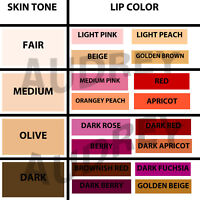 How to Pick the Right Shade of Red
Many women wrongly believe they can't wear red lipstick. The secret to choosing the right red lip color is in the undertones. Pink-skinned girls should opt for cherry red. Those with olive skin can wear fire-engine red. Dark skin looks great with deep reds. One big No No for red lipstick is NEVER TRY TO MATCH WITH YOUR OUTFIT!!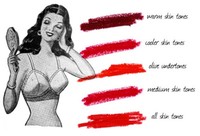 Uh-Oh, You Hate the Lipstick You Just Bought
Don't throw out those lipsticks that are just a wee bit off. You can create a great lipcolor by blending lipsticks you don't like. For lipstick that's just a bit too bright, tone down the color with a darker liner before applying a lipstick.