Ever wanted to order a surfboard cover on line, but have hesitated because you can't be sure it will fit around your surfboard?

This happens more often than you might think.

There is really no standard for board shaping, if there ever was, so if you have a 7'6" mini mal and are looking for a 7'6" mini mal cover don't just order blind. That 7'6" mini mal cover, advertised to fit ALL 7'6" mini mal surfboards, might not fit yours. Once you get it, and find it's too small, will the supplier swap it over free of charge? Or will he impose a surcharge, or handling fee? At the very least you would probably be up for the return postage charge - and in Australia that is likely to be a lot.

What do you want in a surfboard cover?

Let's say you are looking for a cover to protect your new surfboard at home and during trips overseas. This will mean that for trips to your local beach you will want a cover that fits around the tail of your board, while the fins are in. As a result you will need to make sure that there is enough allowance in the tail section for the fins you intend to fit, and where you intend to fit them.

If you have 5 fin positions in your surfboard's tail, so you can set up as a thruster, or as a quad fin, or as a twin fin, then you need to know what those settings mean for the board cover measurements. It's no good asking for the cover to suit a twin fin if you sometimes want a thruster, or quad fin setup. So you have to cover all your bases. And you will want to measure accordingly.

If you ONLY want a cover to protect your board while in transit then you can ignore the fins and just make sure the tail section is big enough.

Understanding the 3 Dimensions

Many buyers simply ask for a cover to suit a 7'6" mini mal that is 22" wide. That is fine for 2 dimensions, but you also need to know the rail thickness, which is the 3rd dimension. If you know the rails are 3", then that will give the maximum dimensions that the cover has to contain - ie essentially the centre of the board along its length. Don't just assume that the shaper has written the correct board measurements along the stringer - we're all human and can make mistakes.

Ideally, you want to know the dimensions of the board in three critical sites - nose, tail and max width. Get yourself a flexible measuring tape, like tailors use for made to measure outfits.
Find the widest point along the length of the board and run the tape around it. If your board was 22" wide with 3" rails you would get a circumference of 50". A cover would have to be no less than 25" wide in the middle to fit this board (or a touch wider to be safe).
Check nose shape - if your board has a full nose look for a rounded style. If pointed then a corresponding nose shape. Move 12" back from the tip of the nose and run the tape measure around the board again. Say you get 43". This would mean the cover's nose could be not less than 21 1/2" across at that point.
If you want to travel with the board inside the cover with fins IN, then put them where you want them. Move 12" away from the tail and repeat the measurement. Make sure that the tape runs around the fins, otherwise the cover size will be too small.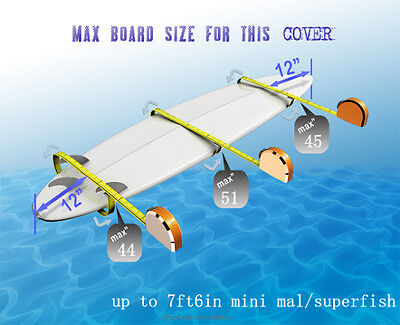 You now have the dimensions you require of a surfboard cover to suit your board and you can compare them to the measurements given by the supplier. If the supplier doesn't list the measurements, you can always ask if it will fit. it would also pay to know what his returns policy is, just in case something goes wrong.
Image to left - example showing supplier's max. cover dimensions - this one also suits a 'Superfish' model board