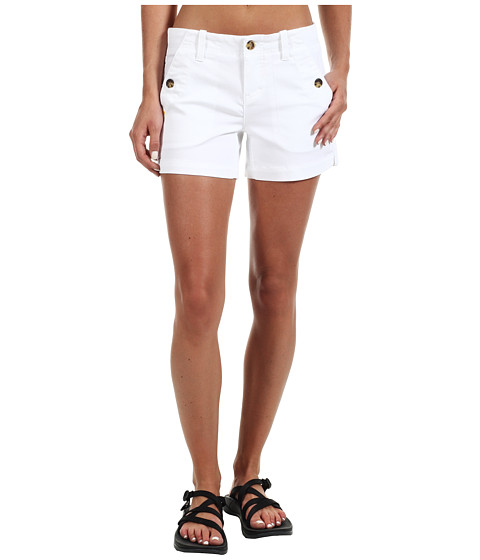 With so many different styles of shorts available in a wide range of fabrics, it can often be difficult to know where to start when it comes to choosing the best fabric. Websites such as eBay have cotton hotpants, chiffon culottes and linen cargo pants available in a variety of styles and sizes to suit all tastes and budgets. But choosing the right fabric for shorts is a very personal decision that will depend on a variety of factors, including how important it is to the individual whether they are wearing natural or synthetic fibers.
What Types of Fabric are Available?
| | |
| --- | --- |
| Fabric | Benefits |
| Cotton | Natural fibre which is kind to skin and lets it breathe |
| | No pesticides or chemicals used – natural fibre which lets skin breathe |
| Polyester | Wrinkle resistant, doesn't absorb water |
| | Absorbent and warm – ideal for sports |
| Jersey | Easy to clean, casual appearance and absorbent |
| Denim | Hardwearing yet comfortable and breathable – a wide range of denim shorts are available on websites such as eBay. |
| | Lightweight, cool and extremely wrinkle resistant |
| Wool | Natural fibre, warm, resilient and comforting |
| | Synthetic material made from Polyester and Polyamide – soft to the touch and stain resistant |
| Leather | Natural material – water resistant and easy to clean |
| | Cool, breathable natural fabric which is also lightweight |
| Silk | Hypoallergenic, natural fabric and can keep the wearer warm or cool |
Because shorts are available in such a huge variety of fabrics, the first question to ask when shopping for shorts on eBay is whether or not it matters if the fabric is made from synthetic or natural fibers. Some people with extremely sensitive skin react badly to clothes made from synthetic fibers and would be best to stick to silk, organic cotton or linen blends.
Should you Choose Natural or Synthetic Fibers?
Because natural fibers do not contain harsh dyes, pesticides or formaldehyde treatments (designed to remove wrinkles from fabric), they are kinder to the skin and ideal for those who have sensitive skin or a skin condition. Around two-thirds of our clothing is still produced from synthetic fibers such as polyester, but this fabric is not as healthy to wear as natural fibers as it does not let the skin breathe. Wearing a synthetic fibre in a hot and humid environment will increase perspiration and body odor, no matter how much deodorant is worn.
By purchasing fabric made from natural fibers, the individual is making an environmentally friendly choice. No pesticides or chemical processes are required to create and treat the fabric. Wearing shorts in a natural fabric such as linen, as opposed to a synthetic fabric such as chiffon, is ideal for those who wish to keep cool and allow their skin to breathe. A wide range of shorts in natural fabrics can be found online on websites such as eBay, and it is easy to find some great deals on shorts for men, women and children.
The most Popular Fabrics for Women's Shorts
There are many different fabrics used for women's shorts; this is because shorts are available in a wide variety of styles, from relaxed linen cargo shorts to floaty chiffon culottes and tailored high-waisted silk shorts. Here are some of the most popular fabrics for women's shorts, most of which are available to buy on websites such as eBay:
The type of fabric chosen will depend on the style of shorts desired, but also the purpose the shorts are to be worn for. A pair of chiffon culottes is ideal for wearing to a summer wedding, but if heading to a hot, humid climate, cotton culottes may be more practical and durable.
What will you Wear Your Shorts For?
When choosing the right fabric for shorts, it is important that the wearer thinks about the occasion when the shorts are designed to be worn. Whilst denim hotpants are ideal for wearing on the beach, they are not as great for trekking through the jungle, due to their short length and thick denim fabric. For walking, trekking and hiking, linen or cotton cargo pants or shorts are a far more practical option, and a wide selection can be found on websites such as eBay.
Fabrics such as silk and chiffon are very delicate and provide a beautiful, feminine look. However, because they are so lightweight they are not very durable, and so they are best kept for evening wear or summer holidays. Practical, durable fabrics such as denim, cotton and jersey are hardwearing yet easy to clean, making them perfect for outdoor activities or beachwear.
Choosing the Right Fabric for your Shorts
When it comes to choosing the right fabric for shorts, there are a number of things which women need to take into consideration:
Budget
Style and length desired
Occasion
Is a natural or synthetic fibre desired?
Fit – should the shorts be tight or loose fitting?
Purchasing chiffon culottes will provide a feminine silhouette, whilst linen tailored shorts are ideal for professional wear when the purchaser needs to look smart. It is important to consider all the above factors when shopping for shorts online – eBay has a wide range of styles and fabrics available to choose from, so it should be easy to find a great deal on women's shorts on eBay.
Should you Buy Used or New Shorts?
When deciding whether to buy used or new shorts, think about the type of material involved. An absorbent material such as jersey or cotton will age faster than a loose fitting synthetic material such as chiffon. If purchasing tight fitting shorts or sports shorts, it may be worth investing in a new item, whereas if buying a few pairs of Topshop culottes for a summer holiday, it is easy to find used culottes at affordable prices online.
Many pre-owned listings on eBay offer items in excellent condition, so it is often possible to find used items which are as good as new. Buyers should ensure that they read the listing description carefully, as any defects in the item will be detailed here.
How to Choose the Right Fabric for Your Shorts on eBay
When shopping online for women's shorts, it is easy to find a wide range of different fabrics to choose from on eBay. Visit eBay and select the drop-down menu marked 'Shop by Category' located next to the main logo on the left of the page. Click to open up a list of categories and select Women's Clothing. In the categories listed on the left-hand side of the page, it is possible to select specific types of clothing, such as Shorts. From here it is easy to select the material in the sub-category menu, such as Chiffon.
Because there are so many different styles of cotton women's shorts to choose from, it can be helpful to narrow a search using a certain term if looking for something specific. By typing the words related to the search, such as 'Silk Shorts' into the main search box, a list of all the available items will be shown.
Conclusion
When it comes to shopping for shorts, choosing the right fabric does not have to be difficult. By thinking about budget, the occasion the shorts will be worn for and whether a synthetic or natural material is desired, the perfect pair of shorts can easily be found.
eBay has a wide selection of styles, colours and fabrics available to choose from and there are women's shorts suitable for everyone, from linen tailored shorts to denim hotpants. By shopping on eBay, women's shorts can be found for a very affordable price, offering significant savings compared to shopping in clothing stores.