When traveling it's always important to make sure that you choose the correct travel adapter for the countries that you are visiting. There is 14 different types of plugs throughout the world (many of these are not very common).

When purchasing a travel adapter, there are a few things to consider. Whether the travel plug offers an grounding (earth) pin. The grounding pin will allow you to safely use appliances that have a three pin plug. Whether the travel plug has USB ports. This will save space when travelling as you will only need to take your charging cable and keep the electrical plug free for other appliances. Whether the travel plug has a fuse for surge protection. This will protect your appliances from an electrical surge.

If you are travelling with friends or a family and planning to stay in the same place together, it is always a good idea to purchase one travel plug and take a long a power board from home. This way you can plug in your power board to the travel plug and essentially use multiple appliances at the same time instead of having to purchase multiple travel plugs.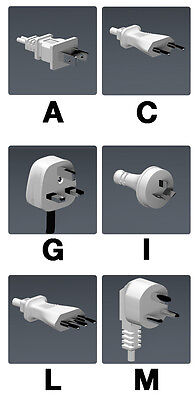 The 6 most common power plugs
A = United States
C = Europe
G = UK
I = Australia/NZ
L = Various
M = South Africa
World Plug List
Most countries have only one dominant electrical plug throughout the whole country, however many countries use a mix of a few different types of plugs. For the full and complete list of electrical plugs and additional information, please Google 'International Electrotechnical Commission'.
Certification
There are various electrical safety standards a product can have. It's always a good idea to ask the seller if the product has any certification standards and what they are.
Earthing Pin
Many travel plugs do not provide an earth pin (the third metal pin found on some appliances). If the travel plug you have purchased does not have three pins then using any electrical devices that have three pins is not recommended for use. There are some travel plugs that offer the third earth pin which are more beneficial as you can use them with a wider range of electronic devices.