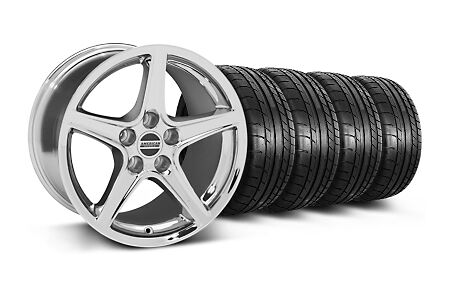 Consumers who appreciate a sporty aesthetic may be interested in upgrading their wheels to chrome. Chrome wheels do not come cheap, but for car buffs, the way they look is worth every penny. Chrome wheels command attention, and the polished, shiny wheels enhance just about every type of car. Consumers who are considering upgrading to chrome have a few considerations to weigh.
Buyers should learn about the various types of chrome wheels, such as mag style wheels and smooth chrome wheels, along with varying shades of chrome such as black chrome and chrome alloy, and thus be able to make a more informed purchasing decision when shopping for chrome wheels. Chrome wheels are available at specialty tyre shops or for affordable prices on eBay.
Chrome Wheel Make and Size
Chrome wheels should be purchased to fit the make of the vehicle, such as Ford or Nissan chrome wheels. These ensure that the wheels fit perfectly with the existing tyres of the vehicle for a customised look. Since chrome wheels are available in various sizes, so the consumers need to be aware of not only the wheel make but the size as well, such as 19-inch wheels or 15-inch wheels to ensure that they fit the tyres properly. Other considerations include the width of the wheels as well as the lug nut pattern of the wheels.
Chrome Wheel Materials
Chrome is actually a finish that is placed on a magnesium, aluminium, or steel wheels. Alloy wheels are generally more popular than steel due to their lightweight design. Consumers searching for a chrome wheel should be able to choose the material that the wheel was created from before the chrome finish was added. The wheel material also changes the price substantially, as steel wheels are much more costly than magnesium or aluminium alloy wheels.
Magnesium
Magnesium wheels are not as common as aluminium, but they are one of the options consumers have to select from. Magnesium wheels are lighter than steel or aluminium wheels, which makes driving a bit smoother and more responsive for consumers. The only downside to magnesium is that it is easier to bend. Magnesium wheels are also aesthetically pleasing, which is the main reason they are popular with consumers.
Aluminium
Aluminium wheels offer consumers a durability that other wheels lack. They are also easier to come by than magnesium and steel wheels, which may offer consumers more options when they are shopping for wheels. Aluminium also does not rust as easily as other materials, which may help preserve and extend the life of the wheels. Since magnesium wheels tend to be more costly, many consumers opt for aluminium based on price as well as the other benefits of this metal over others.
Steel
Some chrome wheels are also made of steel, which makes them heavier than aluminium or magnesium wheels. This may reduce high performance in some cars due to the extra weight of the wheels. Steel is very strong, and once the wheels are finished with chrome, they are a heavy-duty wheel option. Steel wheels also may not have the aesthetically pleasing designs that aluminium and magnesium alloys offer.
Types of Chrome Wheels
Some consumers imagine sparkling, shiny wheels when they think about wheels finished with chrome. Although, there are actually a few different finishes that buyers are able to choose from when shopping for the perfect chrome wheels for their vehicle.
Polished
Polished chrome wheels are the most common type of chrome wheels. These wheels exude the traditional chrome shine that most people think of when they think about chrome wheels. Polished chrome wheels have a mirror-like finish that is shiny and bright. Polished chrome wheels look good, but they do need to be maintained to stay shiny. Consumers have to polish the chrome and wax the wheels to keep them in perfect shape.
Black
Black chrome is a modern take on the traditional style of chrome wheels. Black chrome is available in either a matte or polished finish, and offers consumers a sleek alternative to shiny, silver chrome. Black chrome finishes are created the same way that polished chrome finishes are, but black chrome may be easier to keep clean. Consumers may not need to wash and wax black chrome as frequently, as dust does not show up as easily on the black chrome finish. Instead of silver chrome, black chrome wheels are made with a pearlescent, black finish for a unique look.
Matte
Matte chrome adheres to the same silver finish as polished chrome, only without the shine. The matte, burnished finish is a bit more understated than polished chrome, but they are still available in the many designs and styles that polished chrome wheels are. These are a good choice for consumers who enjoy the way chrome wheels look, but may not need the attention-getting polished chrome finish or the maintenance that comes with those chrome wheels.
Deciphering Chrome Wheel Types
When buyers are looking for chrome wheels, they may come across some unfamiliar terms. If consumers are not tyre experts, it is helpful to know what some of this lingo means.
Type of Wheels

Features

No intricate designs

Smooth chrome finish all the way around; no details or embellishments

Sport wheels

Heavily designed wheels meant to go on sports cars or luxury cars

Another name for magnesium chrome wheels

Stylish and lightweight

Spider wheels

Intricate designs that look like spider legs

Also called wire wheels

Rims

Used interchangeably with the term "wheels"

Rims serve the same purpose as wheels; some rims are slimmer than wheels

Black/chrome wheels

Specialty chrome wheels that are a combination of black chrome and polished or matte silver chrome finishes
Selecting the right chrome wheels is not only based on appearance, but on material and price as well. Consumers who need a full set of wheels may want to shop by price range.
How to Buy Chrome Wheels on eBay
You can find some great deals on chrome wheels in many styles and everything you need to upgrade the way your car looks on eBay. Type your keywords into any search box either on the eBay home page or any other page to bring up exact results, such as "chrome wheels", and filter the categories to reach your results. Narrow the selections by the make of the wheels and the material, or type in exact keywords for specific results, such as "black chrome wheels".
If you are looking for a full set of four matching wheels, go to the seller's page and click "Ask a Question" to discuss the number of wheels for sale. Talk about other items that may be bundled with the wheels such as caps, covers, and lug nuts.
Conclusion
If consumers are bored with the way their car looks and wants to change the aesthetics of their vehicle, adding chrome wheels can make a huge difference in the way a car looks. Chrome wheels are sporty, sophisticated, and look expensive no matter how much buyers paid for them. Chrome is a good choice for car buffs who enjoy washing and polishing their car to keep the chrome looking shiny and new, and chrome wheels are durable and functional.
Chrome wheels are available in many styles, designs, sizes, and materials, so there are many options for buyers who are not sure what type of chrome wheels they want to buy. Prices vary according to the type of wheels, and buyers on a budget are able to find many available styles on eBay.
chrome wheel|aluminium wheel|magnesium wheel|black chrome wheel|rims