Classic Rally Cars 1980s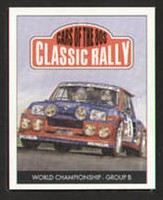 This is one of many illustrated classic car guides I've created for the community. I hope you enjoy it. If you wish to find out more about the classic rally car art featured in this guide please click here.
This guide covers the Group B years of international rallying between 1983-86. Under new regulations, engineers went mad with turbo power and lightweight construction, resulting in some of the most extravagant and exciting cars ever seen on public roads. Cars soon became too dangerous however, with the toll of death and injury becoming intolerable. Group B was baned and rally cars were to be built to a much safer and restricted specification.
Peugeot 205 T16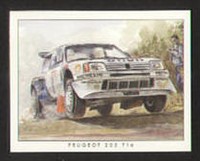 The 205 T16, Peugeot's entry in the Group B rally category of the mid-1980s, followed the shape of the production 205 for marketing purposes, and although 200 road cars were produced for homologation, the T16 was in reality an out-and-out four-wheel-drive, mid engined, turbocharged rally supercar. In 1985 and 1986 the model brought Peugeot the manufacturers' title in the World Rally Championship, while Timo Salonen and Juha Kankkunen took the drivers' crown.
Audi Quattro Sport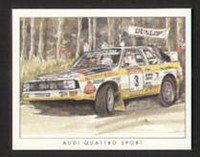 Audi's original Quattro of 1980 had been a great success, but to keep ahead of the competition their revised Sport Quattro was introduced in 1983. Lighter, shorter and more powerful, it helped Hannu Mikkola to the World Championship in 1983, Audi coming narrowly second to Lancia in the Constructors' Championship. In 1984 Audi made no mistake and their Quattro won both titles.
MG Metro 6R4
The M.G. Metro 6R4 was Austin-Rover's Group B car project. The Specification included four-wheel-drive and a 410bhp engine, but at world level it was not competitive against Lancias and Peugeots of the day.
Lancia Rally 037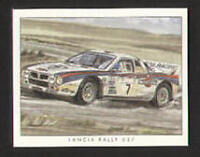 Lancia's Rally 037 was the ultimate rear-drive rally car, with a water-injected supercharged four-cylinder 1995cc twin-cam producing 305bhp, mid-mounted in a tubular and sheet-steel chassis. It was the first purpose-built Group B car to enter World Championship Rallying and comfortably won the World Championship in 1983, winning five times.
Lancia Delta S4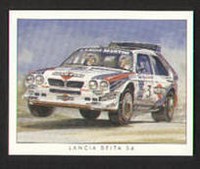 Lancia's no-holds-barred Group B Supercar, with four-wheel-drive and mid-mounted turbo-supercharged engine, producing between 450 and 500bhp. Henri Toivonen gave the model its "works" debut on the 1985 Lombard-RAC Rally, where he won outright. Tragically Toivonen was killed while driving the S4 on the Tour de Corse, an accident that led to the banning of the Group B cars.
Ford RS200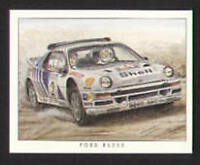 Conceived in 1983 and launched in 1984, Ford's RS 200 was a mid-engined, four-wheel-drive, Group B supercar, of which exactly 200 were built. Homologated in 1986, the RS200 started only two World Championship events before FISA announced that Group B was to be cancelled. The RS200 went on to become the world's best rallycross car.
Thank you for reading my guide and I hope you found it interesting!