If you've ever owned a piece of Wedgwood Jasperware, you'll know how much dust it can collect in all those little nooks and crannies. The applied design is just a haven for it and even a light dust may not remove the bits that get into all that intricate moulding.
.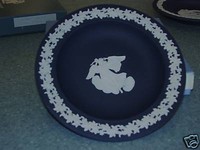 So what do you do when you're white relief is looking more like dirty grey?
Here are a few tips about how to clean and care for it, so that it will always look its stunning best.
Storage tips.
1. If you can, keep it displayed in a cupboard rather than on an open shelf, the dust won't settle any where near as quickly in there.
2. If you intend to handle it, wash your hands first. It may be made of hard fired materials, but you're still better to make sure your hands are spotless before you touch it.
3. I like to rotate mine in the cupboard, not only does it create interest, but it stops the same piece sitting in the one spot for too long, where temperatures may vary, or it may be hit by the sun.
Washing
1. This stuff is tough, so washing it isn't going to hurt it. If it's really dirty, give it a bit of a soak first in warm, soapy water.
2. I like to use (believe it or not) toothpaste on mine. It brings the relief up beautifully. Use a soft bristle toothbrush to get into all those nooks and crannies.
3. A paste of bicarb soda and detergent will also do the trick if you'd rather not use your toothpaste.
4. For the insides of older dipped jasper that's gotten stained. Try using the bicarb trick, or a mix of salt and a small amount of detergent. Rub gently. The salt will act as a mild abrasive to remove ground in stains.
5. Once you're happy it's clean, rinse in clean, warm water and remember to remove all the residual cleanser.
6. Pat dry with a teatowel and put away immediately.
With pieces that have been repaired or restored, be very careful. The last thing you want to do is undo all the good work of the restorer by loosening the repair. So don't be too rough in your scrubbing and it might be best not to immerse the repair for too long.
If you follow these steps, you'll have stunning jasperware everyone will admire.