Clive Cussler - Inca Gold
Clive Cussler's No 1 bestseller Sahara was a spectacular success around the world, thrilling millions with its combination of relentless action and non-stop entertainment. Now he plunges his irrepressible hero Dirk Pitt into a heart-pounding new adventure.
A desperate call for help from a sticken archaeological expedition brings Dirk Pitt to a sacred well high in the Andes. What he discovers as he attempts to rescue two divers lost in its perilous depths leads him into deadly confrontation with a band of ruthless art-thieves, who plunder ancient sites for their precious artefacts.
Dirk Pitt's extraordinary adventures take him to the fabled Lost City of the Dead, lead him in search of a Spanish galleon washed miles inland by a giant tidal wave centuries before, and eventually set him on the trail of a fabulous hoard of Inca gold. But Pitt will need all his skills and tenacity simply to survive as he races to track down the sacred site - before the richest prize known to man is lost to the world for ever...
'Clive Cussler's hero Dirk Pitt is made of strong stuff, handling the improbable with nerves of steel.. he is one of the best adventure heroes around' Today
'Nobody does it better than Clive Cussler, America's finest adventure writer' Stephen Coonts
'Clive Cussler is the guy I read' Tom Clancy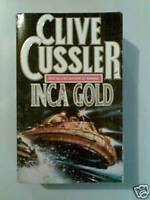 Thank you for taking the time to read our guide. If you have found this guide to be helpful, please vote. The more votes it gets the more visible it will be to others on eBay.
This guide has been produced by Secondhand Bookstore. Click this link to search for Clive Cussler titles in store now.