Clive Cussler - Lost City
Clive Cussler's legions of fans have come to expect high adventure at sea, exotic lacales, cutting-edge science and page-turning pace. Lost City is no exception - Cussler proves once again that he is the Grandmaster.
An enzyme that will dramatically prolong life has been discovered 2,000 feet down in the North Atlantic, in an area known as 'Lost City'. But why are the people attempting to harvest it getting killed? Why are the scientists in a remote Greek laboratory disappearing one by one? What does this all have to do with a body found frozen in the ice high up in the Alps? For Kurt Austin, leader of NUMA's Special Assignments Team, and his colleague Joe Zavala, it's clear they have their work cut out, but it may be even bigger than they think - in fact, it may be their greatest challenge ever...
Rich with all the hair-raising action and endless imagination that have become Cussler's hallmarks, Lost City is an exceptional thriller.
'Cussler is hard to beat' Daily Mail
'The guy I read' Tom Clancy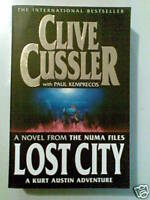 Thank you for taking the time to read our guide. If you have found this guide to be helpful, please vote. The more votes it gets the more visible it will be to others on eBay.
This guide has been produced by Secondhand Bookstore. Click this link to search for Clive Cussler titles in store now.