Clive Cussler - Sahara
A CREEPING RED TIDE OF DEATH...
Clive Cussler's peerless hero Dirk Pitt in his most gripping and action-packed adventure yet.
Deep in the African desert, Pitt discovers that a top-secret scientific installation is leaking a lethal chemical into the rivers, threatening to kill thousands of people - and to destroy all life in the world's seas.
To warn the world of the catastrophe, Pitt must excape capture and death at the hands of a ruthless West African dictator and French industrialist, and undertake a long, perilous journey acrros the merciless Sahara...
Charged with excitement and high-voltage action, full of unexpected plot twists and surprises, and bound for the very top of the bestseller lists worldwide, Sahara is Clive Cussler's latest masterwork of adventure and suspence.
'The ultimate Dirk Pitt tale. Nobody does it bertter than Clive Cussler, America's finest adventure writer.' Stephen Coonts, author of Under Siege
'Gripping... Dirk Pitt is one of the best adventure heroes around' Today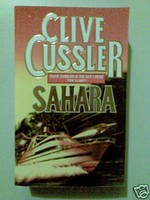 Thank you for taking the time to read our guide. If you have found this guide to be helpful, please vote. The more votes it gets the more visible it will be to others on eBay.
This guide has been produced by Secondhand Bookstore. Click this link to search for Clive Cussler titles in store now.