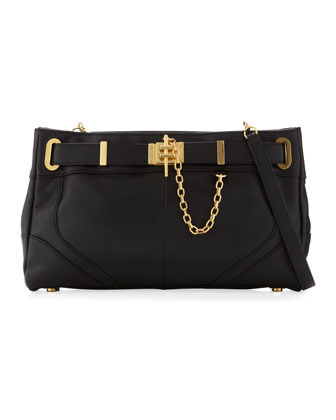 A clutch bag is a small handbag that is common as a woman's accessory. The bag typically does not have any straps or handles, and its name is derived from the way it is worn, clutched or grasped tightly in one's hand. Clutch bags are rather small, although extravagant larger models are also available. Therefore, they are not usually used as hold-all day bags, but rather function as elegant accessories that complement an outfit, especially on evening events. However, a woman who does not need many things throughout the day may also be able to fit all her essentials into a stylish clutch bag.
These handy accessories can be bought from many high street clothing stores, as well as from designated shops that deal with bags. Another convenient way is to purchase a clutch bag via an online auction site, such as eBay. Things to bear in mind when buying a clutch bag include material as well as other features, such as shape, design, and size.
Clutch Bag Features
Although a clutch bag itself is usually small, there are many features to consider when buying one. These include shape, design and embellishments, size, fasteners, and functionality.
Clutch Bag Shapes
The basic shape for a clutch bag is flat and rectangular, and this shape is known as the envelope style. Bags of this form are easy to carry, but other exciting designs are also available. Ovals, clutches with rounded edges, heart-shaped bags, and half circles are all variations in the shape.
Clutch Bag Designs and Embellishments
A clutch bag may be decorated with lace, beads, bows, metal details, ornaments, studs, buckles, and many other things. Only imagination is the limit here. Thus, it is possible to go from a simple plain bag and obtain one that is more eye-catching, for example, a multi-coloured bag. However, this should always be done with care in order not to overdo it. A black or brown leather clutch bag is suitable for most occasions and matches many outfits.
Clutch Bag Sizes
A clutch bag can be so small that it only accommodates a few items, or it can be a larger envelope that fits many things needed throughout the day. The occasion generally determines the appropriate size of the bag. Smaller bags are used for evening events, while large clutches are used on a daily basis.
Clutch Bag Fasteners
The bag needs to be closed somehow in order to hold all the items in. Some clutch bags only have flaps that are not fastened in any way. Magnets, top button closures, clasps, buckles, and zip fasteners are other ways to seal the bag. The fastener contributes to the bag's style, so it should be considered carefully.
Clutch Bag Functionality
Although clutch bags are primarily designed to be stylish rather than functional, they should still fit all the essentials in a way that is convenient. Besides choosing the right size, buyers should not overlook the inside of the bag. It may either have one compartment, or small sections that can be closed with a zip fastener and can hold tiny items. This allows one to keep the inside of a clutch bag organised.
To better enable the clutch to be clasped in hand, some clutch bags have straps attached to one side. The strap goes around the wrist, and thus this type of clutch is called a wristlet. Besides carrying the bag as a regular clutch, it can be carried hands-free, and therefore the bag does not get in the way. These can also fit into other bags. For instance, a wristlet can carry essentials, such as money, keys, and phone, while the clutch itself, as well as larger items, may be carried in a backpack. When important items are in a smaller bag, they are easy to find without having to turn the entire larger bag upside down.
Although clutch bags are, by definition, strapless, some may still come with removable straps. These straps are often stylish chains that complement the overall attire in addition to being functional. When not in use, these can be taken off, but they offer comfort and convenience when desired.
Clutch Bag Materials
Clutch bags can be made from several different materials. The material largely corresponds to the type of occasion where the bag is to be worn, as some materials are more luxurious than others. Depending on the material, the bag requires more or less care.
Leather Clutch Bags
Real leather is durable and timeless, and is thus used for classic clutch bag designs. Leather can be quite expensive, so it is also possible to buy faux leather bags that use a material which imitates leather. The care tips for leather clutch bags vary by the type of leather used for the bag. The following chart describes the common types of leather and gives caring tips for each of them.
| | | | |
| --- | --- | --- | --- |
| Leather Type | Grain Leather | Suede Leather | Patent Leather |
| Features | Leather with grain side outwards | Velvety; leather with the rubbed flesh side out | Varnished and glossy surface |
| Caring Tips | Damp cloth for wiping, once a year, use a cloth with white spirit, polish | Brushed with soft suede brush, rubber eraser for marks and stains, fluorocarbon aerosol spray retains colour | Damp cloth and neutral detergent, silicone preparation for pigskin, |
The most common stains on leather bags are finger marks, and these are easily removed. For more resistant stains, sometimes professional help may be required, especially if the clutch is an expensive designer bag.
Satin Clutch Bags
Satin is a smooth fabric known for its lustre. Commonly, it is made of silk using a special fabric weave. This material is used to make elegant clutch bags for evening events.
Velvet Clutch Bags
Velvet is made either from silk, nylon, or cotton, so the care instructions vary, depending on the exact material the bag is made of. The term "velvet" refers to a special finish of the fabric. The material is woven closely, and this creates a thick, short pile on one side of it. To the touch, velvet feels soft, and it is used for luxurious bags.
Silk Clutch Bags
Silk is a rich and lustrous fabric obtained from silkworms. Besides being fine and luxurious, it is also strong, and thus silk clutch bags stay beautiful for a long time, although such a bag may occasionally may need some cleaning with a damp cloth.
Beaded Clutch Bags
Beaded clutch bags are embellished with intricate designs and lots of pearls. They glitter and definitely make a statement, because they can be seen from afar. Such a style is best for elegant events that take place in the evening. Receptions and cocktail parties can be attended with a stylish beaded bag. When the beads on the bag match with the beads around the neck, the outfit really stands out. However, beaded clutch bags may lose some of their beads over time, so when buying one with such embellishments it is important to check that they are attached firmly.
Buying a Clutch Bag on eBay
When looking for a clutch bag on eBay, the easiest way to access all the models offered by eBay sellers is to type "clutch bag" into the search box that you can find at the top of any eBay page. If you know the colour, brand, material, or design you are after, you can further specify your keywords in order to reach the desired results quicker. After you perform the search, you receive a long list of results that you can narrow down by sorting the items by auction time or price. You can also choose the item condition, be it either new or used. You can also look for special deals on eBay.
Read the listing details for further information and browse the photos, in order to find out exactly what the bag looks like. From there, you can also find the dimensions of the bag. If these are not included, you can always contact the seller and ask. Other questions that you can address to the seller relate to refunds, exchanges, delivery, packaging, payment methods, and postage.
Conclusion
A clutch bag is an essential item that should be present in any lady's inventory. As its name implies, it is clutched in the hand and thus generally has no handle or strap. A clutch bag may accompany a woman on evening events or throughout the day if it is a larger, oversized model.
The basic shape for a clutch bag is a rectangle, although more imaginative designs, such as the heart shape, are also used. Besides the shape, the bag can be customised with various embellishments, from beads and lace to studs and buckles. The colour choice also influences the style of the bag. However, the most basic black or brown leather clutch fits most occasions.
The bag can be equipped only with a flap or come with more secure fasteners, such as zip or clasp. These options are more functional and help to hold all the items inside the bag. Other features that can make a clutch bag more functional include small interior pockets and removable straps, which allow one to carry the bag on the shoulder if desired.
The material of the clutch bag determines how easy it is to care for, and it also helps to determine the type of occasion where the bag may be used. Leather and its types, grain, suede, and patent leather, require more care, but are durable. Satin, velvet, and silk are all luxurious materials that are used for elegant clutches.