Have you ever wondered what country a particular Coca Cola item came from, or when it was made or distributed. I am going to give you some important information that will not only help you to get answers, but show you methods that can be built on to make your collecting more informed and considered. You will be able to piece together facts and come to a conclusion about most things, and hopefully benefit from that!
First of all, if you have not read my other two guides on Coca Cola collecting, I would advise you to read them. They will give you an introduction to what I will be talking about here, and most of the information in the other two guides is not repeated here. Have a read and hopefully they too will be usefull: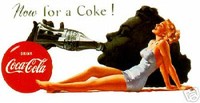 Knowing what is what!
As I mentioned in the Guides above, the way to becoming a successful collector of memorabila, which includes anything, not just Coca Cola, is knowing the background of items. You must work out where and when these items were made, which is no easy task. There are clues if you know where to look, such as:
Coca Cola Logo

The logo is the best clue to when an item was made. If you look carefully at the logo from different eras, you will notice a difference. The first logos were just the straight Coca Cola writing in the script writing, like the logo above this paragraph, but in 1970 the design was changed to have a dynamic ribbon underneath the logo, and usually in a red box with logo in white, like the logo below: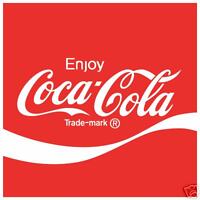 The logo changed again to incorporate the dynamic ribbon through the actual logo. This change happened over the space of a year in different countries, but most were in 1988. The dynamic ribbon also had a sub-ribbon of grey added to half of it, and Coke was added on most of the logos. (Coca Cola vowed never to call its product Coke, which they considered slang. They resisted until they gave in and registered Coke as a trademark in 1945 due to the prolific use of the word). So after 1988, the logo looked like:
In the late 90s, Coca Cola started to use various logos for different items, and especially with their advertising. They acknowledge the nostalgia in their logo, and still use the very old logo on alot of glass bottles, but they have also made up many logos to use, but this one seems the most popular at the moment, going back to the older logo with ribbon underneath, but keeping the grey, adding white and bubbles etc., so it looks like: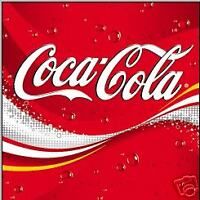 The easiest demonstration of the logo is on cans. You will find that the cans go nearly exactly by the above rules, and can be seen on this link for Coca Cola Cans. By looking at the cans now, and with the information you already have you have a rough idea of the decade. But we can pin point it by the year.........
Coca Cola Slogans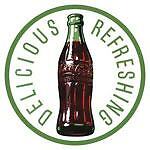 A massive clue to how old any piece of memorabila is the slogan they used at the time. They were used on many peices of memorabilia, from cans to trays, bottles to vending machines. Straight away those items can be aged with the right information. There have been some memorable slogans, that everyone knows. But when did they come out? If we knew that, we could pin point the item to at least the earliest year possible, but usually the slogan only lasted until the next new slogan. To save you running around, here they are, the slogans used in major advertising campaigns:
1904 - Delicious and Refreshing

1904 - Coca Cola revives and sustains the great nation

1906 - Temperance Beverage

1917 - Three million a day

1922 - Thirst knows no season

1925 - Six million a day

1927 - Around the corner from everywhere

1929 - The pause that refreshes

1932 - Ice cold sunshine

1936 - It's a refreshing thing to do

1938 - The best friend thirst ever had

1939 - Coca Cola goes along

1939 - Wherever you are, whatever you do, wherever you may be, when you think of refreshment, think of ice cold Coca Cola

1942 - The only thing like Coca Cola is Coca Cola itself. It's the real thing

1944 - Global High Sign

1947 - Continuous quality is quality you can trust

1948 - Where there's Coke, theres hospitality

1949 - Coca Cola..... along the highway to anywhere

1952 - What you want is a Coke

1956 - Coca Cola..... makes good things taste better

1957 - Sign of good taste

1958 - The cold, crisp taste of Coke

1959 - Be really refreshed

1962 - Refreshing new feeling

1963 - Things go better with Coke

1970 - It's the real thing

1971 - I'd like to buy the world a Coke

1975 - Look up America

1976 - Coke adds life

1979 - Have a Coke and a smile

1982 - Coke is it!

1985 - We've got a taste for you

1985 - Americas real choice

1986 - Catch the wave

1986 - Red, white and you

1988 - Can't beat the feeling

1993 - Always Coca Cola
A good way of looking up these facts would be to search for National Geographic adverts, and seeing their Coca Cola adverts on the back.
After 1993's campaign, which was Coca Cola's largest global campaign, they started to use older slogans again, but still had many campaigns for different countries. The slogans can be seen on various items of memorabia, and fake trays and novelty items are easily spotted when you know the slogan years.
Some facts to help you work out the age, or spot a fake item: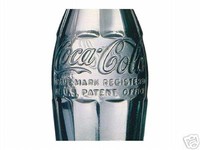 These facts will help. They provide some more clues for your timeline of Coca Cola facts:
1893 - Coca Cola was first registered as a trademark.

1900 - 1916 Various straight sided bottles were produced

1916 - Unique 6 1/2 oz bottle approved by bottlers. Designed by The Root Glass Company of Terre Haute

1934 - First bottling plants in England

1941 - Nickname Coke was receiving equal prominence in advertising as the trademark Coca Cola

1945 - Trademark Coke registered

1957 - Coca Cola bottlers moved from the logo being embossed to being screen-printed or enameled

1967 - The Coca Cola Company first marketed no-deposit/no-return bottles

1967 - Coca Cola introduced the very first lift-top cans in the soft drink market.

1977 - Introduction of

PET

(Polyethylene terephthalate) bottles for Coke and other company products.

1982 - July - Introduction of

Diet Coke

(Coca Cola Light in some countries)

1985 - April - New taste of Coke
Where do these items come from?
These facts will give you an even better understanding of their age. But what about where something is from. They all look the same. But they are not.........
Space doesn't give me enough room to go into detail here, so I will show you a simple way of working out where nearly every Coca Cola item is from. My next guide is: THE COCA COLA COLLECTABLES ATLAS, and you can go there straight away, go to COCA COLA ATLAS. Please make sure you vote for this guide if it has helped you, that is all I ask in return!
My favourite searches would have to be:
if you would like to see the auctions I have at the moment, just click:
and a quick link to all my guides:
Thank you for reading over my guide, I hope it helps. Happy Collecting and remember to look in for more helpful guides from time to time!