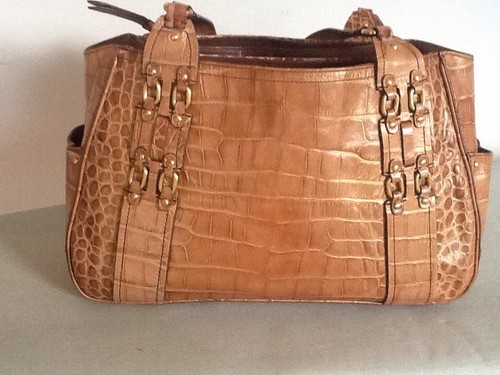 The average woman has multiple bags in her closet, including some dressy bags and some bags for casual occasions. Designer bags usually offer an enviable combination of cutting-edge style and superb quality. When women are in the market for a new designer bag, they should investigate some of the styles and options available from Cole Haan, a top brand that produces fashion accessories for both men and women. Local brick and mortar department stores and boutiques may have a supply of Cole Haan bags on hand. However, for better bargains, as well as used and new options, shoppers should check eBay's website and other areas of the website, such as eBay Deals.
Cole Haan Crossbody Bags
Cole Haan sells a variety of crossbody bags. These bags have a long strap and Cole Haan designs them to wear across the chest with the bag resting near the owner's hip or thigh. A few of the top choices include the Cole Haan Lafayette Push Lock Crossbody, the Village Crossbody, and the Parker Exotic Quinn Crossbody.
Cole Haan Lafayette Push Lock Crossbody
The Cole Haan Lafayette Push Lock Crossbody is a modern twist on the traditional satchel style. A large flap comes over the front of the purse and features a push lock that secures the owner's personal items inside. The surface of the purse is soft to the touch and lightweight enough to be easily portable in any situation.
Cole Haan Village Crossbody
The Cole Haan Village Crossbody is even smaller than the Lafayette Push Lock bag. Ideal for a quick errand or a little light shopping, this bag provides women with just enough space for some credit cards, ID, and a few personal items. Custom hardware, pliable pebble grain leather, a zippered main compartment, and a lengthy strap that combines leather and chain link are included on this bag.
Cole Haan Parker Exotic Quinn Crossbody
The Cole Haan Parker Exotic Quinn Crossbody bag boasts a fascinating print and unique hardware. Inside, the bag has a luxurious jacquard lining. A slide pocket on the front and another in the main compartment offer users some additional storage for personal effects. The purse zips and also has an exterior flap secured by a magnetic snap.
Cole Haan Clutch Bags
Clutch bags are perfect for parties and special occasions when a regular purse is too cumbersome to bring along. Shoppers should find a few basic styles of Cole Haan clutches, including the Lafayette Novelty Izzie Clutch, and the Parker Weave Envelope Clutch.
Cole Haan Lafayette Novelty Izzie Clutch
For the Lafayette Novelty Izzie Clutch, Cole Haan includes both a zipper and push lock for security. It comes in either Woodbury Haircalf or Dark Gull Grey Haircalf. Flexible, soft leather and three interior credit card slots make this clutch comfortable to carry and convenient to use.
Cole Haan Parker Weave Envelope Clutch
The Parker Weave Envelope Clutch from Cole Haan boasts a sleek, slim design with a broad front flap and a bold, decorative weave pattern. Three different card slots and a small zippered pocket on the inside offer space for ID and credit cards, as well as personal items.
Cole Haan Totes
If buyers need a larger bag, they can try one of the Cole Haan totes. Either the Cole Haan Lafayette Novelty Tote or the Cole Haan Parker Small Zip Top Shopper includes enough internal space and external style to please shoppers.
Cole Haan Lafayette Novelty Tote
This tote is ideal for a day of shopping or an afternoon of running errands. It contains spaces for credit cards, ID, asmartphone or cell phone, PDA, pen, and many other necessities. Five different colours and patterns are available including black, Woodbury haircalf, dark gull grey haircalf, dark sequoia, and pendant teal.
Cole Haan Parker Small Zip Top Shopper
The Parker Small Zip Top Shopper is fairly spacious, yet light enough to be portable in nearly every situation. It has short leather handles that are comfortable to hold. A variety of inside pockets allow owners to stow items separately as needed. The bag comes in several different versions, including black, pendant teal, dark sequoia, sandstone, and winery and orchid, among other colours.
Cole Haan Satchels
The Cole Haan satchels are fairly large, featuring both a long shoulder strap and a pair of short handles. As with most of its bags, Cole Haan creates its satchels from pebble grain leather. Both the Cole Haan Village Snap Satchel and the Lafayette Small Satchel also boast custom hardware and several zip-up pockets and card slots. While the Lafayette Small Satchel comes only in camello and black, the Village Satchel is available in five different colours.
Cole Haan Shoulder Bags
Cole Haan shoulder bags include the Village Hobo, the Crosby Bucket Bag, and the Zoe Small Hobo. Each one has a single comfortable strap that users can loop over their shoulder in order to carry the bag under their arm. Buyers may especially enjoy the sleek design, spacious pockets, and attractive curves of the Village Hobo shoulder bag.
How to Buy a Cole Haan Bag on eBay
To find your ideal Cole Haan bag online, go to eBay and conduct a search from any page on the eBay website. Type in " Cole Haan bag", and within seconds you should be able to review a long list of search results from various eBay sellers. Some sellers have Top-Rated Plus status, which means that they have a long history of excellent customer feedback and have committed to certain standards of service. Keep these sellers in mind as you shop, since they are reliable and likely to provide you with an authentic, satisfactory product. Using eBay's save a search feature gives you the option to track the availability of Cole Haan bags on eBay so that you can consider all of your options.