Most people collect something at some stage in their lives, myself I collect coins amongst other things. I am gathering this
information though around the subject of collecting Belt Buckles. I have been re selling a small range of locally made belt
buckles that I sell because of the high quality. I have owned a few different belt buckles myself over the years from
motorcycle brands, to club affiliation buckles.
I recently designed a Ned Kelly Belt Buckle and am very happy with the finished product. Now I looked at the types of buckles
that people collect after I created my design, and am truly excited by what others around the world do collect. I have seen
the cowboy based buckle in the USA, Mining themed buckles which an Australian collector has over 600. It has also become
popular in the last 30 years or so for companies to give out awards and incentives to employees in the form of belt buckles.
These are sought after by collectors, particularly if they have some knowledge of the company or may have worked there.
That's where the collector comes in. You can collect based on any number of criteria. There are silver, with and without
gemstones, there are state themed buckles, biker gang buckles, flags of countries, super hero buckles, skull and crossbones
buckles and thousands more. To get started, begin collecting a style that is meaningful to you in some way.
As far as collecting hobbies go, buckles will be on the low end of the cost to get started scale. Many can be picked up for a
few dollars whereas you can also pay several hundred for something with precious metal and gemstones.
The belt buckle is said to have been invented by Italian blacksmith Tomaso Kellioni during the Elizabethan era. Other
historians say that the Persians introduced the belt buckle to the Romans after their conquest. Buckles remained exclusively
for the wealthy until the 15th century where improved manufacturing techniques made it possible to easily produce a cheaper
molded item available to the general population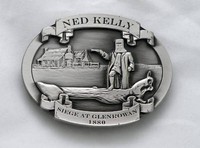 (My Ned Kelly Buckle)