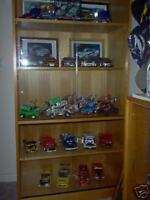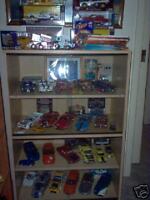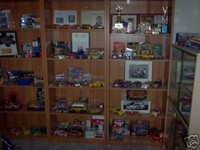 Diecast cars have come a long way in a relatively short period of time. The quality that you are now able to get in 1/18, 1/24 and even 1/64 models is exceptional, with new models coming out constantly, but why would you want to spend your hard earned money on 'toy cars'?
Like most people who collect, that all comes down to personal choice. I myself collect cars for a number of reasons (the pictures above are just some of my collection):
I enjoy the look of them.
Hopefully they are assets.
I could never afford the 'real car', so why not have a model of it.
With racecars, it's because I like a particular driver or their paint scheme.
I enjoy the 'thrill' (for want of a better word) of finding the car I want at the price I want to pay.
I was never into collecting stamps......
These days as I mentioned, the detail that manufacturers like Biante, Classic Carlectables, GMP, Action, Minichamps etc. are putting into their cars is incredible. It was only in the early 2000's that Biante and Classic Carlectable had 1/18 scale cars that didn't have opening doors, bonnets etc., and the Classic Carlectable 1/43's didn't even have an interior!!!
What Size is that?????
Before I go on much more though, I should explain for those who are not sure, about the sizes.
A 1/18 scale car is 1/18 the size of a real car, so if you enlarged you model 18 times, it should be the same size as the real thing. Follows are approximate sizes for various scales:
1/18 - Approx. 26cm long x 10cm wide
1/24 - Approx. 21cm long x 8cm wide
1/43 - Approx. 12cm long x 5cm wide
1/64 - Approx. 8cm long x 3cm wide
So, you want to start collecting, but don't know where to begin?
Well first off have a look at Diecast cars listing on ebay, and see what you like. Are you a ford fan? Then type 'ford' into the search. Looking for a particular V8 supercar driver? Type their name in and off you go. I always like to search with 'titles and descriptions' function on, as this helps me find items, that my not have what I'm after just in the title. Also, if you are after racecars have a look in sport memorabilia - racing as there are sometimes cars listed here.
Next, decide on what you want to spend. DO YOUR RESEARCH. Have a look at what's for sale, or use the search function to find out what has sold and for how much.
Cars start at 99c for Matchbox and Hotwheels (1/64) and can go up to $100's for 1/18's. As a rule, an average Matchbox or Hotwheels car (not Matchbox old cars or Hotwheels Treasure Hunts) will set you back $2 - $5 (plus postage) and 1/18's are $100+ for the newer V8 supercars or Ford or Holden road cars. If buying Matchbox, Hotwheels or even 1/43 scale cars, always look at the sellers 'other items for sale' as if you buy more than just one thing from them, it can save you on postage costs. Same goes for 1/18's but average postage costs should be around $14 for a single car and up to $20.00 for two cars (depending on location), as obviously these are much bulkier.
Who do you buy from?
I unlike some people, don't have a problem buying from someone with a zero or a low rating. I figure, we all have to start somewhere. I probably wouldn't however buy a $150+ car from someone with a zero rating, unless I was able to pick it up. Sometimes, people with zero or low ratings have some absolute bargains, and so, are well worth a look.
There are plenty of fantastic sellers on ebay, who are not out to 'rip you off' (have a look at their feedback and rating scores, some people have received negative ratings for absolutely pathetic reasons). If however the postage cost is not specified, then ask the seller a question, because this can be a trap for the unwary and can blow out the cost of your 'bargain'. I have a few sellers that I buy from regularly, because they are great to deal with, and I know that they will look after me.
Also, if you can't afford something you really, really have to have, then ask the seller if you can pay for it in a few days or over a few weeks, many sellers will be happy to do this, provided you ask them BEFORE YOU BID. If you do this, don't stuff the seller around, make payments when you say you will and let them know that it's been done.
Have a look also in listings that say things like 'Assorted Cars, or Mixed Lot or Loose' as sometimes you can find great deals mixed in with these and not have to pay a lot to get them. You may end up with a heap of cars you don't want, but you can always relist them as someone else may just want them at the 'right price'.
Displaying you Collection
If you are going to spend you hard earned dollars on a diecast collection, then I figure you might as well show it off. Some people keep their cars sealed in the original box, but I like to have mine on display for all to see. Ebay is also a great place to find display cabinets. Do a search for display cabinet or glass cabinet and use the search function to find what's nearest to you. If you are planning to have a largish collection, I suggest you talk to you insurance company and have something added to your policy to cover your cars, cabinets etc., just in case something ever happens.
I hope these little bits and pieces help in some way. I enjoy my hobby and sometimes I think it has a mind of it's own as it just keeps growing and growing.
Stephen - purchy2000