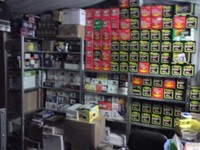 Part of my collection ...... waiting
This was written by a fellow collector, "
Purchy2000
", recommended as an exceptional seller and buyer.
Quote:
"
Diecast cars have come a long way in a relatively short period of time. The quality that you are now able to get in 1/18, 1/24 and even 1/64 models is exceptional, with new models coming out constantly, but why would you want to spend your hard earned money on 'toy cars'?
Like most people who collect, that all comes down to personal choice. I myself collect sprintcars for a number of reasons:
I enjoy the look of them.
Hopefully they are assets.
I could never afford the 'real car', so why not have a model of it.
With racecars, it's because I like a particular driver or their paint scheme.
I enjoy the 'thrill' (for want of a better word) of finding the car I want at the price I want to pay.
I was never into collecting stamps......
These days as I mentioned, the detail that manufacturers like Biante, Classic Carlectables, GMP, Action, Minichamps etc. are putting into their cars is incredible. It was only in the early 2000's that Biante and Classic Carlectable had 1/18 scale cars that didn't have opening doors, bonnets etc., and the Classic Carlectable 1/43's didn't even have an interior!!! "
____________________________________________________________________________________________________________

Initially my collection started out as a hobby, buy one now and then because it looked good. Then, as I got to know the drivers and their cars, it became an obsession. "Oh look, havn't got that one, ooooo, it comes in 4 different sizes, mmmmm, and there's about 5 different versions (years)" gotta have them all. That my friends is an obsession. at the time of writing this, I have somewhere in the vicinity of about 550 cars, ranging from the die-cast 1/18th scale right down to the micro machines, slot cars, radio controlled cars, even odd bod ones like the Taz Devil Matchbox car. If it's a sprintcar, then I want it. I even have decals of sprintcars, speedway casino dice and gambling tokens, sprintcar belt buckles, sprintcar T shirts and jackets, And I'm going to build a speedway to race the radio controlled cars in the back yard too. 1/10th scale Parramatta Speedway. Yes, our yard is big.

SO HOW CAN I AFFORD ALL THIS ?
My wife used to ask me this all the time, not now though. For those about to embark on collecting anything, this is valid. "BE PATIENT, BE VERY PATIENT." I see a car that I want and am not willing to pay that much for it, then I wait. At some time these cars are available at ridiculously low prices, then I'm ready to snap it up. Even if I've got it, I'll buy it. I then resell it here at a profit and that usually gets blown on my next car purchase. A classic example of this is the GMP 10th Anniversary Steve Kinser Black Chrome car. It usually sells for a couple of hundred dollars, I waited and got mine for about US$46.00, about 4 months later another one came up and I got it for US$24.00, resold it for $110.00. At the time of writing this (again) there are quite a few cars available for peanuts, 12 1/64th scale cars for US$18.00. That's worth reselling. I sell these for about $10 each, good profit or what. The last time I did this I bought 29 1/64th cars for 99 cents each, all of them sold for $10 each. That's what I do. I'd hate to think of what I've really spent over the years.
As Steve mentions somewhere, these cars are collectibles and not really toys, and some do actually increase in value over time. Again, to this, when you buy, pay as little as possible. When you get the car it's worth more than you paid for it already. Sets of cars are worth more than any individual car too. I recently sold a complete set of "Garry Rush" cars, the 1/18th scale new car, the 1/64th scale new car and the original 1/24th scale 1994 model car for $200. They cost me about $120. I could have sold them for more but was running out of space and needed to move them. Actual value as a set would have been around the $300 mark.

______________________________________________________________________________________________________

BUYING OUTSIDE OF AUSTRALIA !
Quote from Steve:
"I unlike some people, don't have a problem buying from someone with a zero or a low rating. I figure, we all have to start somewhere. I probably wouldn't however buy a $150+ car from someone with a zero rating, unless I was able to pick it up or it was something special. Sometimes, people with zero or low ratings have some absolute bargains, and so, are well worth a look.
There are plenty of fantastic sellers on eBay, who are not out to 'rip you off' (have a look at their feedback and rating scores, some people have received negative ratings for absolutely pathetic reasons). If however the postage cost is not specified, then ask the seller a question, because this can be a trap for the unwary and can blow out the cost of your 'bargain'. I have a few sellers that I buy from regularly, because they are great to deal with, and I know that they will look after me.
Also, if you can't afford something you really, really have to have, then ask the seller if you can pay for it in a few days or over a few weeks, many sellers will be happy to do this, provided you ask them BEFORE YOU BID. If you do this, don't stuff the seller around, make payments when you say you will and let them know that it's been done."
_______________________________________________________________________________________________________

I've done this myself on a couple of occasions and most seller are quite willing to help.

If you're wary of buying from overseas, again, don't be afraid to ask someone that has done it for references. I'll willingly tell you who I deal with and trust.

________________________________________________________________________________________________________
Displaying you Collection
Quote from Steve:
"If you are going to spend you hard earned dollars on a diecast collection, then I figure you might as well show it off. Some people keep their cars sealed in the original box, but I like to have mine on display for all to see. If you are planning to have a largish collection, I suggest you talk to you insurance company and have something added to your policy to cover your cars, cabinets etc., just in case something ever happens."
_________________________________________________________________________________________________________
My collection as it stands is stored in a shed, all boxed and waiting patiently for the opening day. After discussing this matter with my wife, she collects porcelain dolls, we have decided to go to what some people may consider an extreme. We are going to build a cabin in out back yard specifically for displaying our collections and nothing else. I think about 6m x 12m may be big enough. We are not young, in our late 50s, me almost 60 now. So we figure to make it enjoyable for ourselves, and if anyone else wants to check it out, ask, we may oblige. (Check my About me).
I've taken these quotes from Steve because 1. he makes some very valid points, 2. I'm getting old and lazy :-) , and I totally agree with him. I also have his permission to do so.
However, as a serious collector, and having many years experience with the internet, eBay and Paypal, I am willing to help with advice where I can, anytime. If you don't ask, you don't get.
Hope this helps others with an obsession, or those considering having an obsession.
My quote:
"OBSESSIONS ARE ONLY BAD TO THOSE WITHOUT ONE"
Ian (ausmunch) 27-2-2011