Dragons have been a part of human mythology for centuries, and are as popular as ever today. They have inspired fear and hatred, and have conversely been regarded as divine guardians. It's no wonder more people are collecting dragons, and this guide here is to introduce the budding collector to the higher quality pieces out there on eBay.
This guide is intended as an introduction to those not already familiar with the ranges discussed below.

Collecting Dragons: An Overview
While there is no set consensus on which dragons are and are not collectible, generally speaking certain brands are considered more collectible than others. There are a couple types of dragons you should look out for on eBay, arranged by companies below.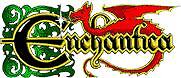 Enchantica: This line of collectibles began with Holland Studio Craft (HSC), in 1987-88. It was later sold to Royal Doulton in 1996, and again changed hands in 2005 to be produced under Xystos.
Enchantica produces dragons, witches and wizards, trolls, "snowhoppers", etc. They have also produced books, with some figures modelled after characters in the stories. Generally, Enchantica dragons are considered the highest-quality dragons around.
A couple special Enchantica pieces to look out for on eBay are :
Paint trials: a test piece on which colours are tried out before production
Artist proof (A/P): a piece that was painted for/ at shows (extravaganza events), after production. Never released from HSC, but Royal Doulton released a few for a short while
Pattern piece: painted by the senior artist and used by other artists as a reference for the production pieces (each piece is hand painted).
If you come across one of these pieces, they aren't considered part of the production run, so don't be put off if the seller says they're not numbered and have no certificate.
However, always EXERCISE CAUTION when a piece is labelled as a paint trial or artist proof. Always double-check with the seller it is in fact a paint trial or artist proof piece, and not something they've painted themselves. Pieces collectors have painted themselves are not worth any extra.
Having said this, if the piece in question was re-painted by a professional painter (for example Tina Sherratt and Caroline Briggs) then these are generally worth a little extra than the average piece.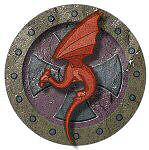 Dragonsite: This is a relatively new label, and is just as high-quality as Enchantica. Andrew Bill, one of Enchantica's primary sculptors and who played a large part in launching Enchantica, sculpts for Dragonsite. Here I use Dragonsite as an all-encompassing term, underneath it are included the Verbum Magnus range, Hap Henriksen Resurrection, Nene Thomas fairies and so on.
In regards to dragons there are many less dragons available under Dragonsite as it is relatively new. This can be both good and bad, because if you're new to collecting dragons it gives you ample time to become up-to-date, but also bad because… well, there's less available!
There are no guidelines for which Dragonsite pieces are more collectible than others. It simply depends on how much money you are willing to spend, how much space you have to house your collectibles, and which pieces you already own.





Danbury Mint: The Danbury Mint has made 3 different sets of dragons. These include the 6 large Treasure dragons, the 4 elemental dragons (earth, air, water and fire), and a small set of 12 fabulous dragons, which you can sometimes find an accompanying wall-cabinet for. All were sculpted by John Woodward, also an Enchantica sculptor, and with the exception of the fabulous dragons they are retired (no longer made). These come up less often on eBay but they are lovely pieces, so it's worth keeping your eyes out for them.



Franklin Mint: Previously known as the General Numismatics Corporation (GNS), the Franklin Mint became known under it's current label in 1964.
Franklin Mint are US-based, unlike the previously mentioned ranges which are based in the UK. They produce a much wider range of collectibles, including coins, dolls of famous people (Marilyn Munroe, Elvis Presley etc), and movie/ TV collectibles such as replicas of Star Trek ships.
Their dragon range is sculpted by Michael Whelan, a famous fantasy artist. They come numbered and with certificates, and look like they're made of a reflective metal. There is also a newer, bronze range of dragons around based off works by Julie Bell and Boris Valejo, also very famous fantasy artists. The bronze range tends to be a little more expensive simply because of the material they're made from.

Price ranges

Unlike other kinds of collectibles which may be priced according to the artist, year made etc., the prices of dragons are very straight forward. The bigger it is, the more expensive it is.
Do not be fooled by sellers who try to sell small pieces for hundreds of dollars under the pretence of it being highly rare, etc. etc. Expect to pay a couple hundred dollars for the very large pieces (30 cm+ in height or width), and less for smaller pieces. Do the legwork, and always look around.

Packaging

A couple points need to be mentioned here, first: Buy insurance. If you are buying dragons regularly, you will eventually receive one in 50 pieces. I cannot stress this enough; buy insurance.
Where possible, always try to buy dragons from people who have the original packaging. This doesn't make the piece any more collectible, but the original packaging insures it will be sent well packaged. Often, especially for the hard-to-find retired pieces, this is impossible. When this happens ask the seller how they are packaging their dragons. Many are clueless and will simply wrap a fragile dragon in some newspaper! If you can, politely ask them if they can do the following:
use bubble wrap
if using newspaper for extra padding, ask them to use packing beans instead. Packing beans tend to take impacts better.
Where possible double-box with packing beans between the boxes. This greatly reduces (though doesn't entirely remove) the risk of breakage during transit.
This may not always be possible but it is always better to ask. Many sellers are considerate and will happily help you out.

A Final Note!

Most of these dragons will be listed on eBay.co.uk or eBay.com, so before you purchase or bid on a dragon always check the coversion rate and ask the seller for a shipping quote. This will ensure you avoid any nasty surprises later!
And finally, have fun collecting.