Aussie Pin Shop (aussiepinshop.com.au)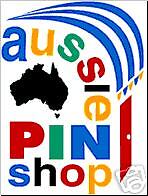 Whether you've been an avid pin collector for years or have never looked twice at one, pin collecting is a very intoxicating hobby. What other hobby is so inclusive and so accessible that you can start with nothing and be an expert in no time at all? Pick a topic that interests you - olympic games, a particular sport, e.g. basketball, commonwealth games, aviation, cartoons, movies, etc. and try and find as many pins in that topic that you can. Don't try and be too broad as you'll end up with a bit of this and a bit of that - be specific!
Three things you should know about Pin Collecting:
1. Each Official Licensed Pin will feature a code on the back to identify the pin. It will indicate the number of pins produced and some are authenticated with a DNA sticker.
2. Having a hard to find pin in your collection is a great feeling. However, don't judge a pin by its "value". Enjoy each pin in your collection for its aesthetics or history of where you obtained it, or who gave it to you.
3. Apart from the huge number of pin clubs overseas, there are many pin collectors in Australia. Pin web sites, magazines and dedicated swap meets are all enjoyable parts to this interesting hobby. If you get actively involved, you'll find that the friends you meet along the way are as valuable as your collection.