Australia is a great place..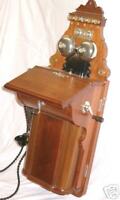 to find historic telephones.
And with Ebay's powerful search tools and huge seller base, they need not be expensive.

Colonial governments had individual telecommunications departments with supplier preferences from different parts of the world. Then from Federation onwards the new
PMG
(Postmaster General's Dept.) slowly formulated a standard list of telephones. Most of these can be sourced through Ebay with patience.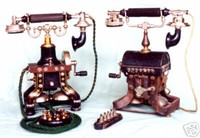 What to look for?
First consider your tastes:
table
or
wall
phones?
historic
or
retro
'60's & 70's?
Original
or
restored
? Recognising is the first step to finding.-there are lots of helpful
books
(period and modern) dealing with Australian phones, such as Jim Bateman's
classic
(yellow picture) which turn up on Ebay quite often.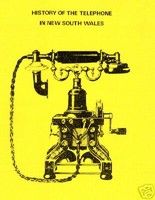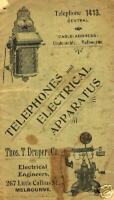 Serious collectors go for original phones, or accurate restorations
. Accurate replicas (such as the Ericsson 'swing arm' - middle photo, immediately below) may be acceptable when the phone is SO rare as to be unobtainable. Most official Australian phones are marked PMG somewhere. Ask questions of sellers- network with other collectors.
Use guides.
If in doubt, better to leave it than live with expensive regrets. A great starter is the 'Commonwealth' Ericsson wall phone (first picture above). Widely used as the PMG No.1 wall phone from Federation (and before also) these beautiful phones are easy to find, and relatively cheap in unrestored condition. Beware ones with lots of polished brass- originally fitings were nickelled (silver) and they had no dials or plastic wiring (all cloth-covered). Another popular style is the '
candlestick
'. The PMG had a standard type for many years, but did use others in times of shortage. If dials were never fitted, sensitive re-wiring to a detached box preserves originality while allowing use.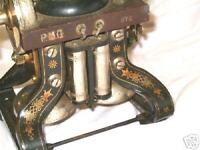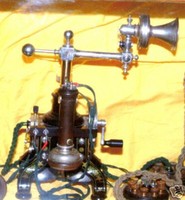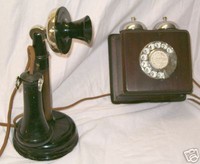 Unrestored items are a challenge-
but think of the satisfaction in finishing a rough item. Books on
restoration
will help
you
do it, but services such as polishing wood and metal plating are also commercially available. Parts can be found on Ebay - use the
want-it-now
facility to ask others for bits you need. Finally; don't be scared to
sell
spare bits and use the money to complete your phones!