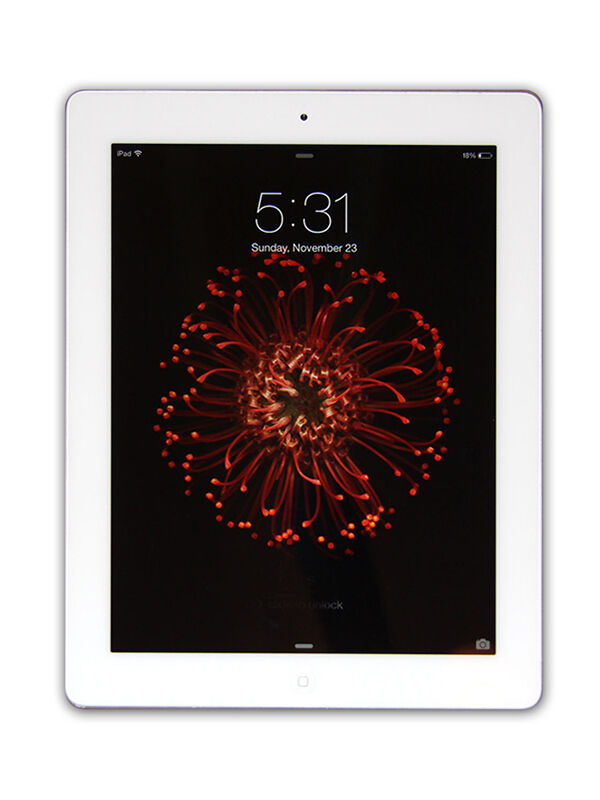 Personal tablets provide easily accessible computer capabilities, and Apple's lineup of iPad models boasts impressive features that give potential buyers a lot to consider when planning a purchase.
Overview
The iPad 2 was released in 2011 as the first tablet to offer both a VGA front camera and a 720p rear camera designed for video calling possibilities, making the tablet a pioneer in its field. The third generation, which was released shortly after its predecessor in 2012, featured notable improvements, such as better resolution, a more efficient camera, and a stronger central processing unit (CPU) and graphics processing unit (GPU). eBay offers both tablets for purchase, and the distinct features both possess accommodate a wide variety of usage requirements.
Considerations
When choosing between the iPad 2 and iPad 3 tablets, overall specifications and usage needs should be considered to make the most informed decision. iPad 2 uses less power than iPad 3, but this is largely due to its lack of display features and inferior hardware performance. For advanced gaming and video usage, the iPad 3 boasts stronger graphics and retina display, making it the better selection. For those users who simply want the convenience and portability of a tablet without much fuss, the iPad 3's higher price tag may not justify the increased performance features.
Customisation
The iPad 2 and iPad 3 are both available in 16, 32, and 64GB versions for various storage needs. Extensive video libraries or music collections may require 64GB, while standard users will likely only require the 16 to 32GB models. If the user's intention is to replace a computer completely with the iPad tablet, then the larger 64GB version is recommended. Both tablet models offer a choice between a white frame or black frame.
Design
At 601 grams, the iPad 2 is lighter than the iPad 3, which weighs 653 grams. Both tablets offer 246-millimetre screens, although the iPad 2's screen is LED backlit as opposed to the iPad 3's HD IPS retina display.
Display
The iPad 3's resolution beats the iPad 2's, with 2048x1536 pixels compared to 1024x768 pixels, respectively. The higher pixels and better overall resolution is especially impressive considering that both tablets have the same screen size. iPad 3 also has 44 percent more colour saturation than either the iPad 2 or original iPad, making for more impressive visual displays.
Hardware
The iPad 3's A5X processor with quad core graphics processing offers superior quality to its predecessor, and the tablet's high resolution retina display is a visual triumph, offering four times the resolution than the original iPad and iPad 2. The iPad 3 also carries the capacity for 4G LTE data, which is up to 10 times faster than the iPad 2's 3G data rate. These improvements are appropriate for users who wish to use their tablets for gaming purposes.
Memory
The iPad 2 features 512MB of memory, while the iPad 3 boasts 1GB of memory space. For those who intend to store a great deal of data on their tablet devices, the iPad 3 may prove a worthwhile investment over the iPad 2.
Camera
The iPad 2's camera, while an improvement from the first generation's camera with its dual-facing properties, is simply not up to par with the iPad 3. The third generation tablet offers a better rear camera with 5 megapixels and upgraded 1080p video recording capabilities.
Bluetooth
Both tablets contain Bluetooth capabilities, albeit different versions. iPad 2 features the 2.1+ EDR Bluetooth, an older model than iPad 3's improved 4.0 Bluetooth, which compatible with many newer products.
Siri
Apple's virtual assistant, Siri, is not available on iPad 2, but iPad 3 contains her helpful services and voice dictation. If Siri's calendar assistance or voice-dictating email is a must-have, iPad 3 is the only option.
Battery Life
The iPad 3's battery life is impressive with the help of its 42.5 watt-hour rechargeable lithium battery. Compared to iPad 2′s 25 watt-hour rechargeable lithium battery, users gain a 70 percent increase in overall battery life, a factor which can sway buyers in favour of the iPad 3 if cost is not the overriding consideration.
Conclusion
Both Apple products are ideal for anyone who wants the convenience of a tablet, and depending on intended usage, buyers can find benefits to choosing either tablet over the other. In overall specs and performance, the iPad 3 naturally reigns supreme as the newer and improved model, but iPad 2's strong features and reduced price tag make it a strong contender for those needing a basic tablet for personal use.