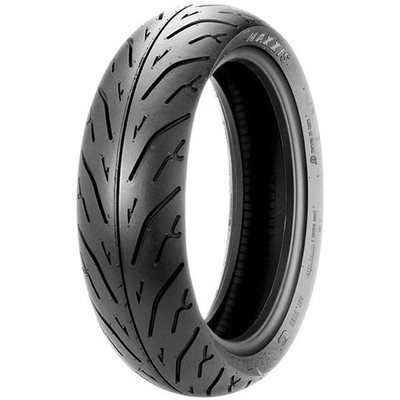 Whether motorbike owners enjoy the thrill of off-roading or prefer skimming along paved streets, their tyres eventually wear down or become damaged. To replace them, owners need tyres that are well-made, enhance manoeuvrability, and improve the stability of the bike. MAXXIS is among the top manufacturers of motorcycle or motorbike tyres. Along with the recognised name and excellent quality comes a fairly high price tag. When the time comes to purchase new MAXXIS motorbike tyres, buyers should shop around for low prices that fit their budget. Some local motorcycle shops may hold MAXXIS tyres at reasonable prices, but a buyer's best chance is to shop online through eBay.
Investigating Types of MAXXIS Motorbike Tyres
First of all, buyers need to think about their own personal lifestyle and the places they usually choose to ride. Motorbikes need different tyres depending on the terrain they traverse and the way in which they are ridden. MAXXIS make motorbike tyres for the street, for off-roading, for racing, and for lightweight motorbikes in the scooter class.
MAXXIS Motorbike Street Tyres
Motorbike owners who do most of their riding on the streets need a good pair of durable MAXXIS street tyres for their machine. Fortunately, MAXXIS supplies seven different sets of street tyres, any of which should give owners the manoeuvrability and performance they need for town or suburban riding. The types of street tyres available include the M6011 Classic, the MA-PD Presa Detour, MA-PS Presa Sport, and the M6011 Touring tyres. For faster speeds and higher performance, buyers may want to investigate the M6102 Promaxx tyres or the M6029 Supermaxx tyres. Many of the MAXXIS motorbike street tyres include daring new tread patterns which are not only practical, but aesthetically pleasing to bike owners.
MAXXIS Motorbike Off-Road Tyres
MAXXIS sell tyres that allow riders to successfully venture off-road. Whether they are traversing bumpy dirt, grassy fields, or other rough terrain, the MAXXIS motorbike off-road tyres supply the traction and grip bikers need to stay in control of their motorbike. One of the top MAXXIS off-road tyres, the Maxxcross MX IT, is an intermediate tyre that can transport riders from pavement to the outdoor track with ease. Sidewall construction reduces the chance of tyre roll when riders take corners. The tread on the tyres features a dual compound design with a variety of tread pitches to ensure maximum traction in many different environments. The rear tyres in the Maxxcross MX IT off-road line include softer centre treads and harder outer ones, to maintain the bike's stability if the user leans to one side. Lightweight and strong, these tyres are an ideal choice for riders. Other options in the off-road line from MAXXIS include the M7000 Dualmaxx, the Maxxcross Desert IT, and the Maxxcross SM and SX models.
MAXXIS Motorbike Racing Tyres
These tyre models include the Presa Supermotard and the Presa Goldspeed. Another racing tyre, the Maxxis DTR-1, was created for dirt tracks and comes in several different compounds, ranging from ultra-soft to hard. Riders can select and purchase their Maxxis DTR-1 compound based on the type of track they typically use for racing. Each set of MAXXIS motorbike racing tyres promises top performance, including stability, manoeuvrability, and speed.
| | |
| --- | --- |
| Model | Relative Price |
| | $$ |
| M6131 Presa Supermotard Front | $$$ |
| M7302 DTR-1 | $$ |
MAXXIS Motorbike Scooter Tyres
Some motorbikes fit better into the category of scooters. These streamlined, lightweight motorbikes need their own special tyres. MAXXIS offers four different styles of scooter tyres, including the M6002, the M6029, the M6114, and the MA-PD Presa Scootr DP. The M6002 boasts a classic design and top-notch performance, with a deep tread that helps the scooter maintain traction in a variety of weather conditions. Designed for longevity and durability, the M6029 takes performance one step further, offering additional stability and grip as well as excellent handling. These tyres work well for sporty scooters or motorbikes. The M6114 features an unusual, yet effective tread design, supplying a broad contact area that ensures bike stability. With the MA-PD Presa Scootr DP, owners can take their scooter out for some light off-roading. The special compound of materials from which these tyres are created can handle rough terrain as well as pavement. The tread design enables superb water dispersion and stability.
Ensuring the Correct Size
Motorbike owners need to ensure which tyre size they need. They can check the sidewall of their old tyres to find out what they are currently using. Going up or down a little in size is acceptable, but usually riders should stay within the same size range. Buying tyres that are too big or too small can lead to stability issues and undue wear on the motorbike itself.
Considering New vs. Used Tyres
Some buyers may hope to save money by purchasing used MAXXIS motorbike tyres. Pre-owned motorbike tyres are generally cheaper, but they do not have the same lifespan as brand-new tyres. If shoppers are determined to buy used MAXXIS motorbike tyres, they should check the tyres carefully to ensure the tread is still sufficiently crisp and deep. They should look for holes and test the air pressure. If the used tyres are clean and in good condition, with plenty of life left, buyers can buy them and enjoy their new set of affordable MAXXIS motorbike tyres.
How to Buy
To find the right tyres, type " MAXXIS motorbike tyres" into the search bar on any eBay web page. Once search results appear, filter them according to your preferences for condition, seller type, and item location. You can also fix a price range within which to search. This ensures affordability. Keep in mind that you can also search eBay Stores or theeBay Deals page. Look for eBay'sTop-rated Plus sellers, all of whom boast top feedback scores and commit to certain standards of customer service and excellence. No matter which set of motorbike tyres you want, you can trust eBay to have a broad selection of options available.