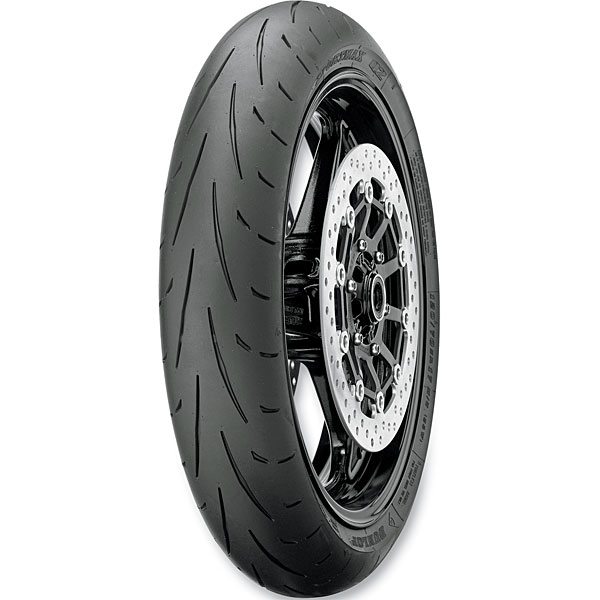 Dunlop Sportmax tyres are high-end motorcycle tyres that are created for speed, durability, and strength. Purchasing pairs of Dunlop tyres is not always cost effective, but it is possible to get a good deal on a front and rear tyre set from this luxury tyre brand.
Buyers should check to ensure they are getting the proper size, type of tread, and width of tyres before making a final purchase. Consumers should check on eBay and retail stores for a wide selection of affordable Dunlop tyres of all sizes, as well as tyre accessories and other motorcycle maintenance equipment and parts.
Types of Dunlop Sportmax Tyres
If consumers are looking for the perfect pair of Dunlop Sportmax tyres, there are several types and treads to choose from. Everyday riders opt for traditional street tyres or cruising tyres, while racing enthusiasts purchase special Sportmax tyres for racing motorcycles. Various tyres offer different features and performance styles, and are made for different motorbikes and types of terrain.
Street Riding and Cruising Tyres
Street tyres are created with multiple treads for the best traction on the streets. They come in two varieties, which are radial and bias tyres. The tyres offer a secure ride even during inclement weather, and last for many miles. The Q2 tyre is a popular option and an affordable type of Sportmax tyre for a motorcycle. For a more luxurious experience, consumers opt for the Roadsmart II, which offers deeper tread.
Cruising tyres are made with a compound style of tread that is unique to Dunlop tyres, and it is meant to last for the long haul. The tyres offer the rider a smooth and comfortable journey, and multiple curved, grooved tread to ensure that the tyres are evenly worn over time and do not hold onto water when cruising through rain. The D404 model is affordable and common for many types of motorbikes from vintage to newer models.
Racing Tyres
Racing tyres offer a notable difference from street riding tyres. They have a slick surface instead of tread. The tyres are created with a strong grip for safe traction while racing, and they offer speed and control for professional racers and bikers who enjoy racing as a hobby. Racing tyres come in many sizes and compounds to accommodate different types of bikes, including soft compounds for looser terrain and harder compounds for tougher ground or cold-weather situations.
Off-Road Tyres
Dunlop Sportmax also makes quality off-road tyres. These offer a knobby tread that is different from other bike tyres. The tyres are also legal for street use and cruising, allowing the consumer flexibility when riding a dirt bike, motorbike, or other off-road motorbike. The tyres are strong with deep tread and a high speed rating. Various compounds of rubber combining properties of central traction, lateral, and running compounds are used to create the tyres and ensure the tyres stay secure on any type of terrain, even sand and dirt. A special rubber and silicone compound is used to create the strongest grip. The mixture of compounds is what makes Dunlop tyres different from other brands.
Tyre Sizes
Tyre sizes vary from bike to bike. Typically, the tyre size is stated on the existing tyres. Front and rear tyres vary, so they must be bought to fit in the proper location. There are other considerations consumers must weigh when purchasing a set of Dunlop Sportmax tyres. Each tyre offers a different tread depth, width, and speed rating, as well as a rim circumference. All of these factors make up the size of the tyre and it must be compatible with the motorcycle for the perfect fit. Tyre sizes and information are listed on the sidewalls of the tyres.
Tyre Accessories
Many Dunlop tyres are tubeless, so consumers do not have to worry about purchasing additional tubes in case of a flat. However, to change the tyres on motorcycles, buyers need tools such as a tyre stand, pressure gauge, air compressor, wrench, Bead Buddy, and tyre iron. A Bead Buddy is an easy-to-use gadget which assists in pushing the tyre bead down to easily change out a tyre.
A valve core remover is also necessary to complete the refitting of tyres on a motorcycle. Another convenient item to purchase is a tyre repair kit. This is useful for punctures when riders are away from home and do not have tools on them for repair.
Shopping for Dunlop Sportmax Tyres on a Budget
Consumers looking for inexpensive tyres have several options. There are used tyres as well as OEM tyres, which are remanufactured by Dunlop to act like new. For consumers purchasing used Dunlop tyres, it is best to examine the tyres closely to make sure they are evenly worn and have no holes or tears. Purchasing a pair of tyres is more cost efficient than buying one tyre individually.
Budget-friendly styles of Dunlop Sportmax tyres include the Q2 series of tyres, Qualifier radials, and the Roadsmart series. Racing tyres are more costly than street tyres. Dunlop Q2 tyres are available as a set for an affordable price, new or used. Another option is Q3 tyres, which are also high quality at a low price. Unless consumers are going to be purchasing racing tyres, there are many options to purchase cost-effective pairs of tyres from Dunlop Sportmax.
How to Buy Dunlop Sportmax Tyre Pairs on eBay
Find great deals on Dunlop Sportmax tyres for your motorcycle when you shop on eBay. Key in a search for Dunlop Sportmax tyres, and then filter the search according to what type of bike you have, such as Honda. Set a price range to stay within your budget, and check for Top-rated sellers offering front and rear tyres as a set. Contact the seller directly to find out more about the tyres by clicking the "Ask a Question" link on the seller's page, and opt for free shipping for an even less expensive experience.
Just because you are on a tight budget does not mean you cannot afford premium tyres for your motorcycle. Dunlop tyres come in many affordable styles to suit every motorbike. Find a pair of tyres for a BMW or a Kawasaki, and many in between.