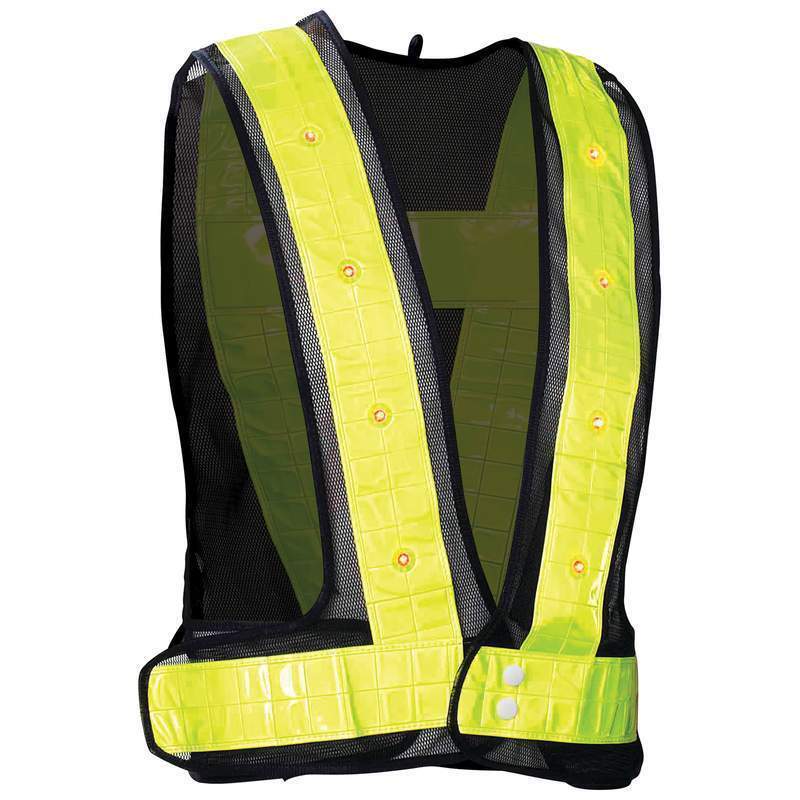 Unlike drivers of other vehicles with cabins and seat belts, motorcyclists are highly vulnerable in the event of an accident. One of the best ways motorcyclists can help maximise their riding safety is to make themselves more visible on the road. This is especially important at night, at dusk or dawn, and in poor weather conditions. By wearing the most protective motorcycle clothing and installing LED safety lights on their motorbikes, riders give themselves the best opportunity to enjoy many years on the road. Customers shopping for the right motorcycling gear at affordable prices need look no further than eBay for a wide selection of both clothing and lighting.
Motorcycle Clothing
Manufacturers classify motorcycle clothing according to an item's protective value. In Europe, manufacturers can only designate clothing as 'protective' if it passes stringent tests to comply with the various national standards, but this is not the case in some other countries. Customers who purchase motorcycle clothing online or from brick and mortar retail outlets may find themselves with clothing that fails to perform the way it is marketed to. Buyers should ensure they only purchase clothing that complies with set standards according to their local regulations. Although there are many kinds of motorcycle clothing accessories, those listed below may save lives in the event of an accident.
Helmets
Motorcycle helmets are non-negotiable, but their ability to protect the rider depends on construction. Full face helmets are recommended and customers should ensure their chosen product meets the highest regulatory standards. Customers should check that their designated helmet includes a verification sticker. If buying on eBay, customers must know their head measurements so they can order their correct size. Motorcyclists can avoid some of the higher purchase costs of helmets if they prioritise practical performance over branding and image. This is because a lot of money gets tied up in a name.
Impact Protectors
Accidents happen to the experienced and inexperienced alike, so motorcyclists appreciate the bodily security provide by impact protectors. Buyers may purchase them with full or partial body coverage according to personal needs. They must again know their measurements if buying on eBay. Motorcyclists can also wear something brightly covered over the top to increase their visibility, such as a fluro top.
Airbag Jackets
Airbag jackets provide another form of impact protection. They are invaluable in the event of an accident in helping to prevent serious injury or death, provided they perform as intended. Impact force is distributed around the body to lessen the effects of a crash. The benefit of this type of jacket is that riders can reuse them following an accident if it is not damaged. They simply need to replace the CO2 gas cartridge. These are expensive items, but customers should make accessories like this a priority and only buy the best quality.
Motorcycle LED Safety Lights
Good lighting is important and legally required for all on-road motorcycles, but it can not be overstressed for those who frequently ride in poor weather or low light conditions. Light emitting diode (LED) lights are increasing in popularity and their range of use is being stretched to include gimmicky and novelty applications. Most riders prefer not to turn their motorcycle into a road circus, but many are adding LED lighting to tastefully improve the visibility of their entire bike. LED lighting is durable, long lasting, environmentally friendly, and cost effective. It is also many times more effective than incandescent lighting used for the same purpose.
Indicators and Handlebar Lights
Being several times brighter than regular indicator lights, LED indicators are unmissable and give clear indication of the motorcyclist's intentions to other road users. Depending on manufacturer, LED indicators come in a variety of designs that are compatible with certain motorcycle models. Customers must ensure they choose only the applicable models for their motorbike. Motorcyclists may alternatively use LED handlebar lights as indicator lights. These fit onto each end of the handlebars and users can adjust the blink frequency.
Headlights and Tail Lights
LED brake lights and tail lights are often multi functional, because tail lights generally serve as brake lights also. LED headlights, on the other hand, are headlight dedicated. The greater lifespan of LED lighting saves a great deal of battery power, especially when combined together. LED lights can last for the duration of the motorcycle's lifespan, sometimes making bulb changes unnecessary.
Fog Lights
LED fog lights are important for motorcyclists who frequently ride in poor weather. They can effectively penetrate fog and help to avoid the problem of reflected light from water particles being directed back into the rider's face. This is also due to their lower positioning on the motorcycle. In heavy fog conditions, other road users also benefit from the motorcyclist's fog lights because they become visible to them earlier.
Wheel and Accent Lights
Although LED wheel and accent lights are primarily aesthetic devices to show off a motorcycle, they also increase safety as riders may use them to light up the entire bike when riding. However, motorcyclists must only use these lights in addition to those described above.
Summary
Lights are a vital part of motorcycle safety. There are several types of lights used for motorcycles that help to enhance the safety of the rider as well as other road users.
Type of Light

Use

Indicators

Signal a left or right hand turn

Together work as hazard lights in an emergency

Headlights

Provide light when driving in low light conditions

Tail lights

Warns other drivers of motorcycle presence in low light conditions

Brake lights

Warns other drivers when motorcycle brakes

Fog lights

Provides improved visibility in foggy conditions

Accent Lights

Aesthetic appeal

Clearly shows the bike in low light conditions
Use the chart above to gain an understanding of the basic light requirements for a motorcycle. For safety, all listed lights except accent lights are essential. Make sure the lights are fitted correctly and work properly.
How to Buy
If you have a limited budget for motorcycle clothing and LED lights, eBay and eBay Deals provide a wide range of accessories at sometimes drastically reduced prices. Search for your most prioritised items first, as the less urgently needed gear can wait. Enter keyword searches such as " motorcycle impact protectors ", and if possible, locate more than one seller who lists your preferred item. Read all information pertaining to the item itself, and know your measurements if it is something you need to wear. Also, carefully read terms of sale and the returns policies as some motorcycle accessories are non returnable. Ensure that your seller has a high positive feedback score so that you can be confident in your purchase.