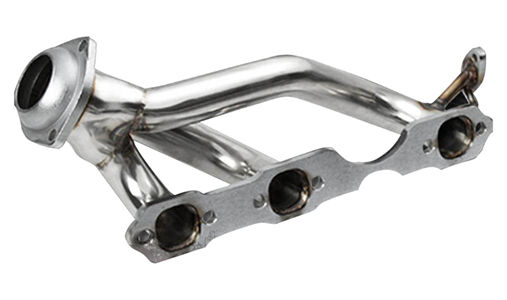 Installing an exhaust extractor, or exhaust header, on a vehicle offers a variety of advantages. Not only does it boost horsepower, torque, and improve fuel efficiency, but it can also decrease engine and auto transmission temperatures to help the car run cleaner and cooler. When purchasing an extractor, it is important to know how it works as well as what design and material type are best for specific driving conditions and performance needs.
How exhaust extractors work
An exhaust extractor is an aftermarket upgrade, and it has separate tubes for each cylinder. Although a standard manifold keeps heat in, it can also prevent exhaust from going out efficiently. Exhaust extractors allow the exhaust to flow out of the engine with less restriction, and they pull used gases away from the combustion system through a "scavenging" process.
During an exhaust stroke, the power of the escaping gases creates a pulse of energy that helps to pull any remaining exhaust away from the combustion chamber. The engine can then get the fuel and air it needs to function at peak efficiency because there are no gases obstructing the flow.
Exhaust extractor designs
There are two common exhaust header designs available. To select the right one, vehicle owners must consider their individual performance needs and driving habits. For example, one design might be ideally suited for racers and another is better for daily commuters.
4-into-1 design
A 4-into-1 exhaust extractor consists of four different pipes that funnel exhaust into one collector pipe. This design generally improves the torque in mid- to high-range applications, making it ideal for those who want to push their engine performance to the mid-range or beyond. There are three common types of 4-into-1 exhaust headers to choose from.
Full-length extractor
The full-length extractor has four longer tubes that empty into a single collector pipe. Its design helps boost engine power while reducing the risk of used gases entering back into the system through another exhaust pipe. This design is ideal for low to mid-range rpm driving.
Shorty extractor
A shorty extractor consists of four shorter pipes that empty into a shorter collection pipe, which makes it ideal for lowered vehicles or tight engine compartments. Shorty extractors tend to deliver less mid-range power than their full-length counterparts, but they can offer greater high rpm power.
Mid-length extractor
The mid-length exhaust extractors help boost low- to mid-range power but have shorter primary tubes than full-length extractors. This makes them a great choice for lowered vehicles, as they offer an increase in torque and performance without the lengthy pipes.
Tri-y design
The Tri-y exhaust manifold extractor consists of four primary tubes that funnel into two secondary pipes before emptying into one main collector pipe. This design offers wider torque and improves the scavenging effect, which makes it ideal for low- to mid-range engine performance.
Exhaust extractor materials
An aftermarket exhaust system generally consists of either steel or stainless steel materials. Both offer advantages. Budget, driving conditions, and length of desired use are all factors to consider when choosing the extractor material.
Steel
Steel extractors are usually less costly than stainless steel, but vehicle owners must usually paint, coat, or plate them to prevent rusting and heat damage over time.
Paint
Steel extractors with a coat of high-temperature paint can resist moisture that typically causes rusting. The paint also helps to prevent chipping and cracking. It is ideal for casual commuter use because it is not as durable as the other steel extractor coating options, but it is most cost efficient.
Plating
Nickel-chrome plating can reduce oxidation on the extractor while enhancing the aesthetics of the vehicle. It can discolour over time or if the vehicle regularly carries heavy loads.
Coating
An extractor with ceramic coating can withstand high temperatures and moisture, making it ideal for high speeds and regular heavy loads. The manufacturer bakes the ceramic coating onto the extractor to ensure maximum protection.
Stainless Steel
A stainless steel aftermarket exhaust header is resistant to rust and thermal damage thanks to the properties of the metal. It does not require any additional coatings but is pricier.
How to buy exhaust extractors on eBay
Sellers on eBay offer a wide selection of exhaust extractors. You can even find extractor accessories, such as exhaust pipe gauges and mufflers, to get the most out of a new exhaust header and ensure that it stays within legal limits. After performing a keyword search for the extractor you need, narrow the list of results by vehicle make and exhaust type to get the exhaust extractor that is just right for your car, truck, SUV, or motorcycle. Be sure to check the seller's return and shipping policies before committing to a purchase.